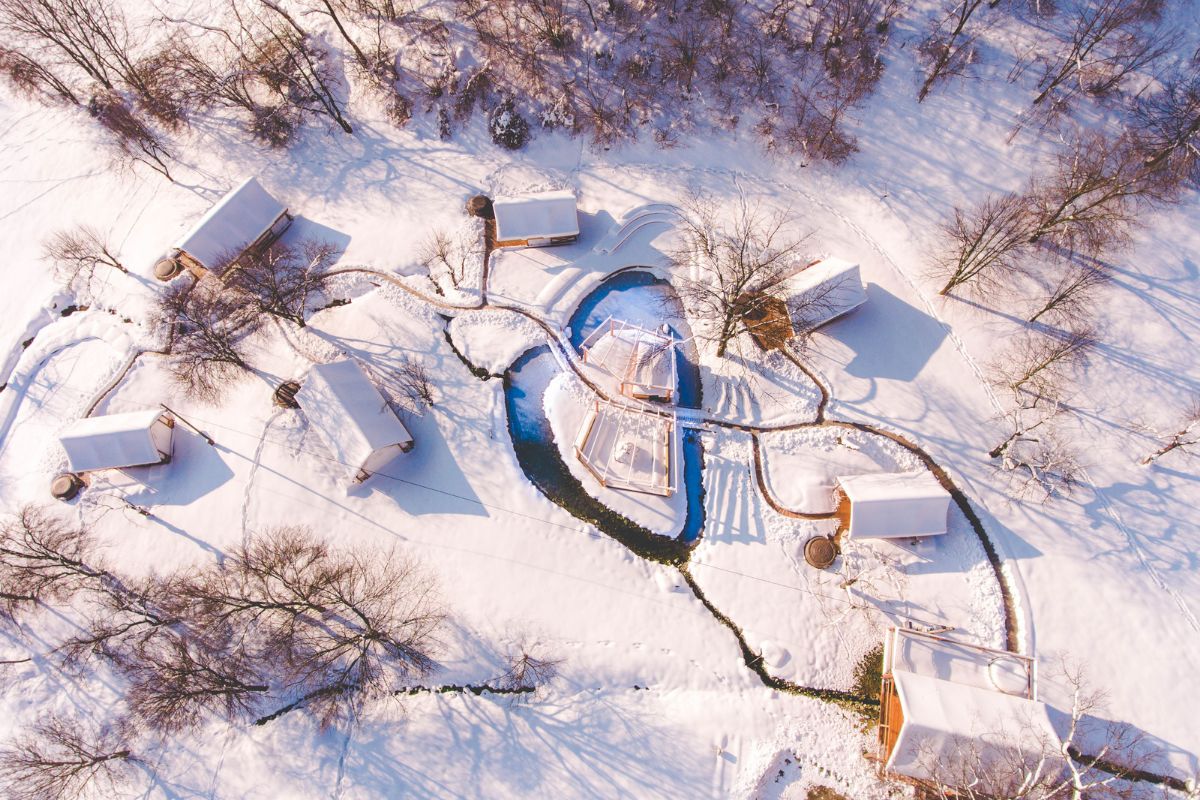 Chateau Ramšak Glamping resort
Počehova, Maribor
LUXURY VINEYARD GLAMPING RESORT
For lovers of nature, luxury, and wine, we present a boutique & chic glamping resort surrounded by green nature and nothing is left to be desired when it comes to comfort. Thoughtfully designed tents with all comfort as a luxury hotel room with a private hot tub will leave you speechless. A Dreamy tree house with a wonderful view over the vineyards is a dream come true for every child and adults. Relax in a cocktail bar at our Glamp island by the fireplace and taste quality homemade wines of the Estate with a local snacks and dinner. True indulgence in a green glamping paradise.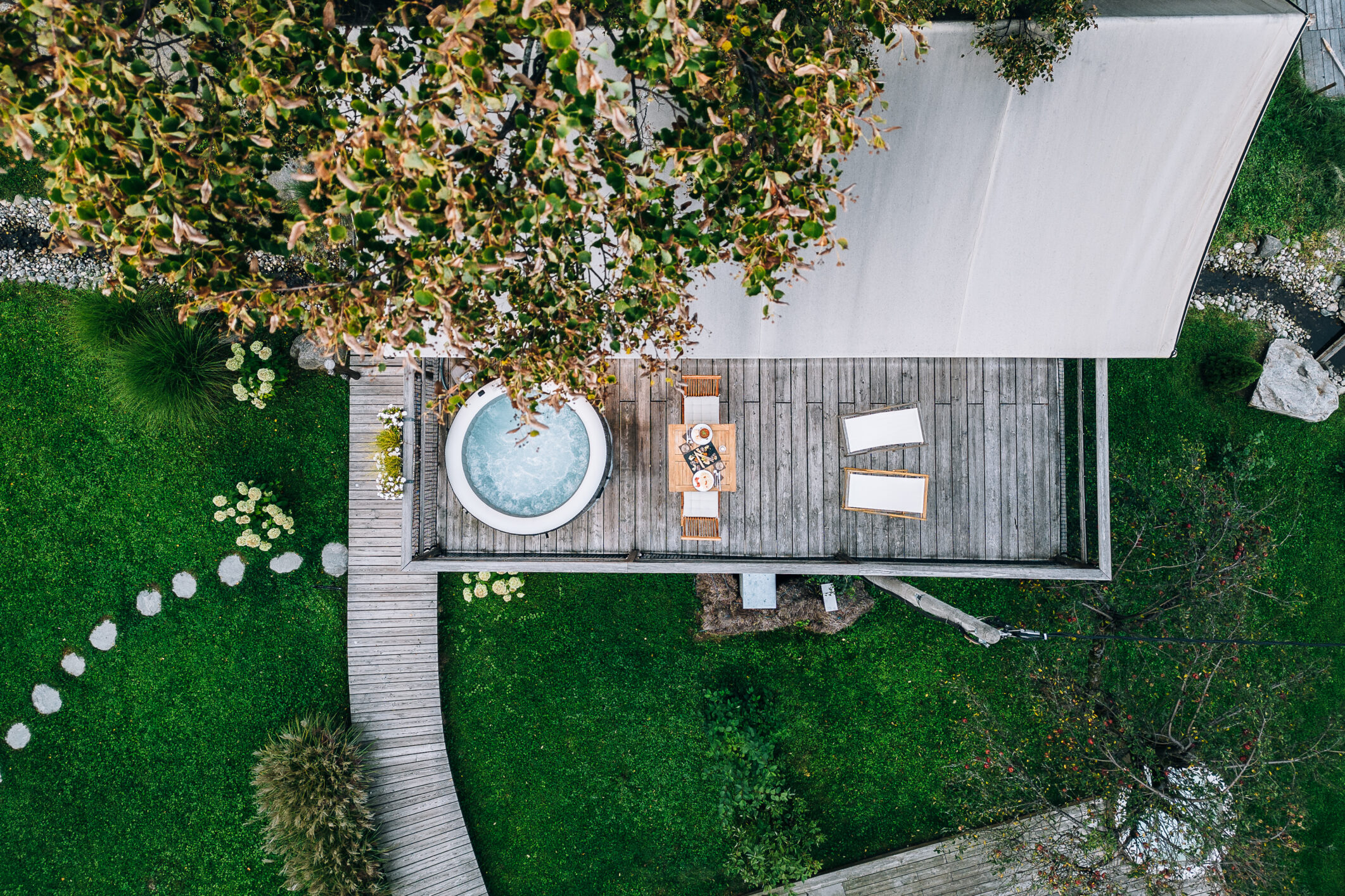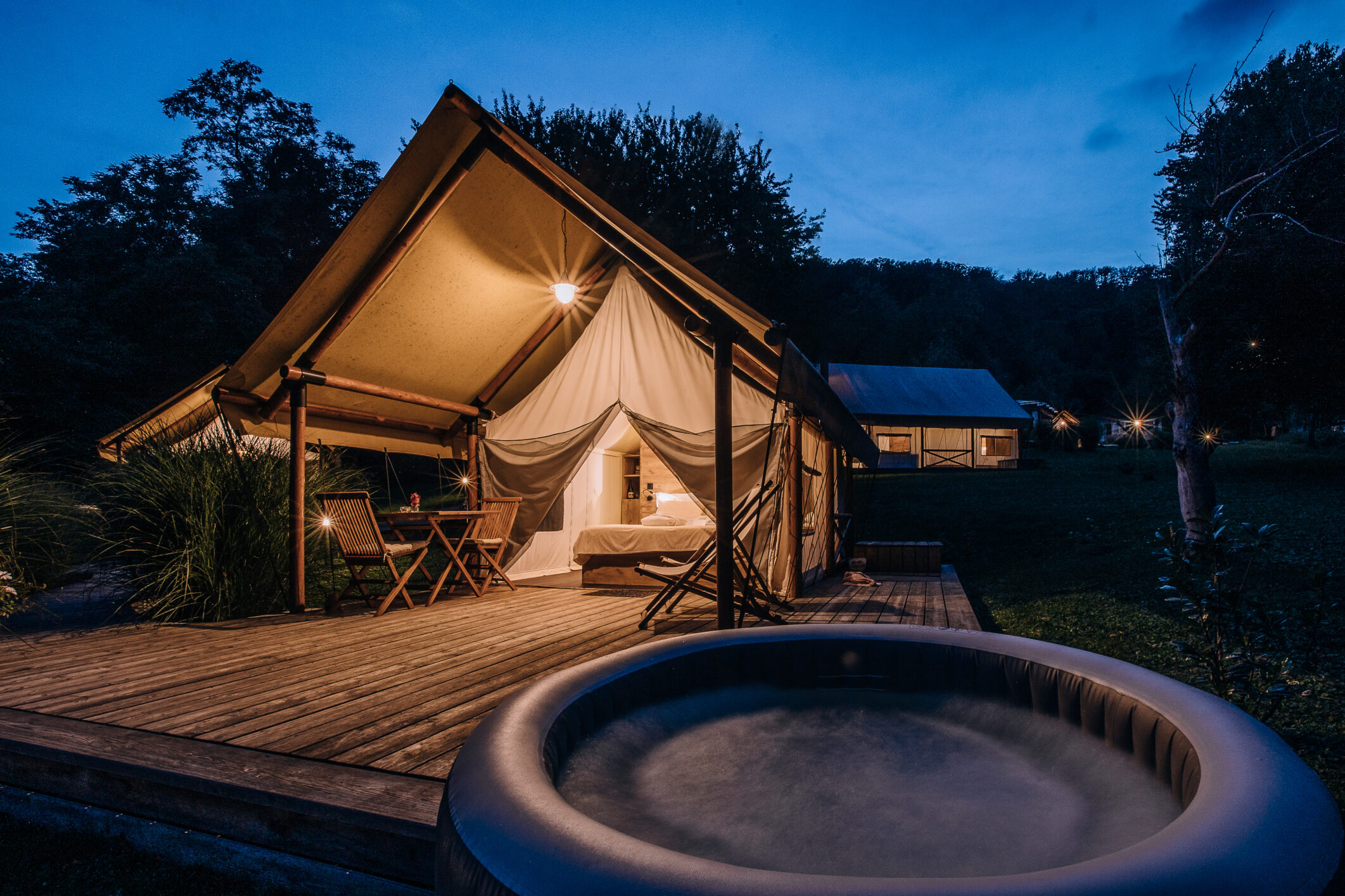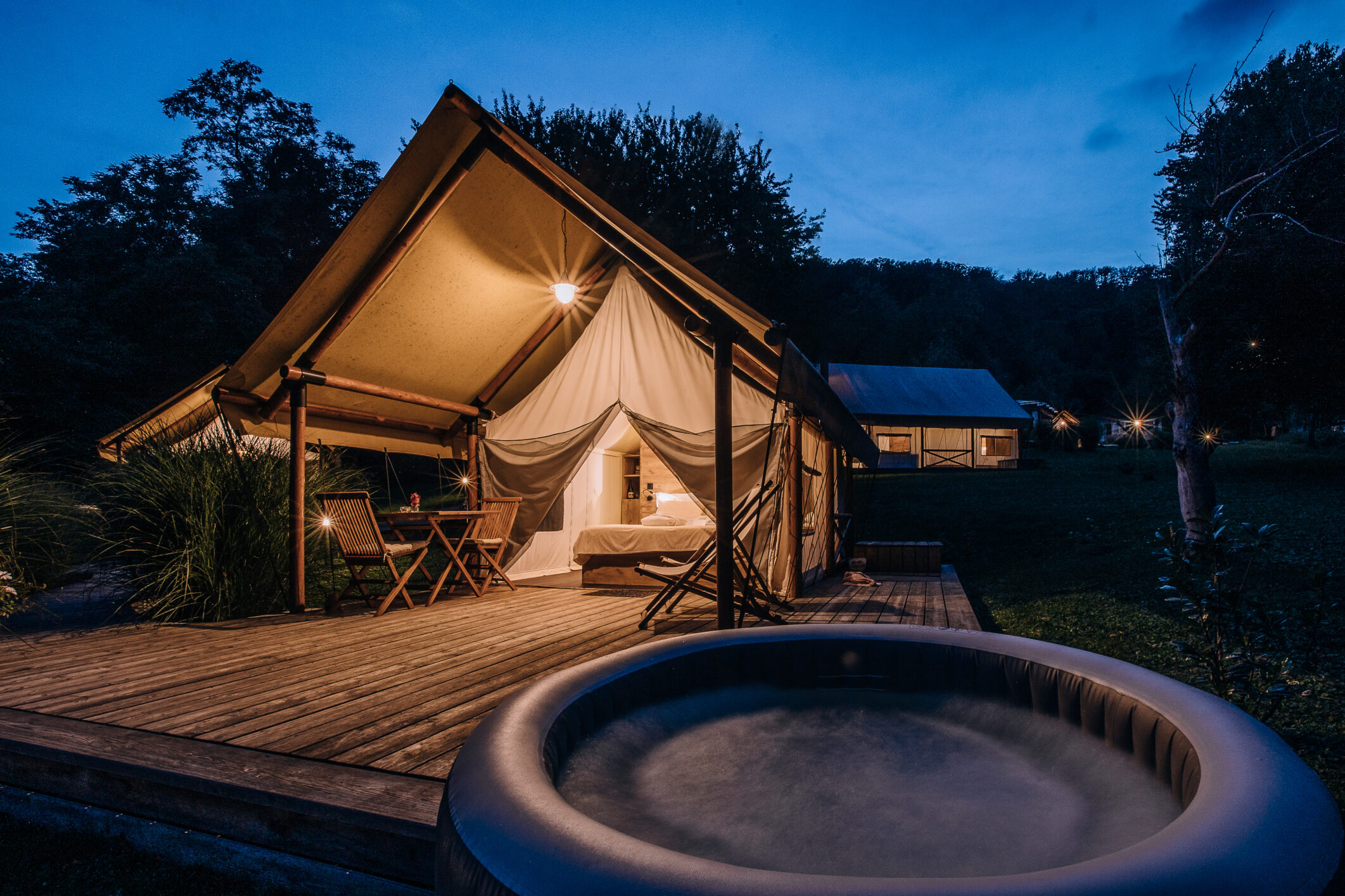 Experience prestige moments sorrounded by nature and vineyards
A private retreat with an atmosphere of tasteful luxury striving to achieve beauty through simplicity is the one and only place you want to go next.
Indulge in the ultimate treatment and relax in your own private hot tub anytime of the day or night. The tents exude a charming tranquility for a chic holiday, a romantic rendezvous, or a peaceful getaway with the entire family.
They're heated with a special heating system and pleasantly warm in the colder months. AC is convenient in summer time but our vineyards offers a pleasant natural coolness.
Just sit back, take a deep breath, relax and experience love at first glance that instantly becomes a treasured lifelong memory. Welcome to our glamorous glamping resort Chateau Ramšak set within the grounds of beautiful vineyards.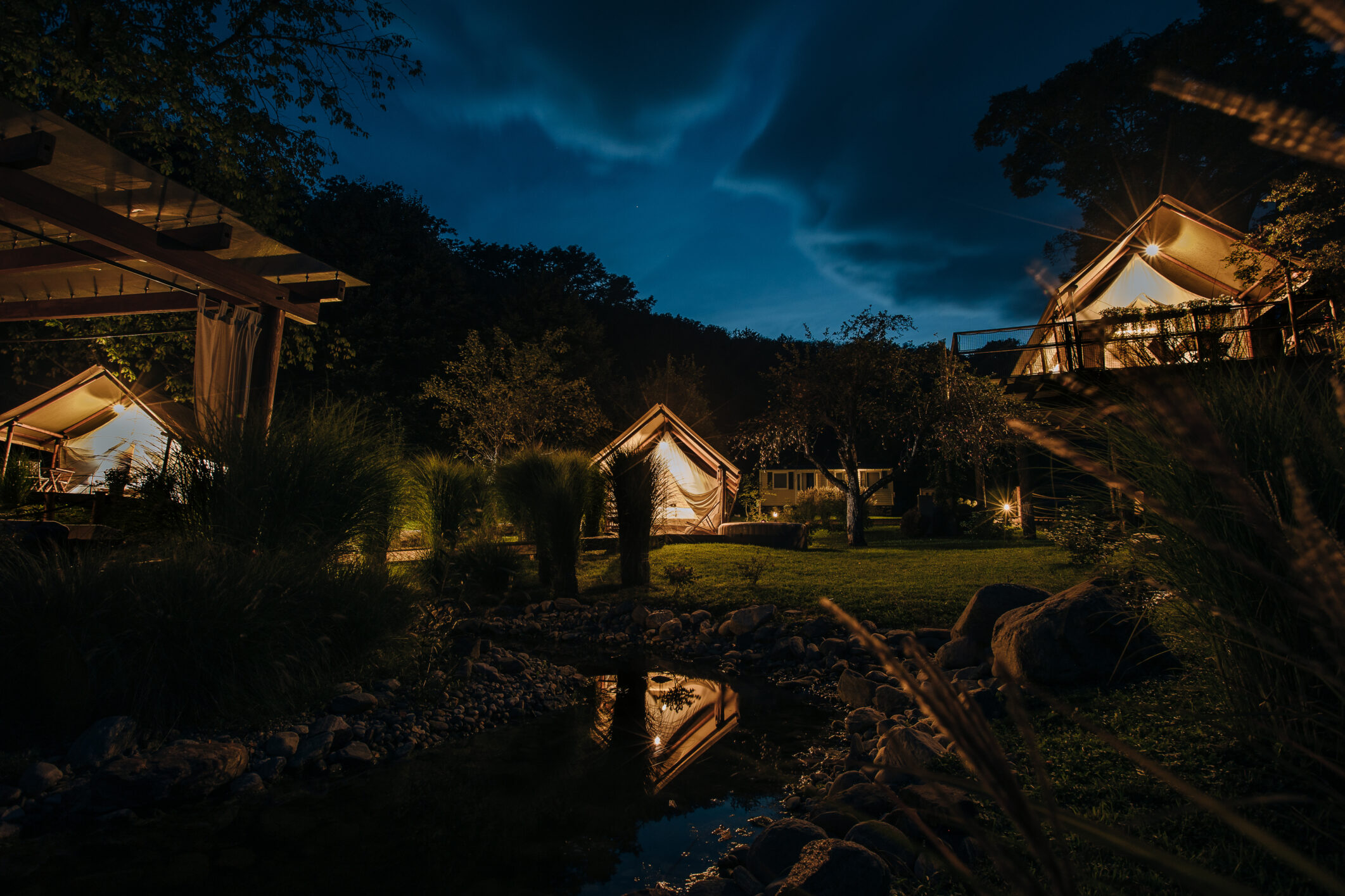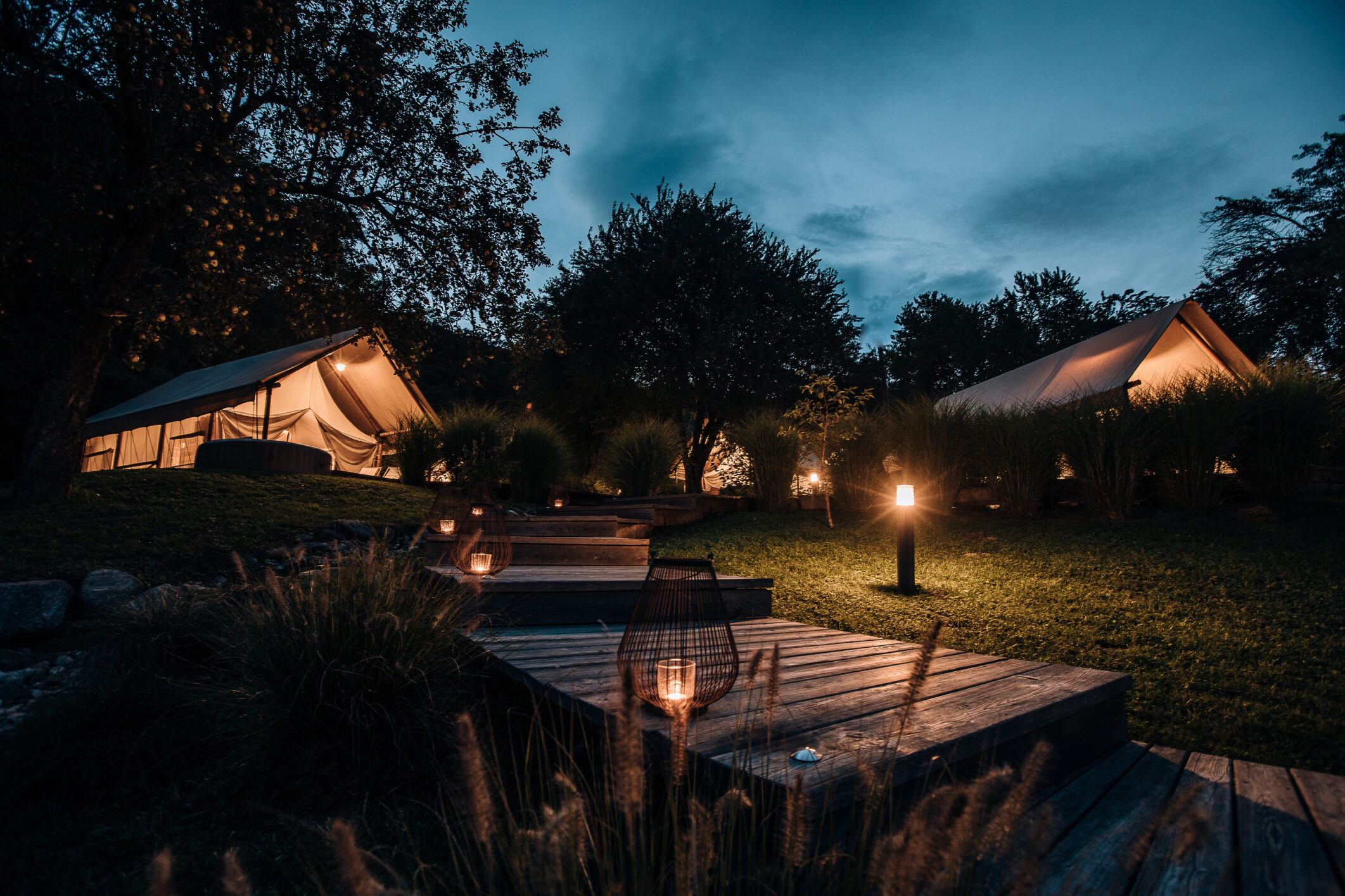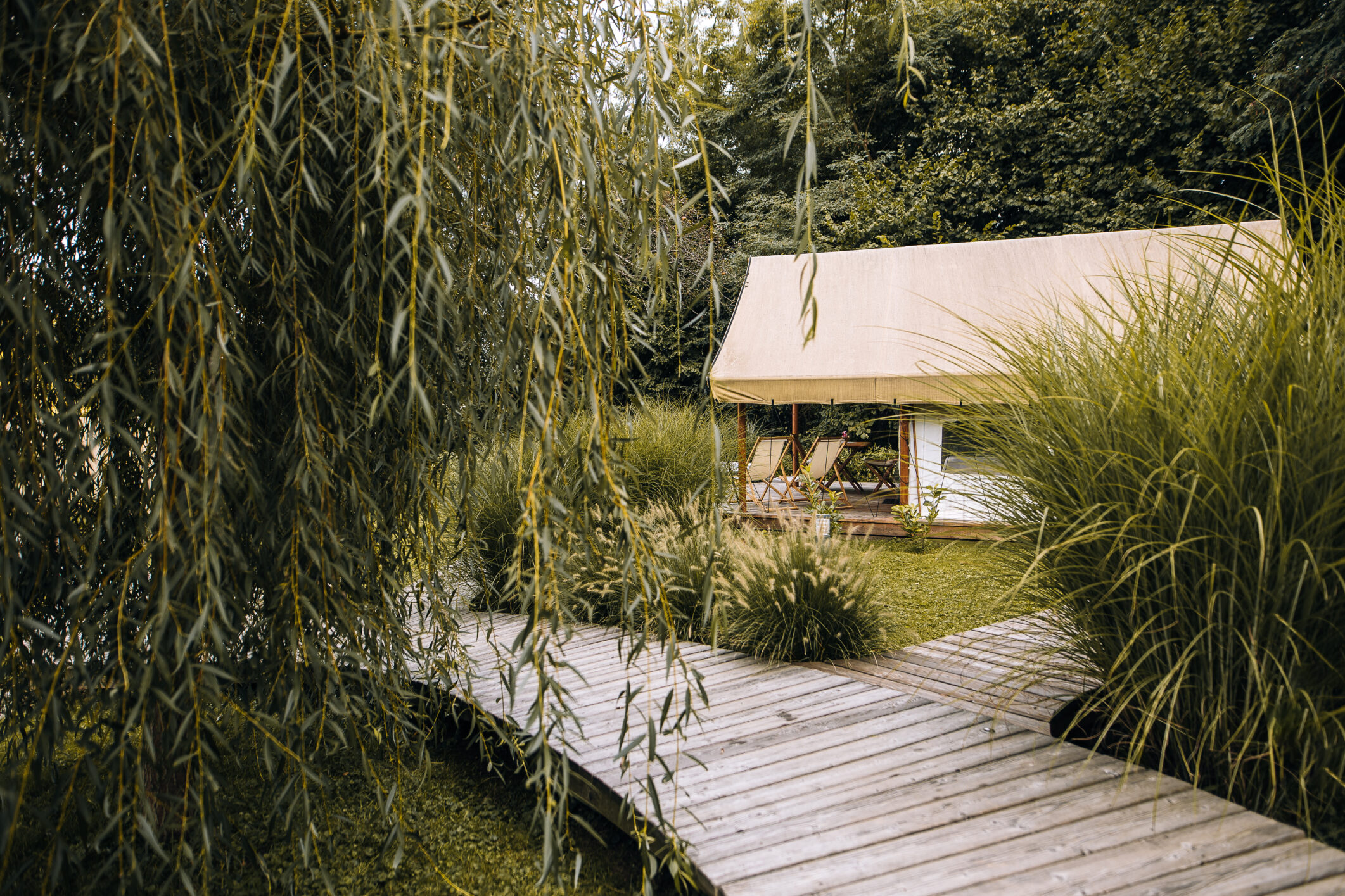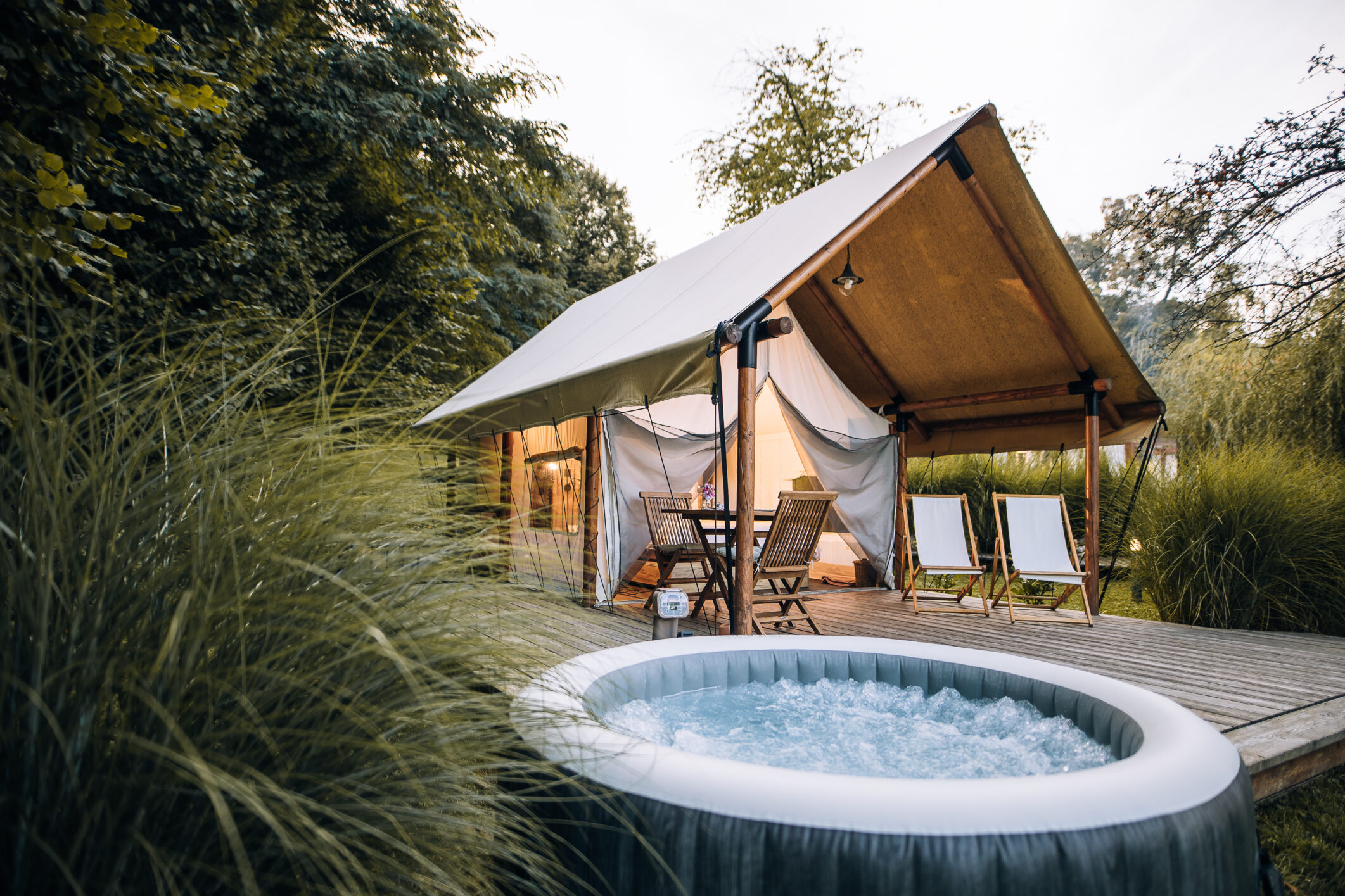 +41 Photos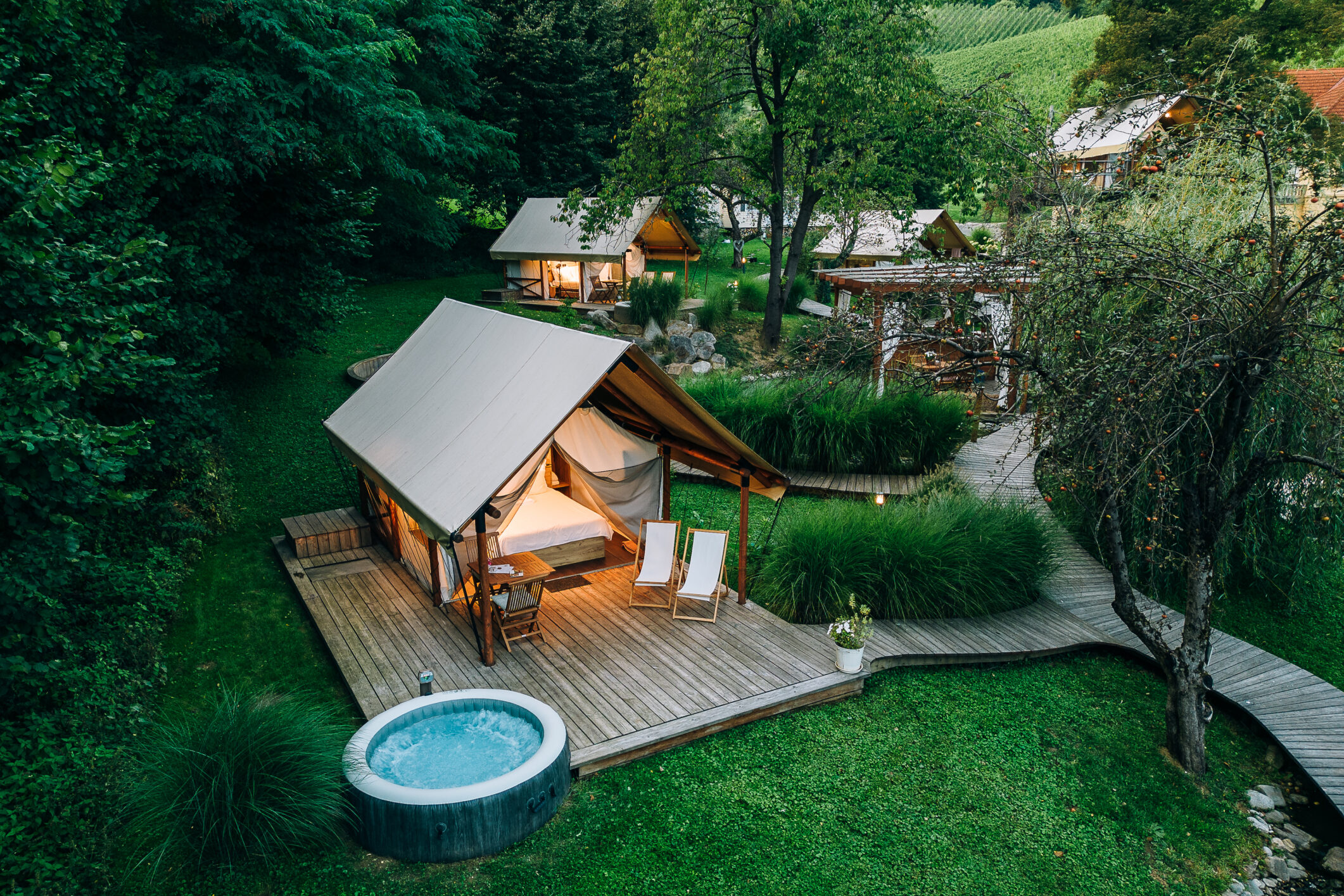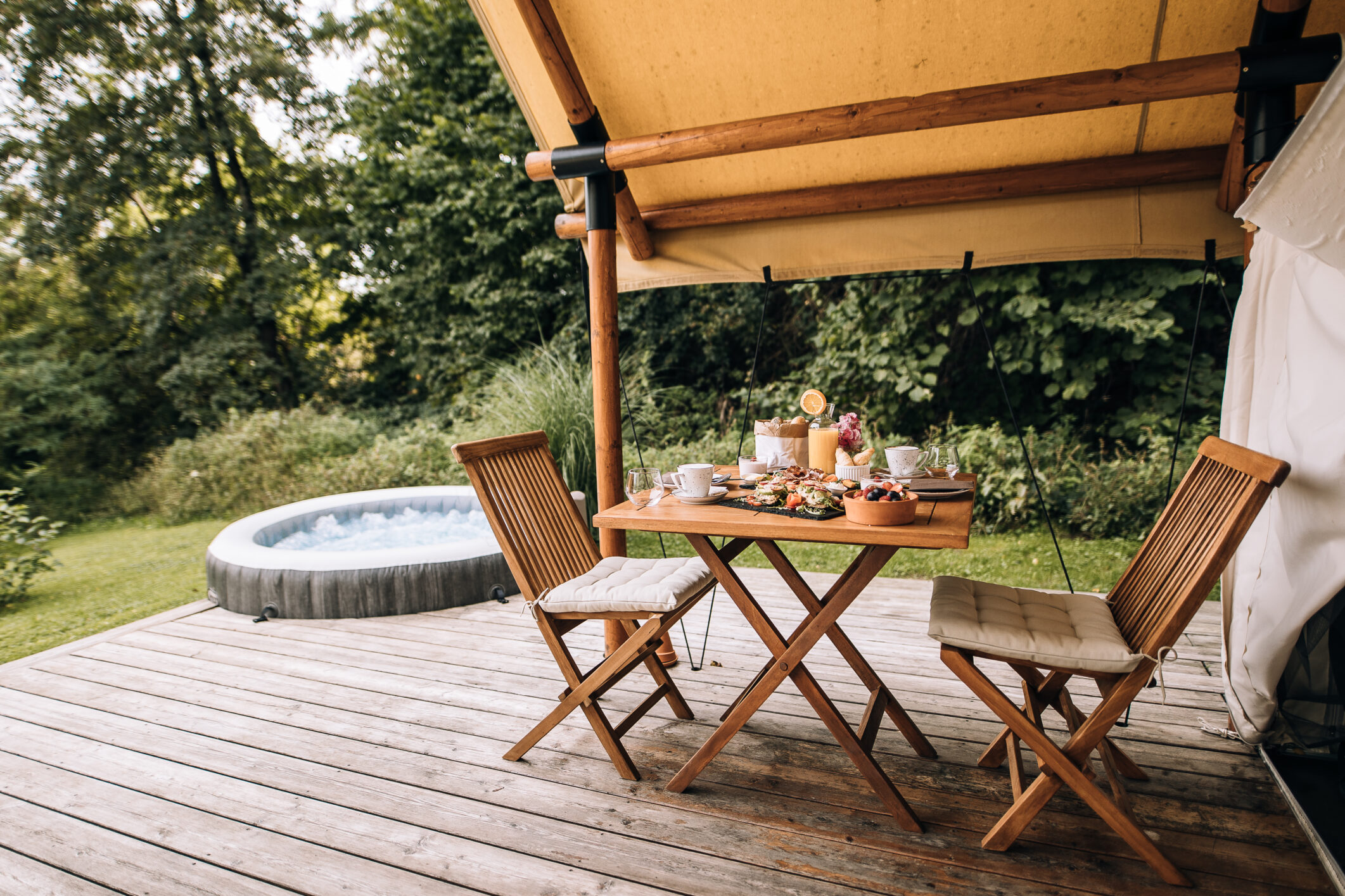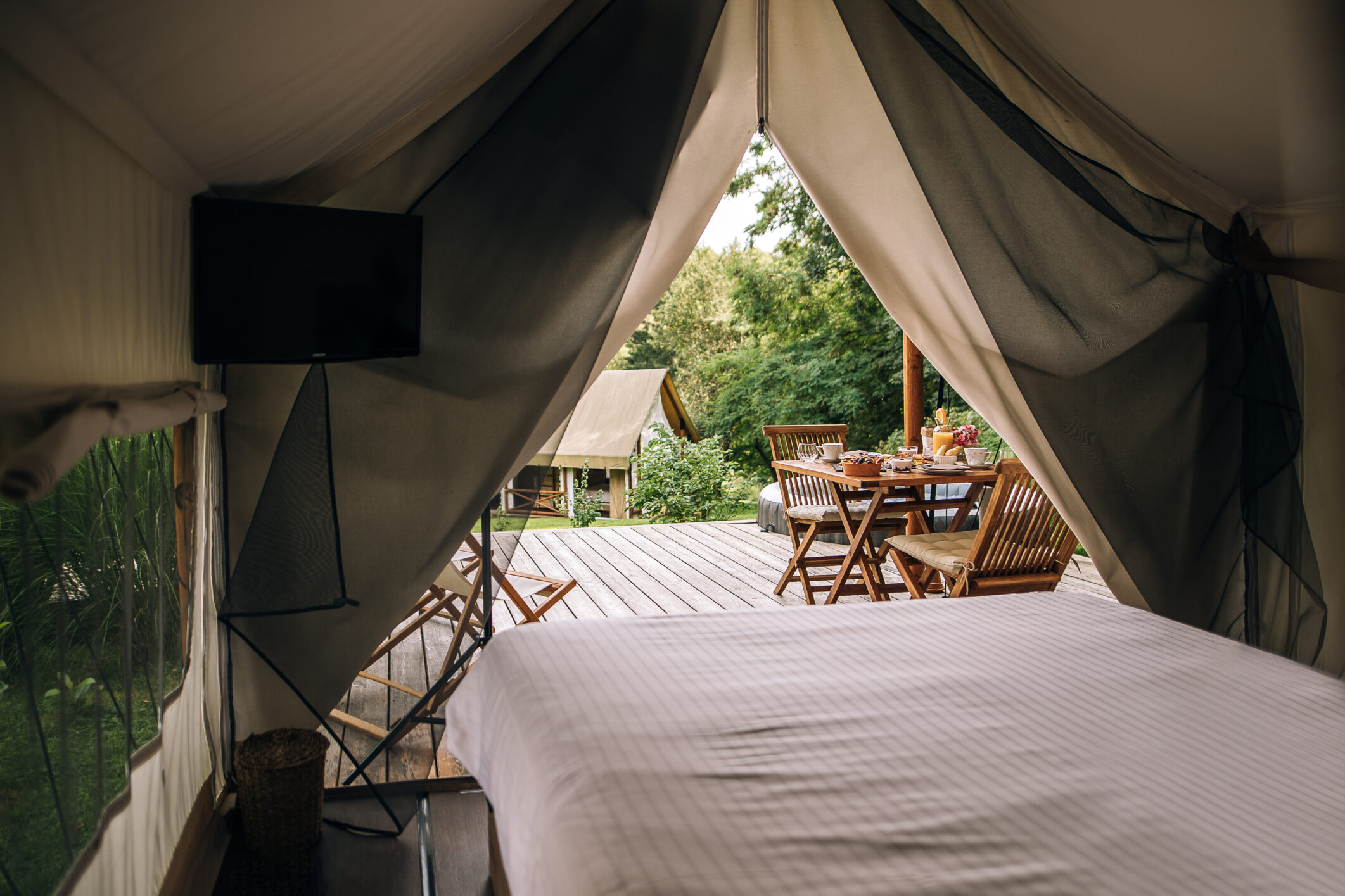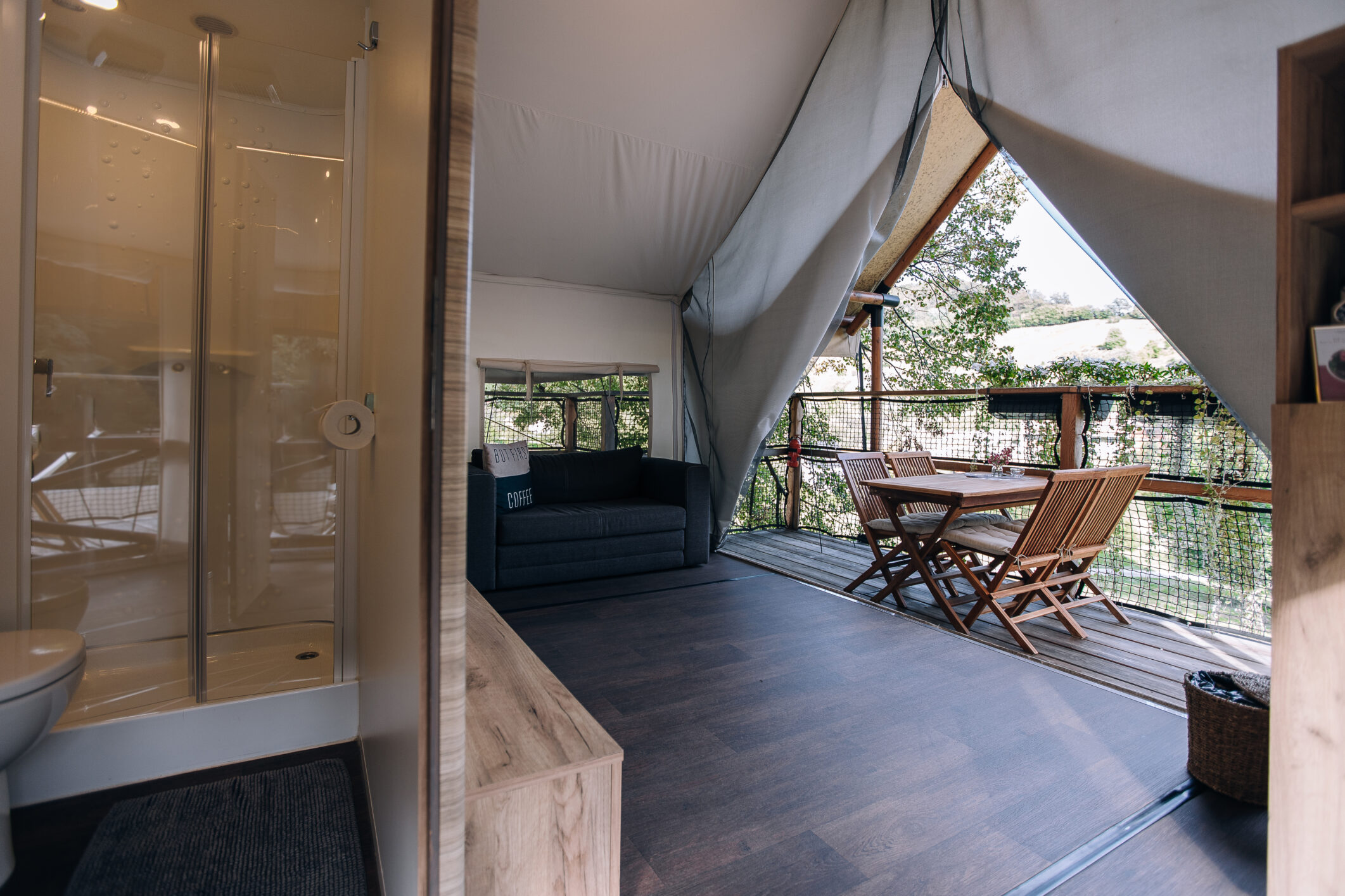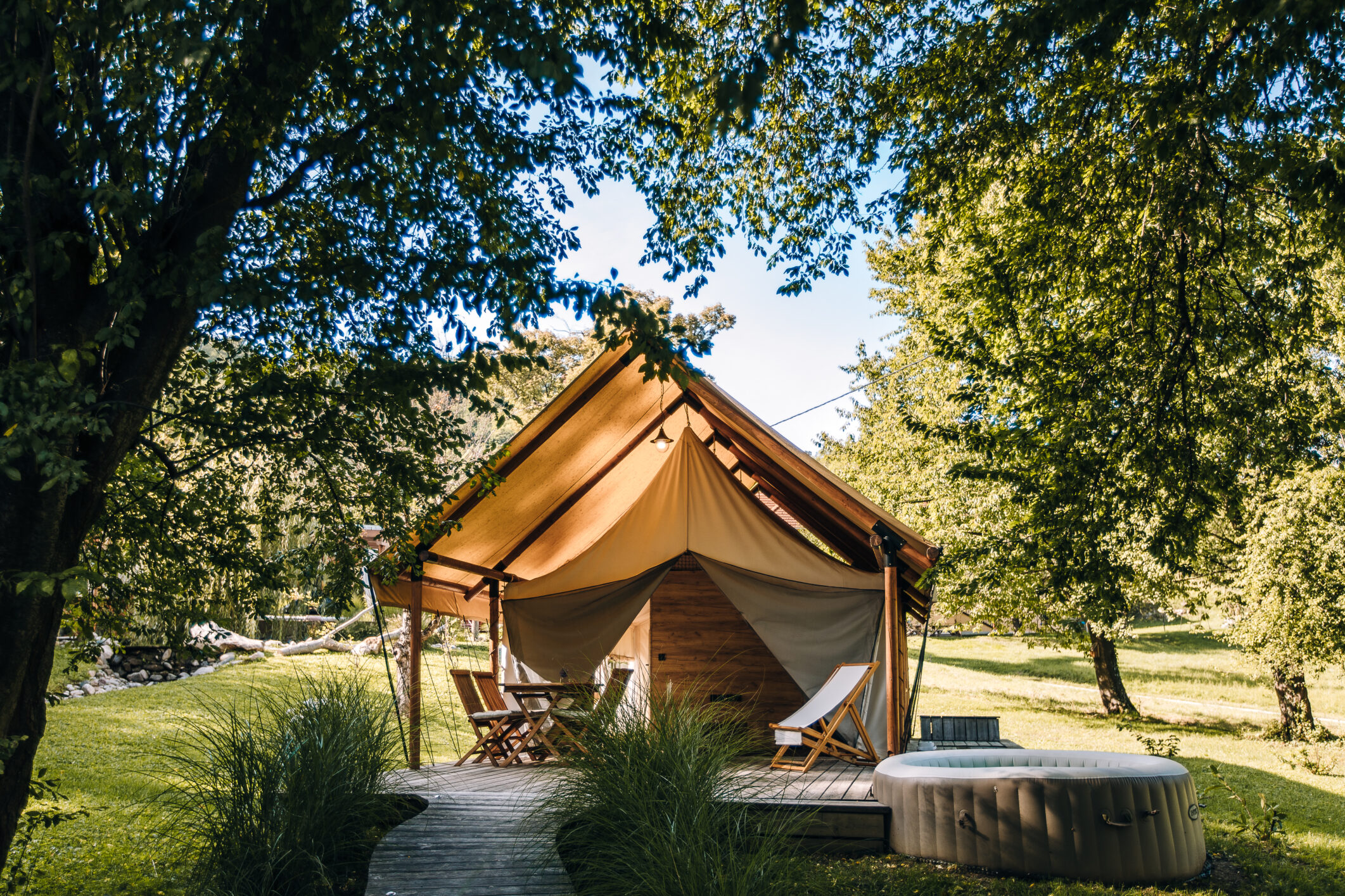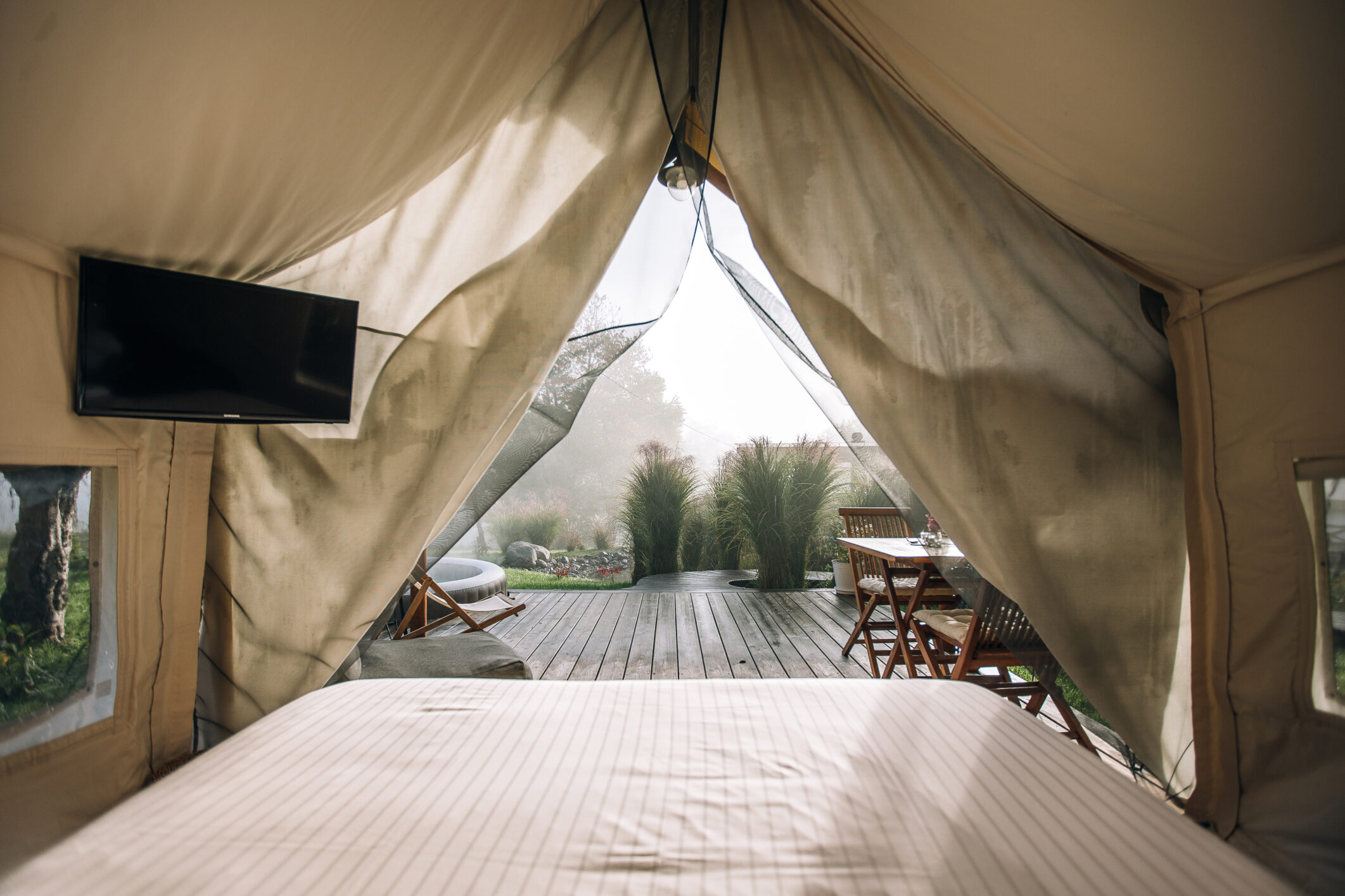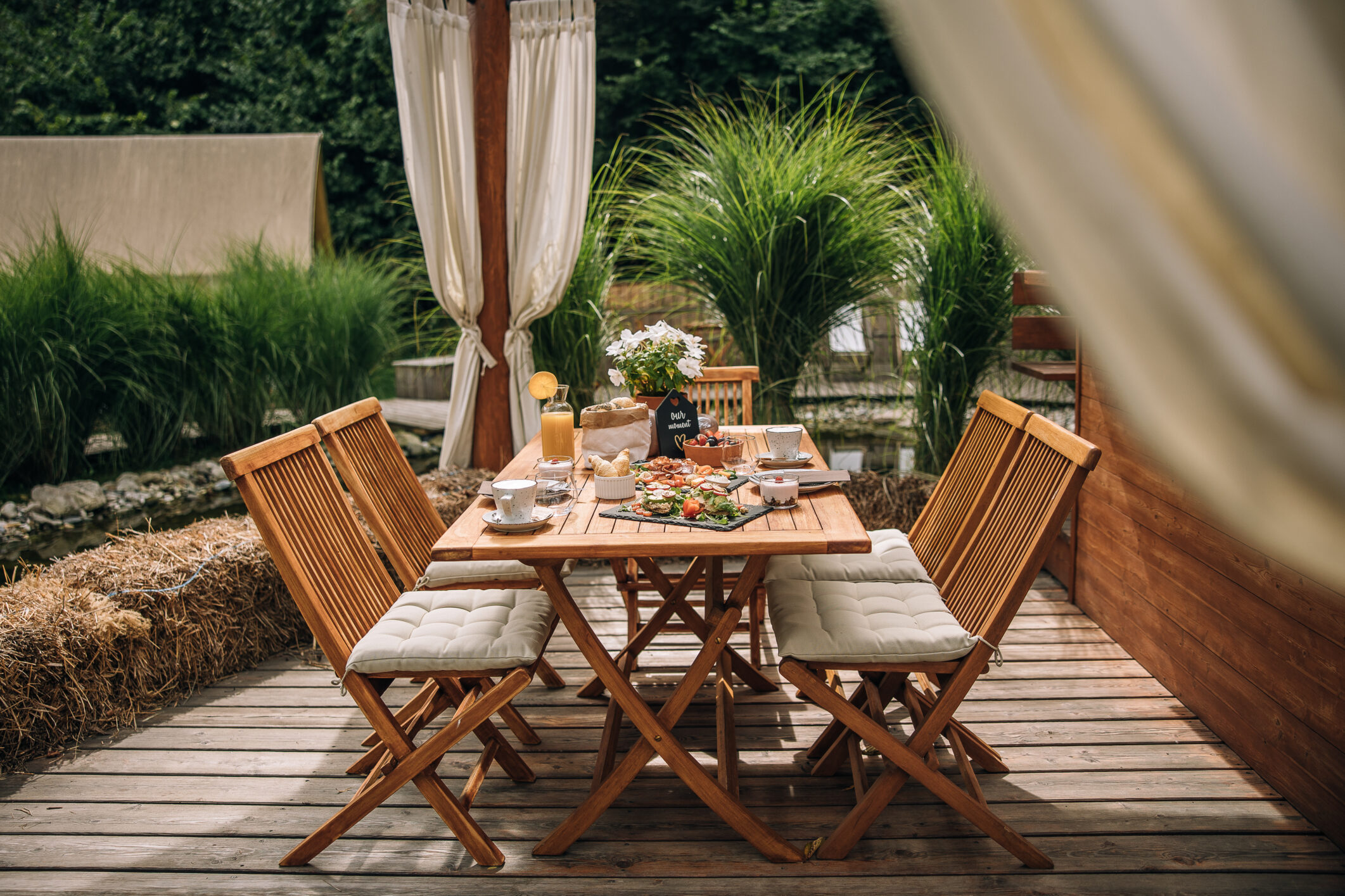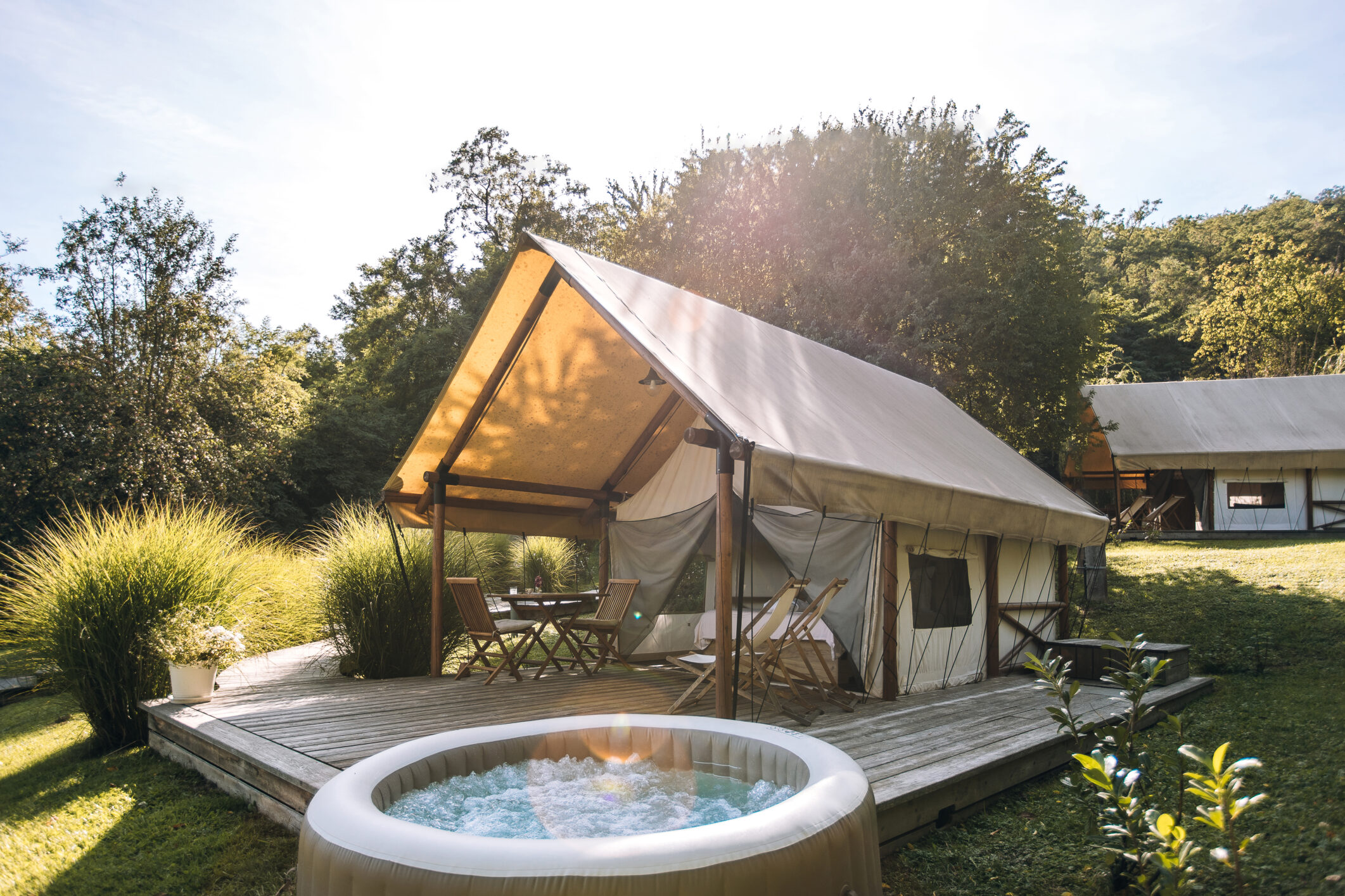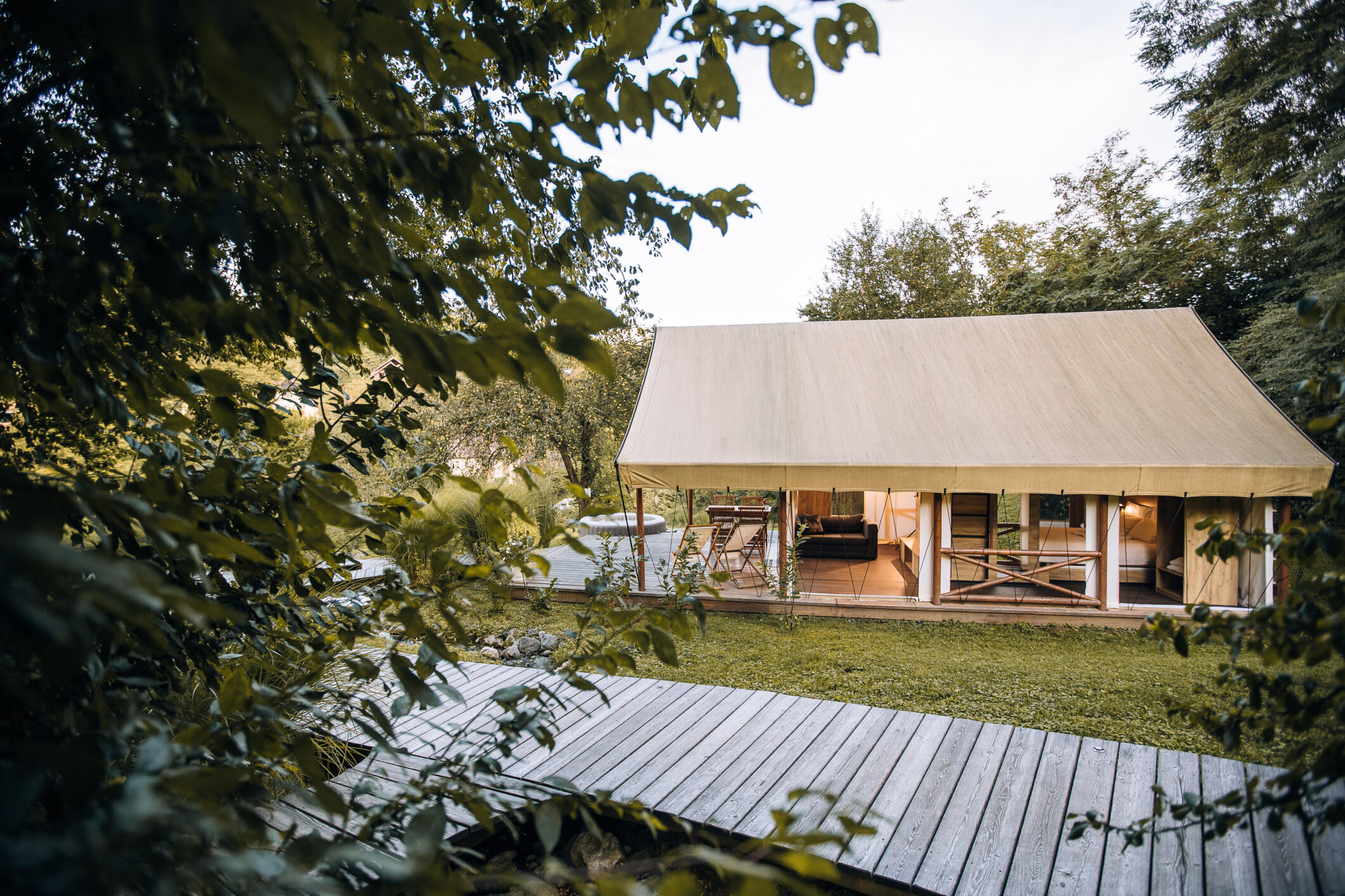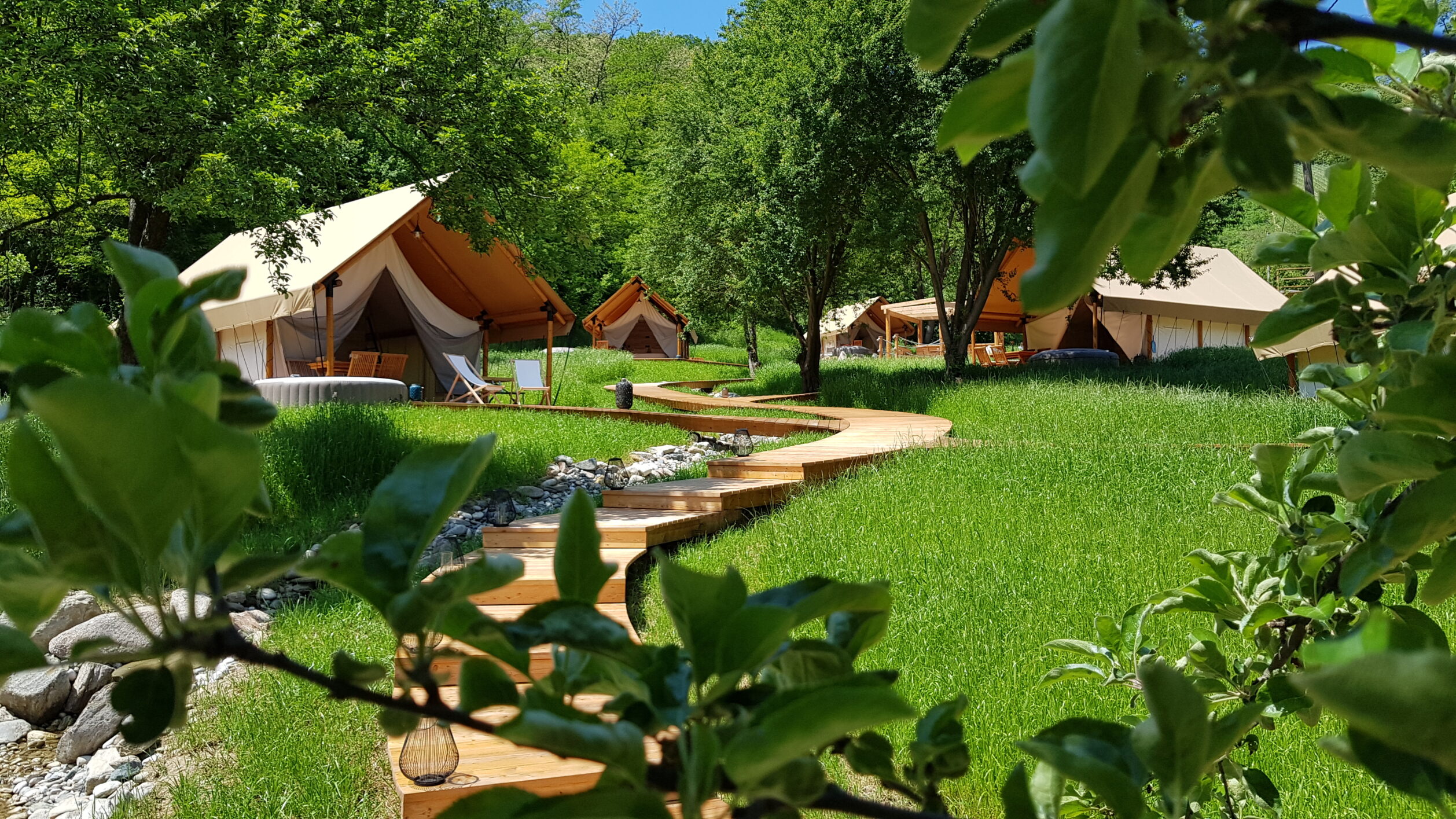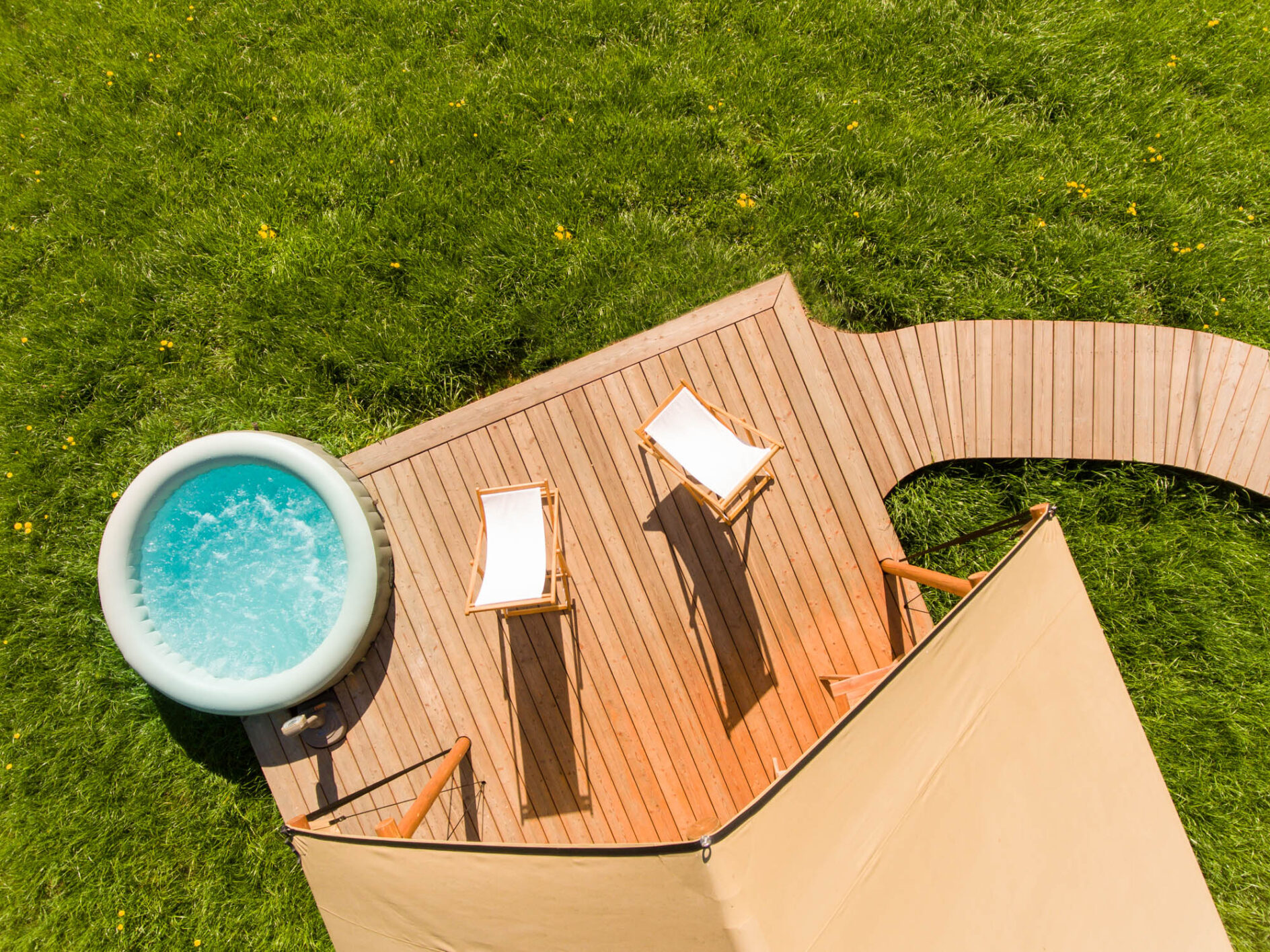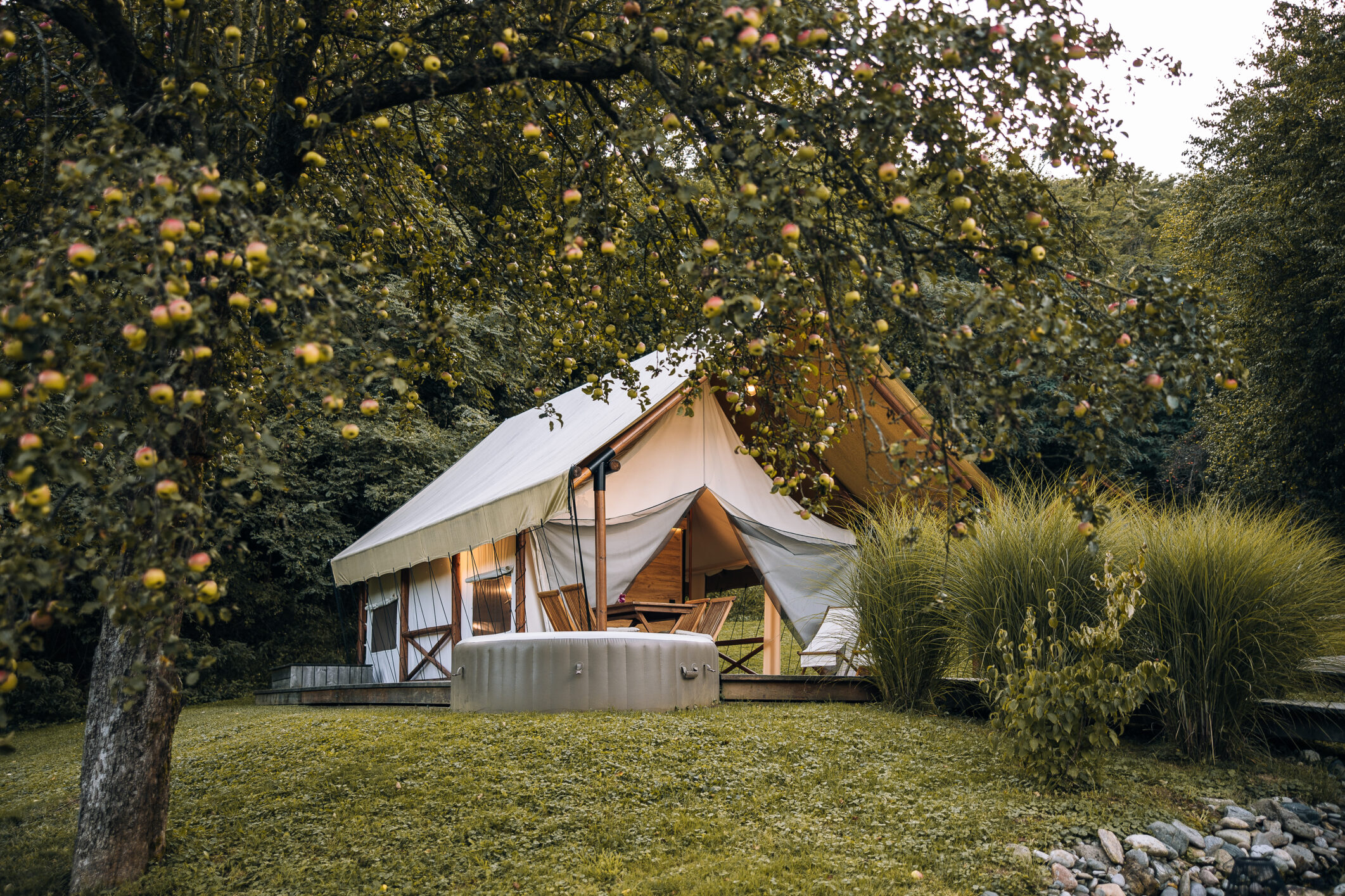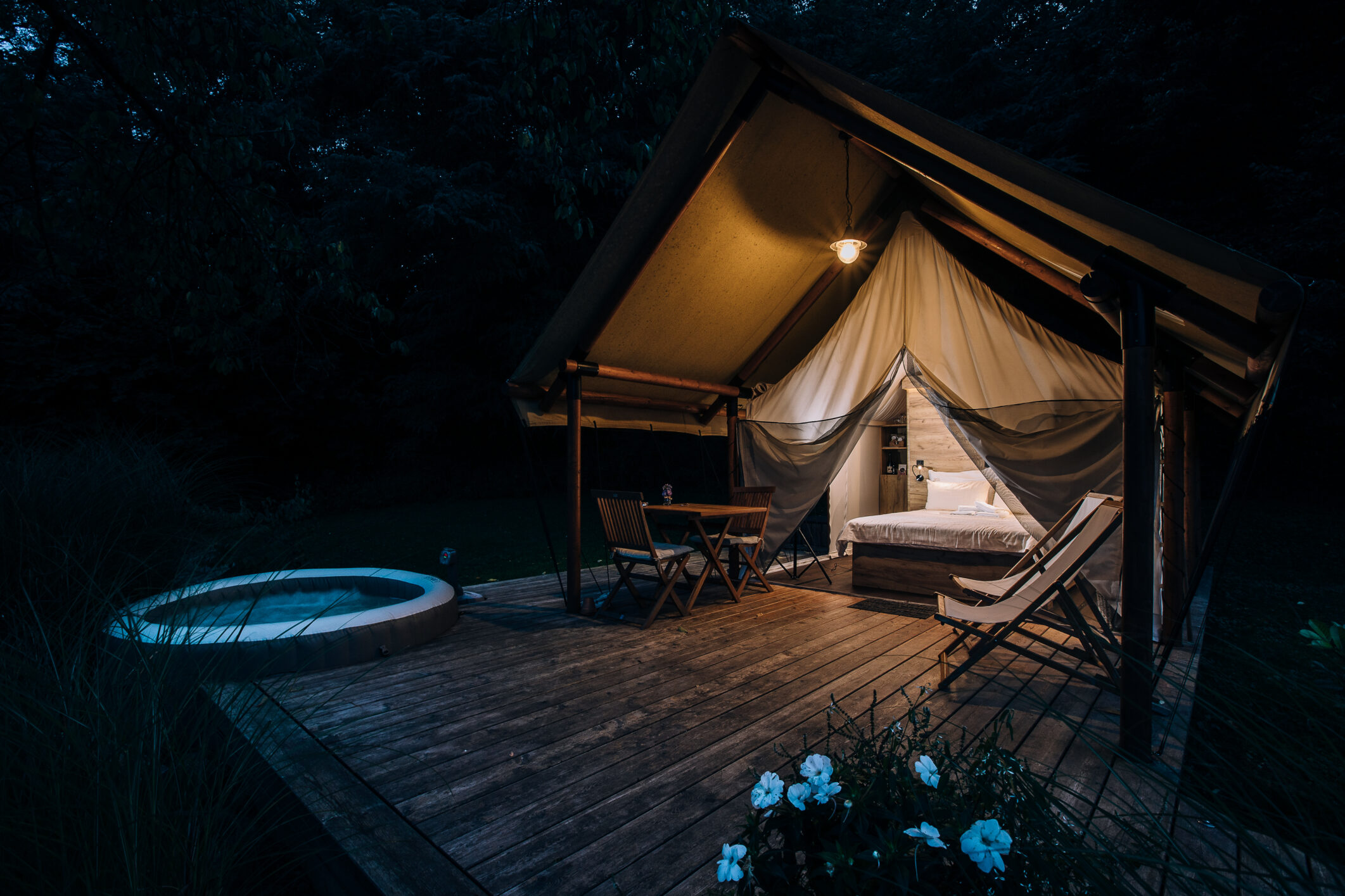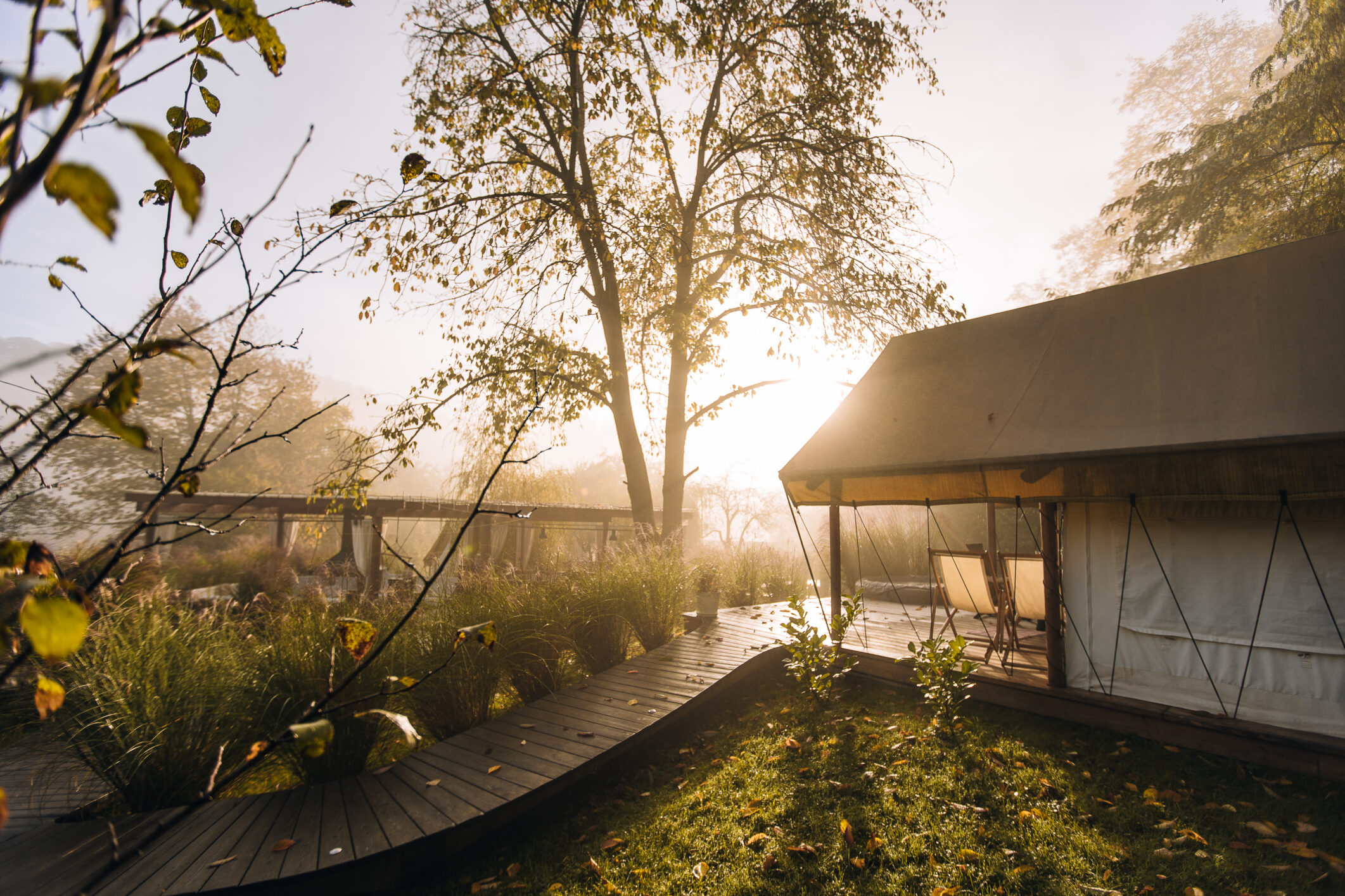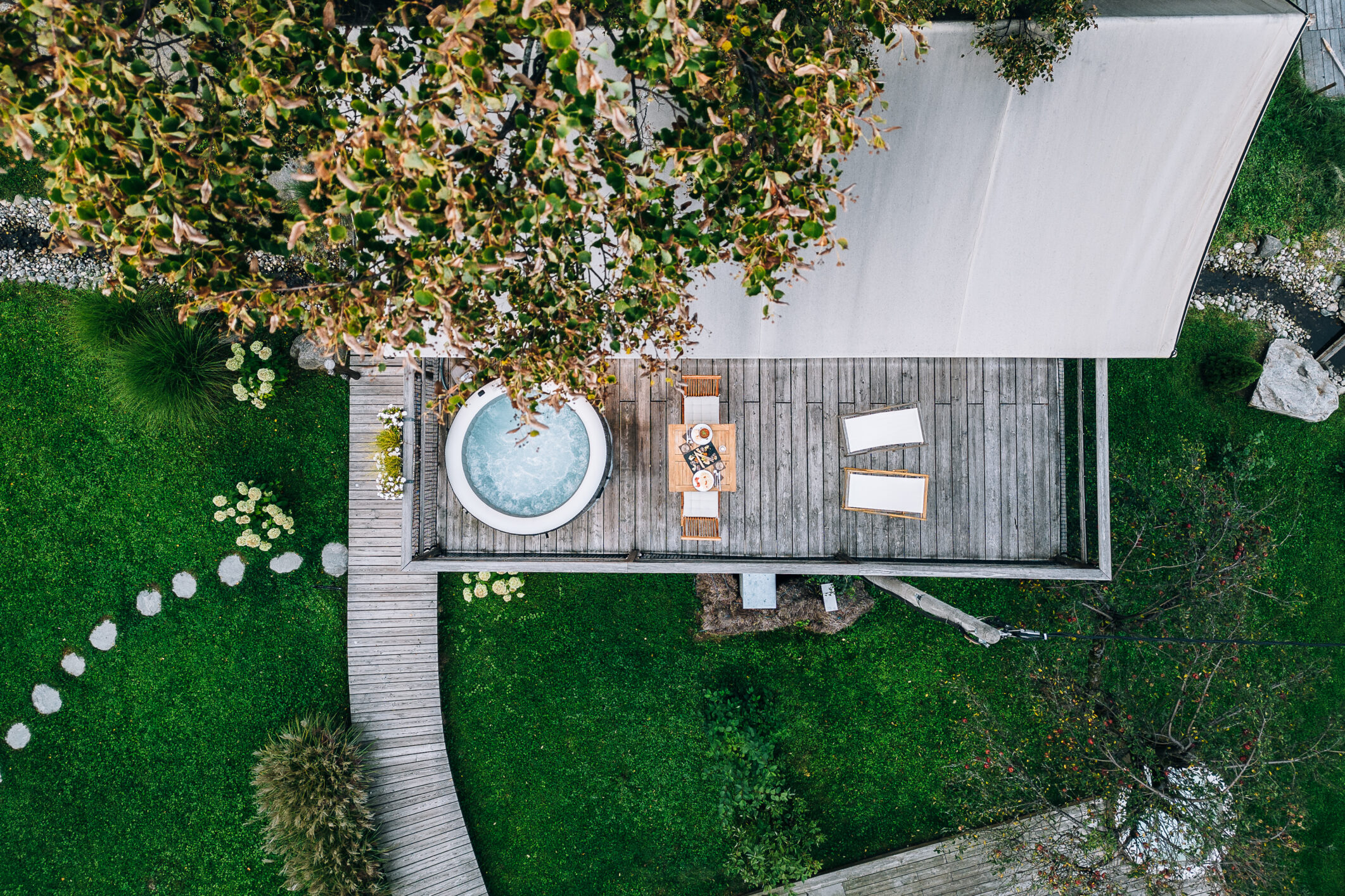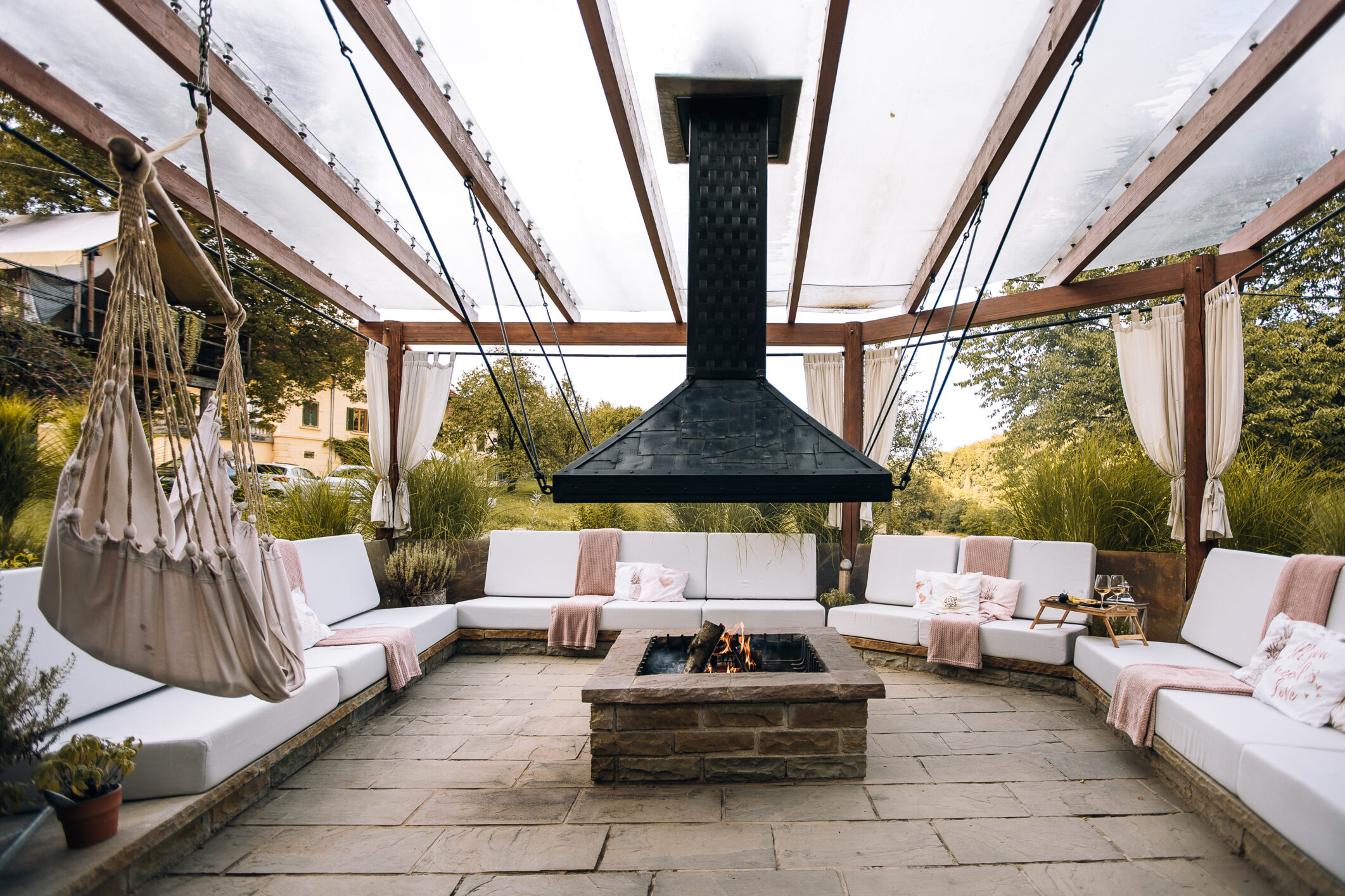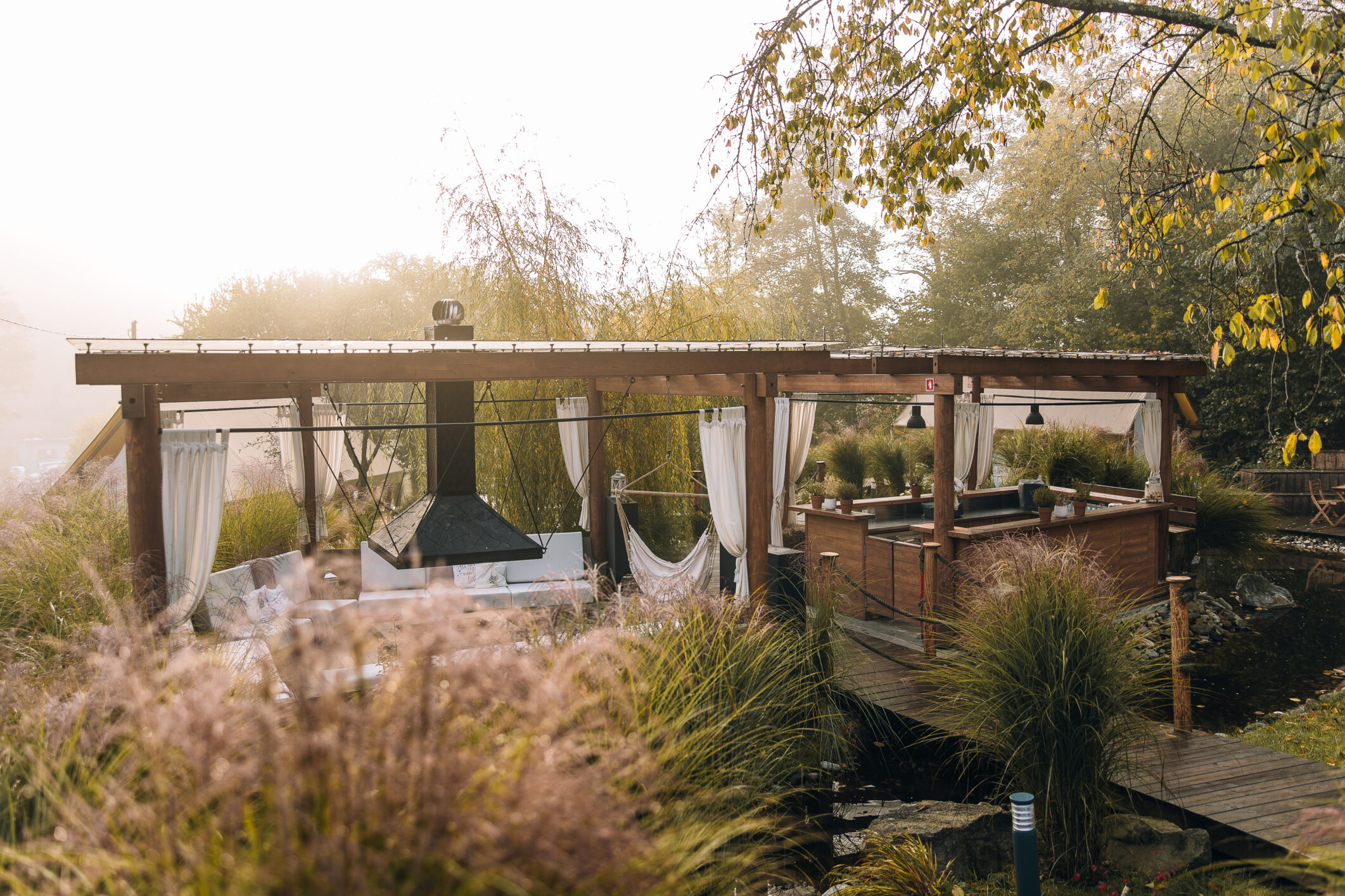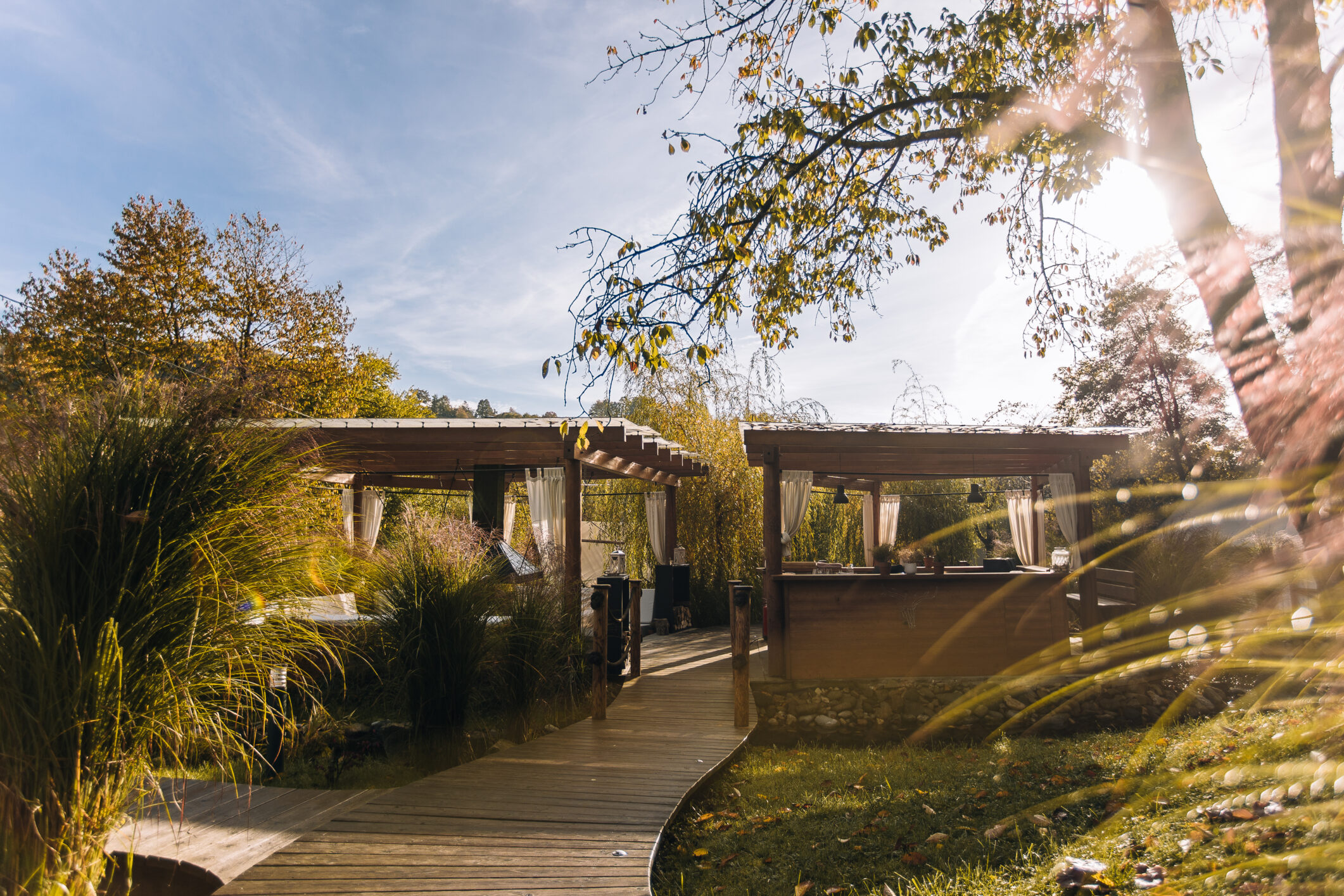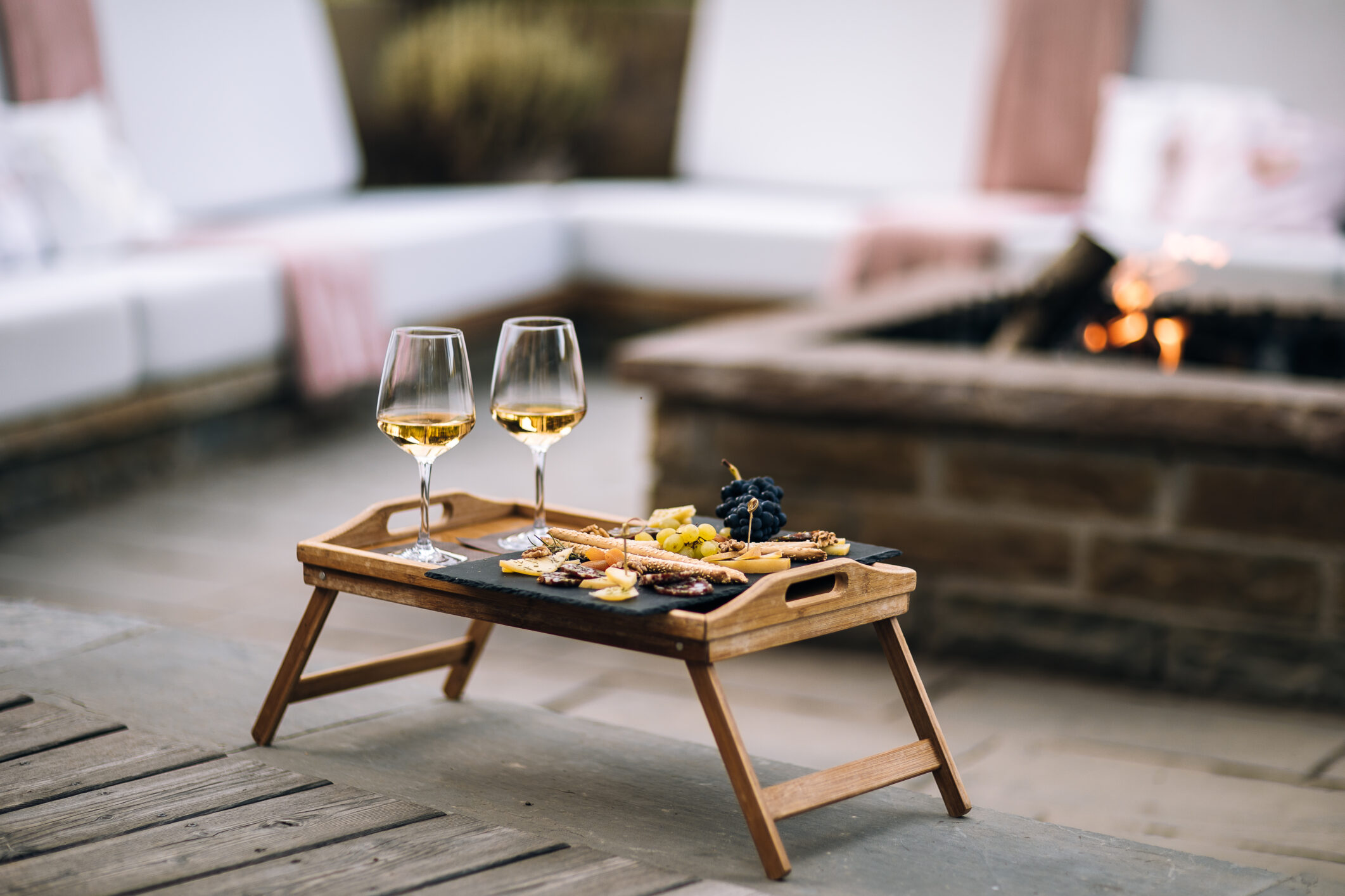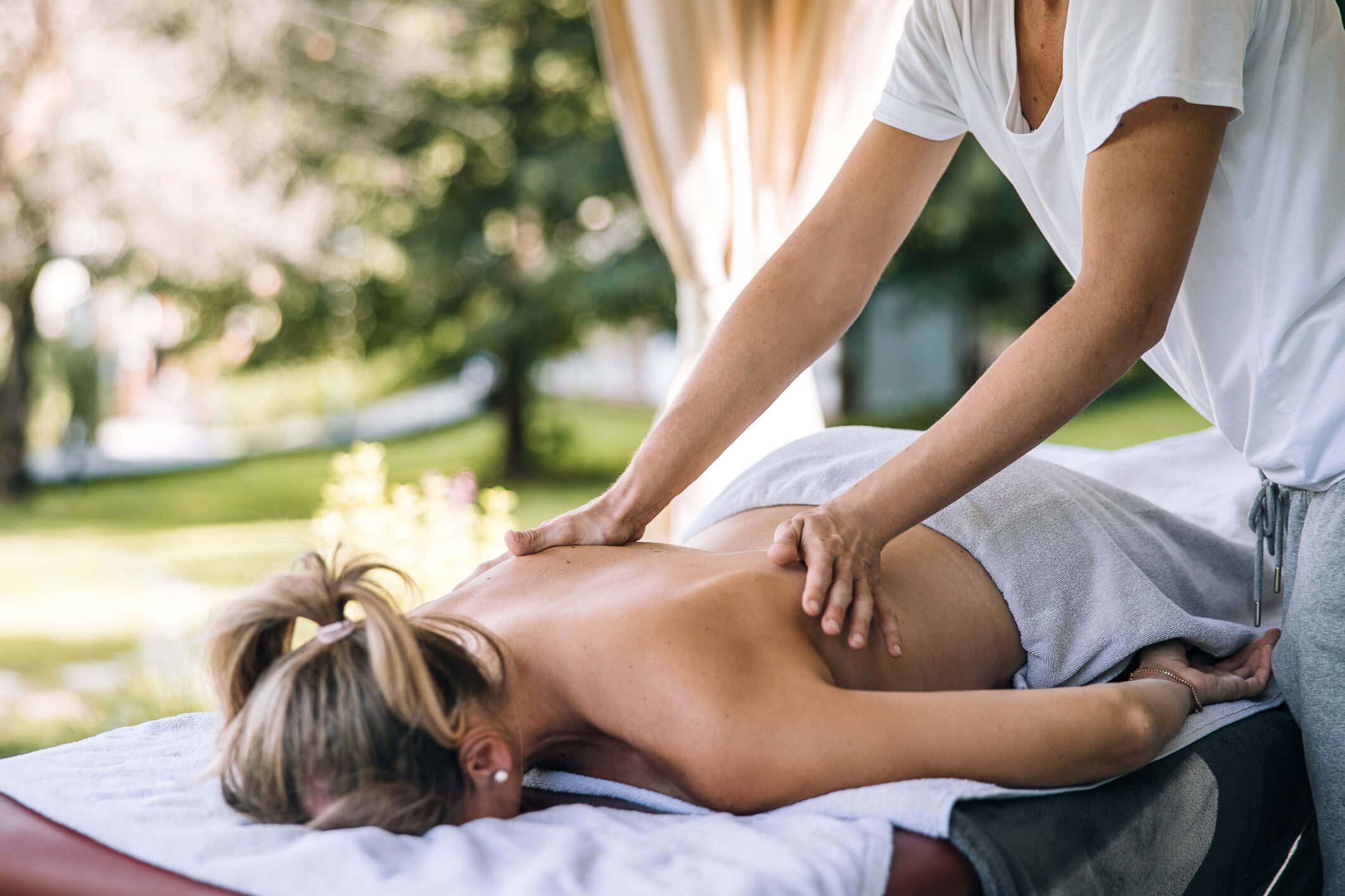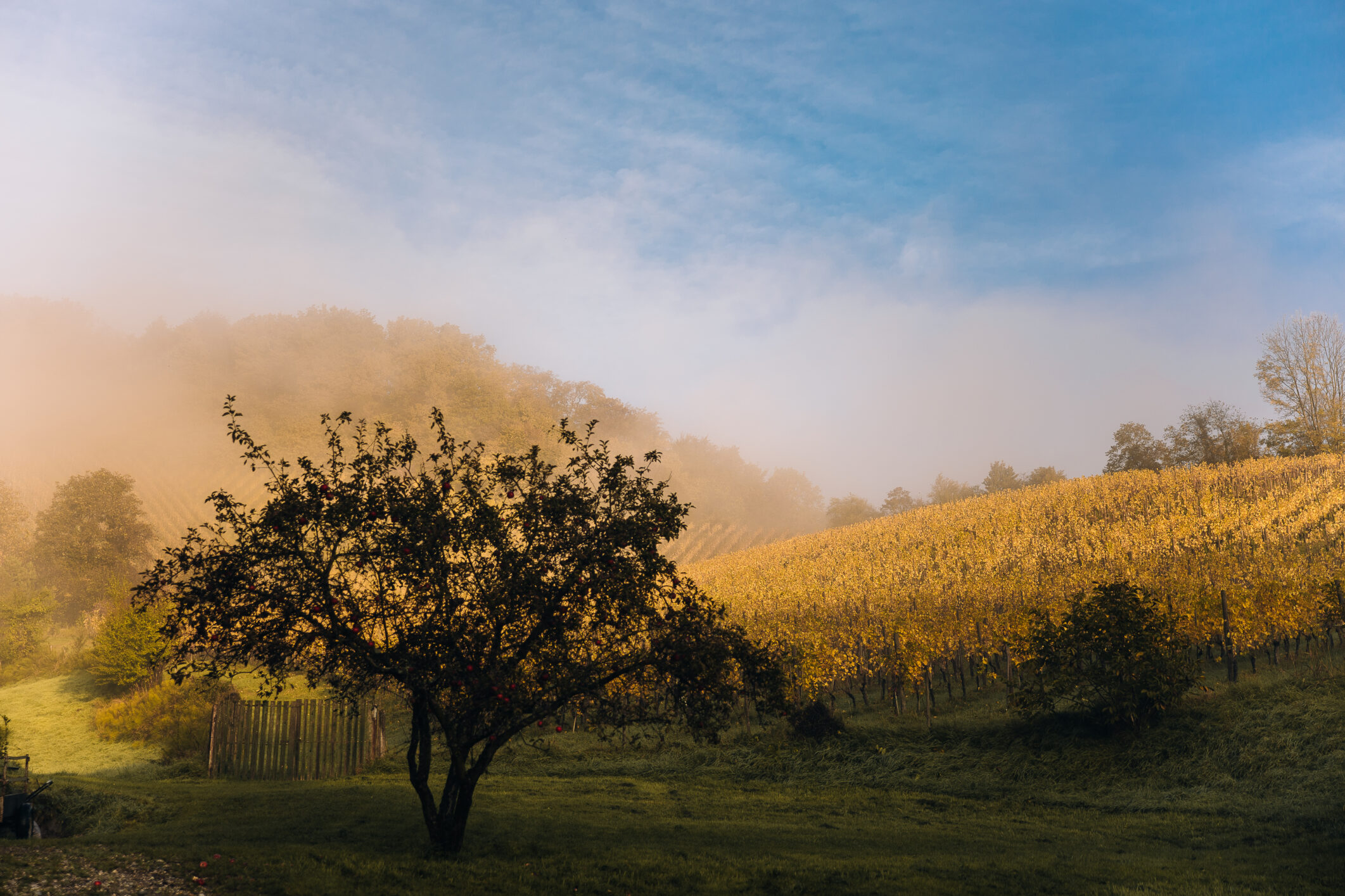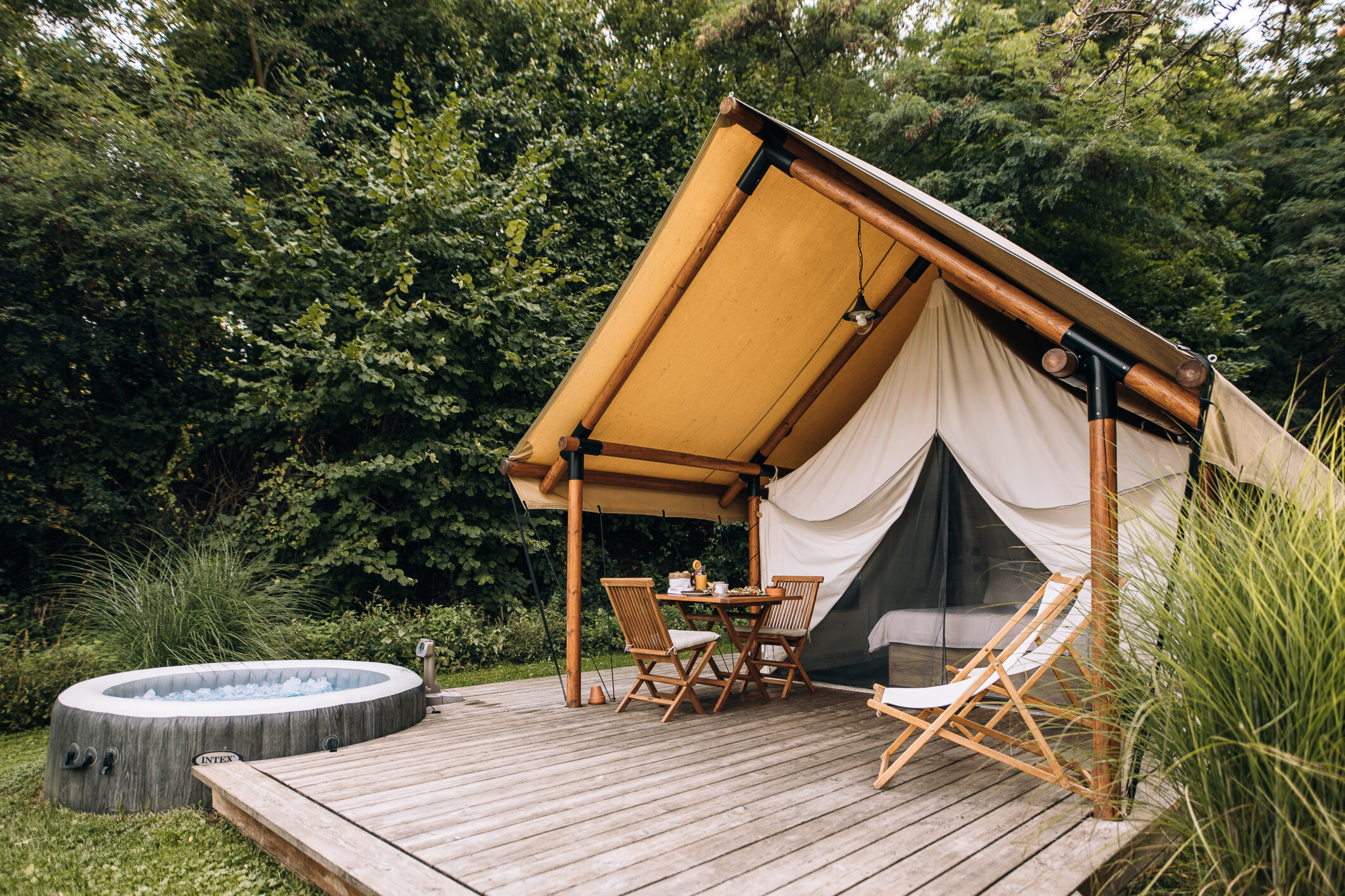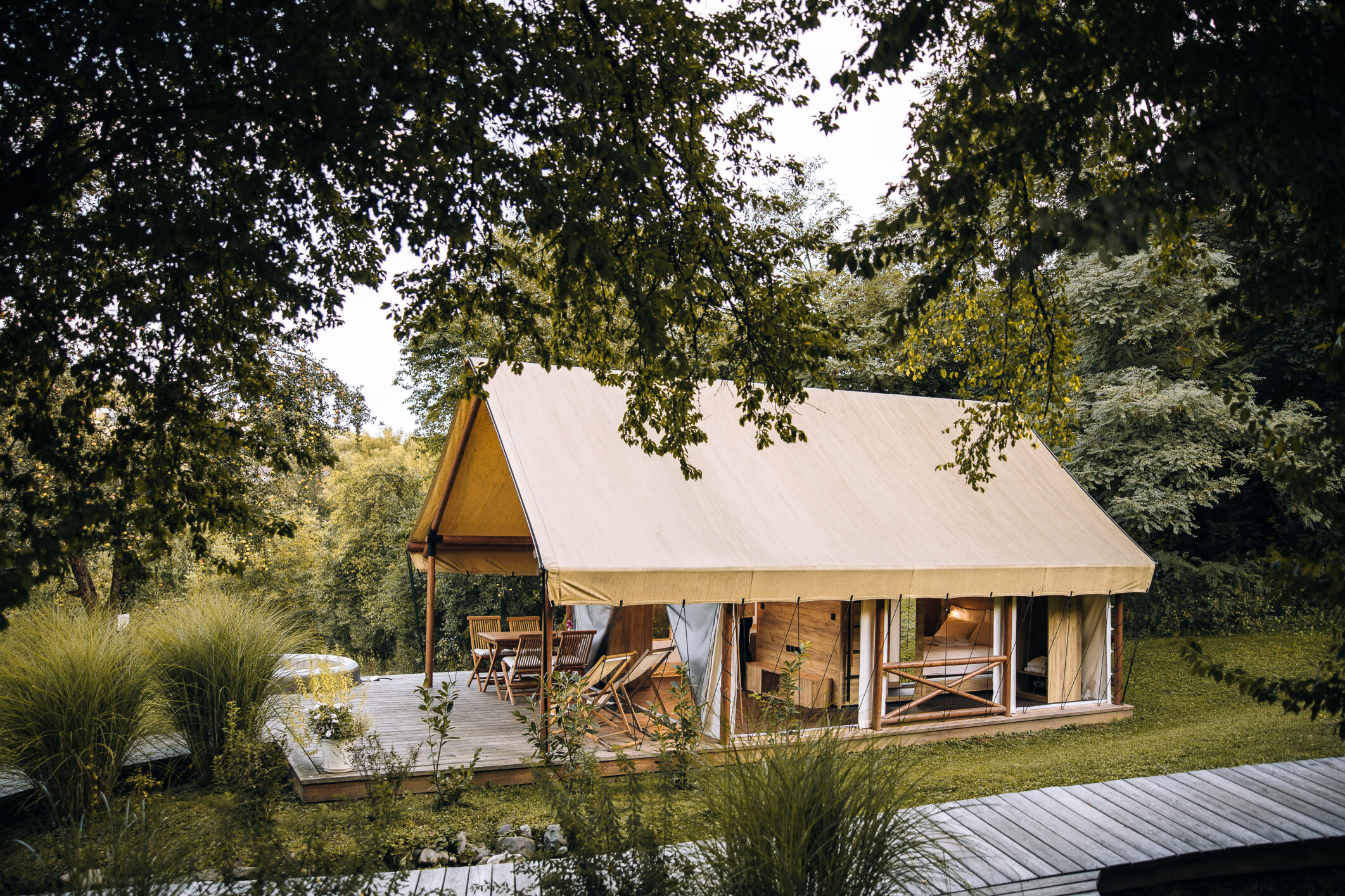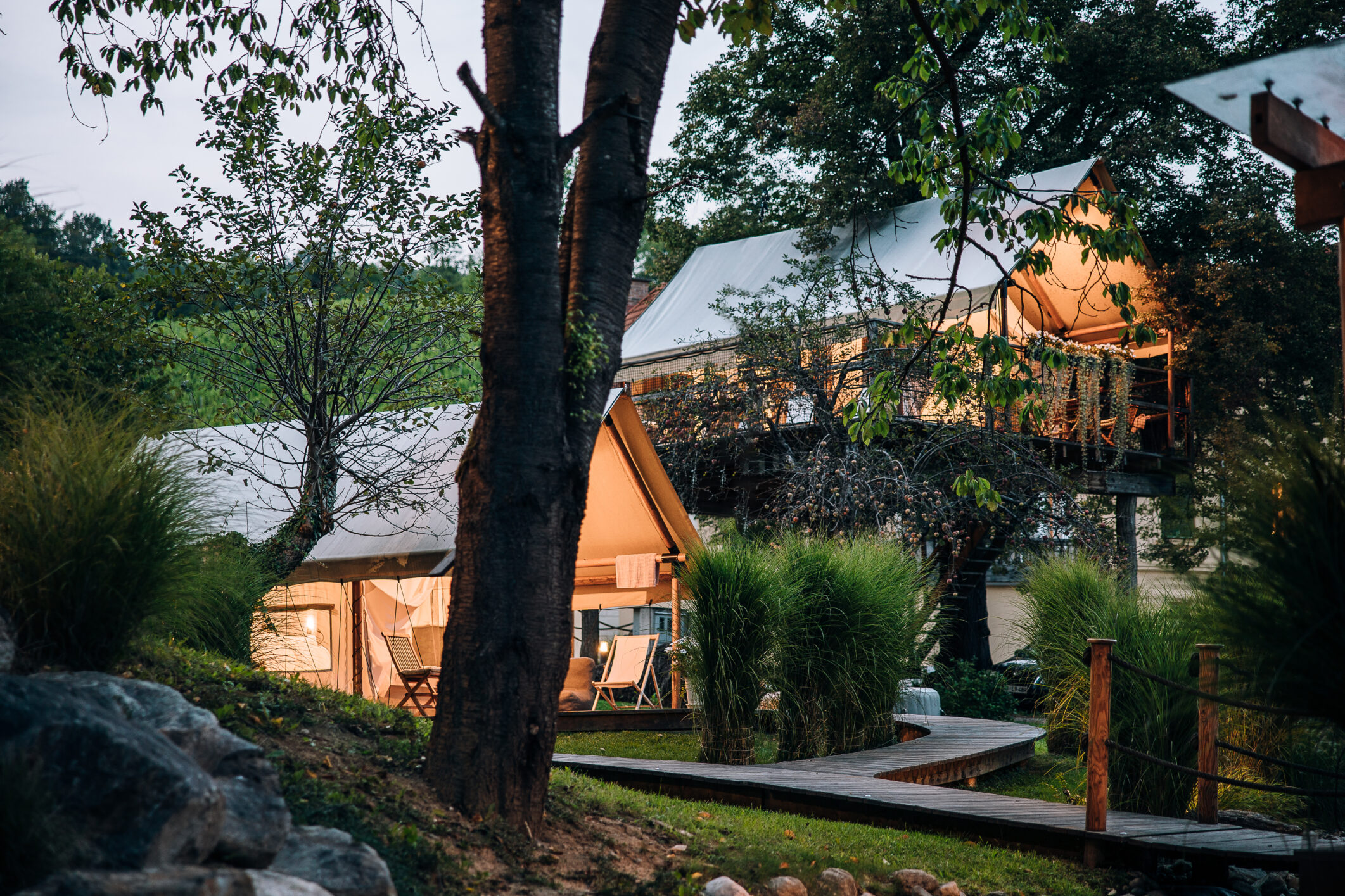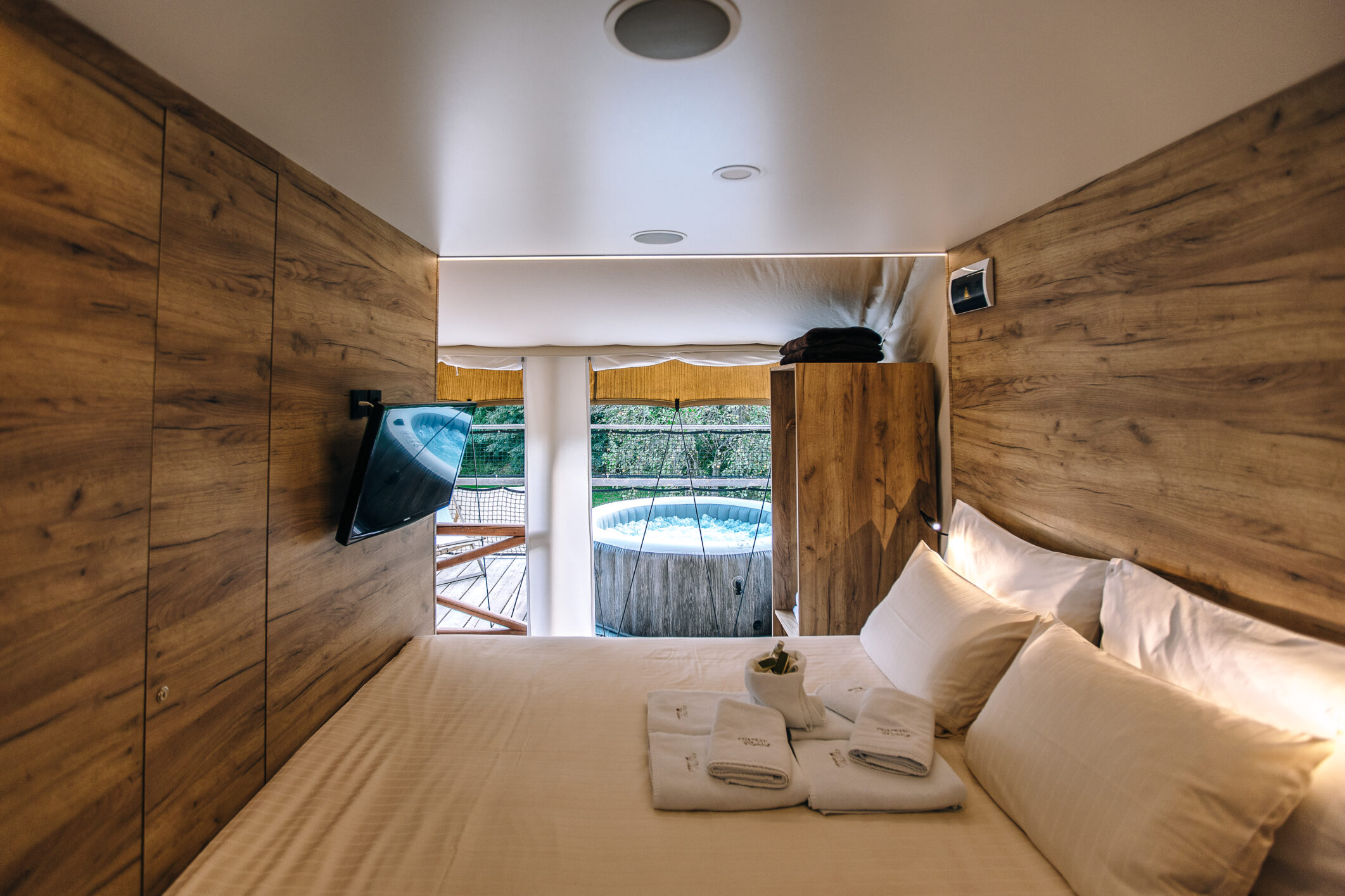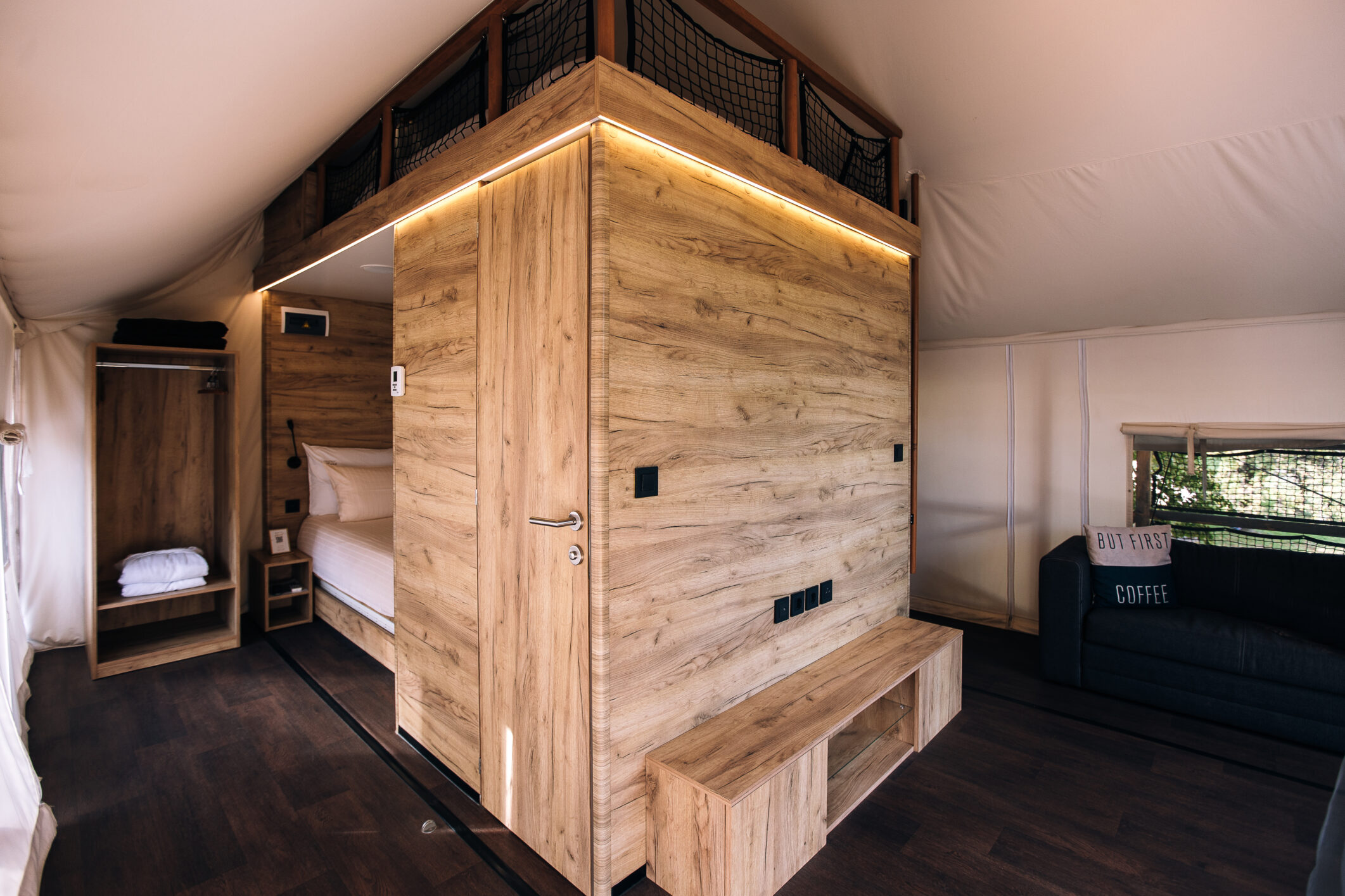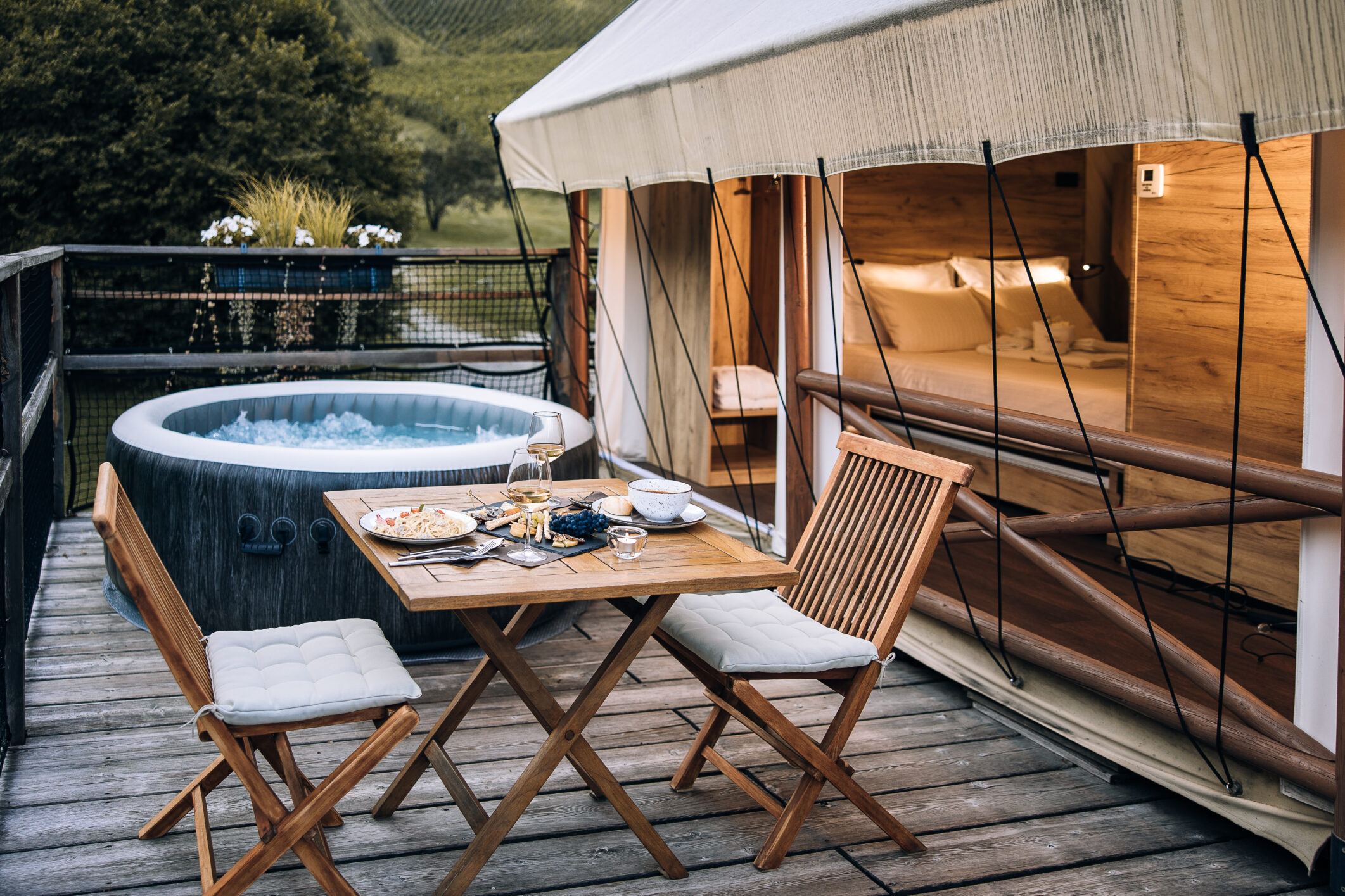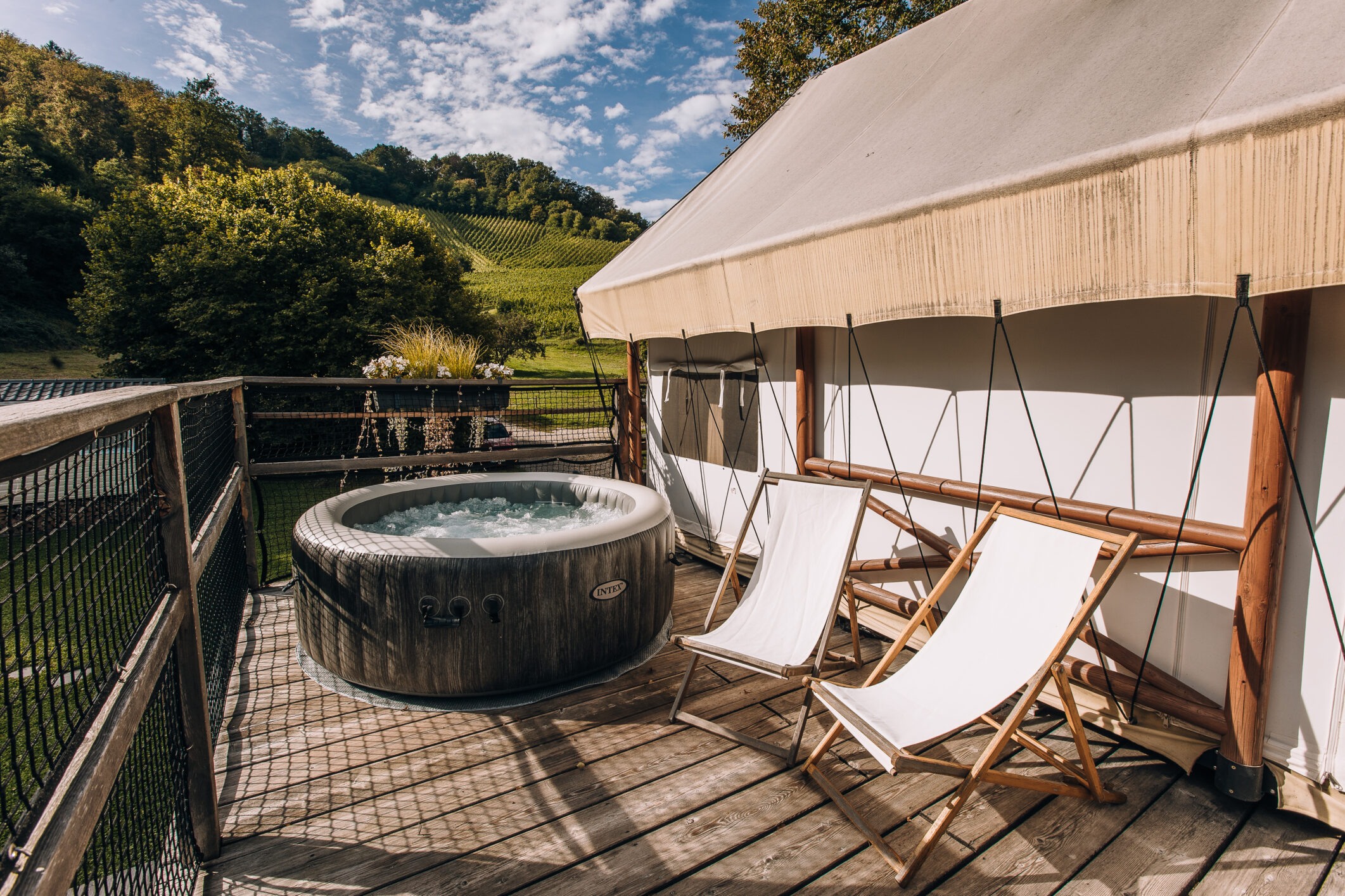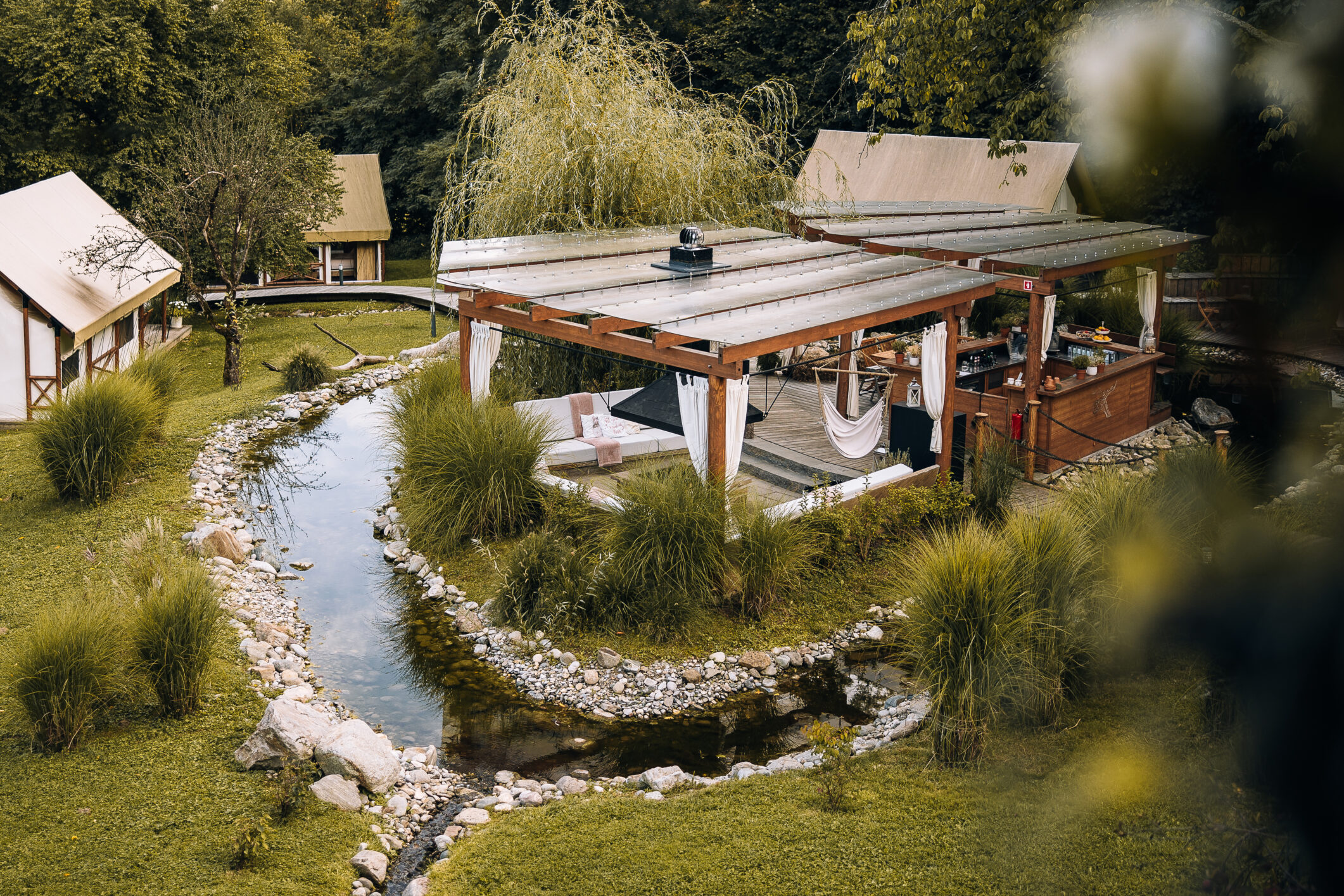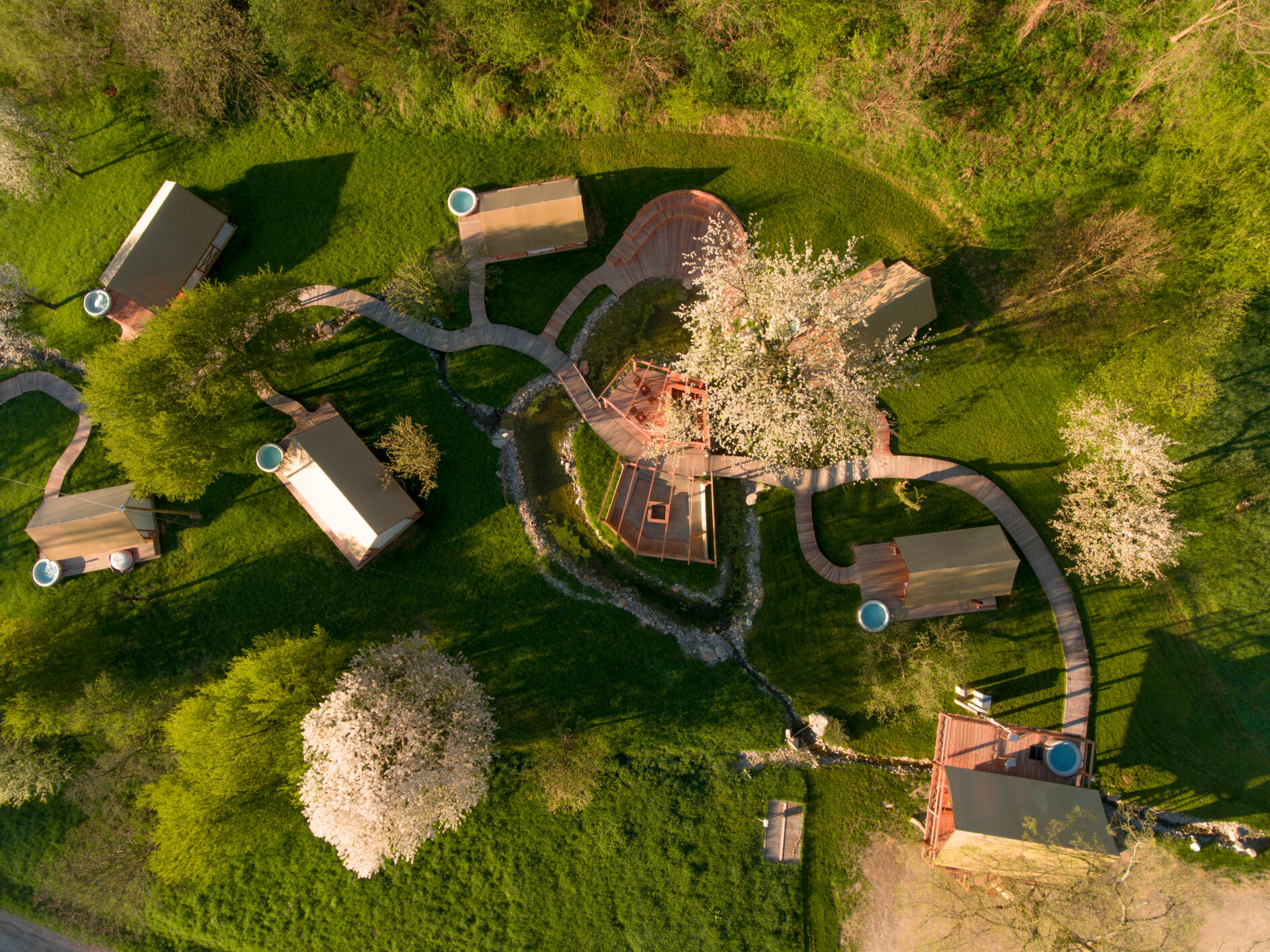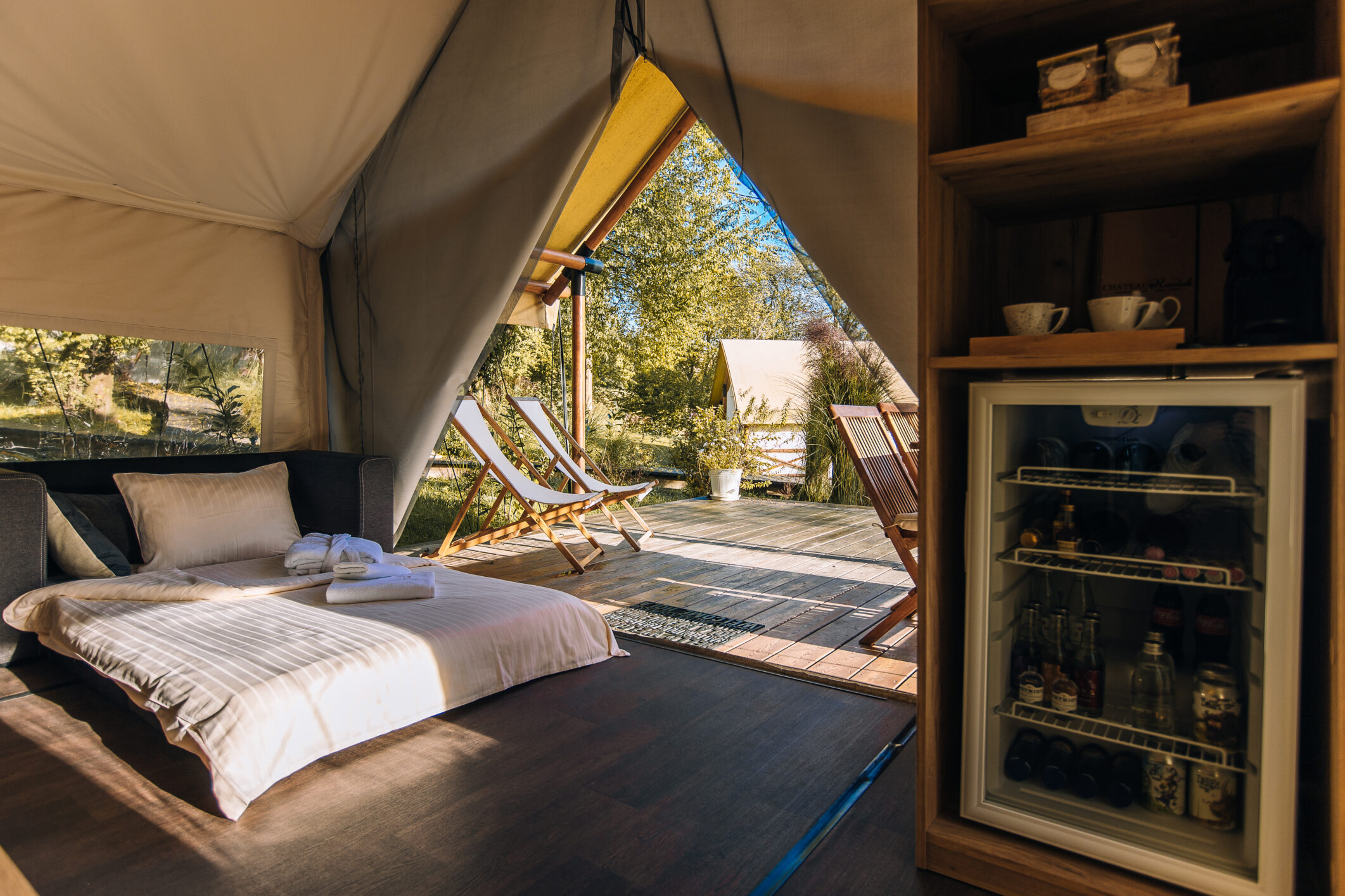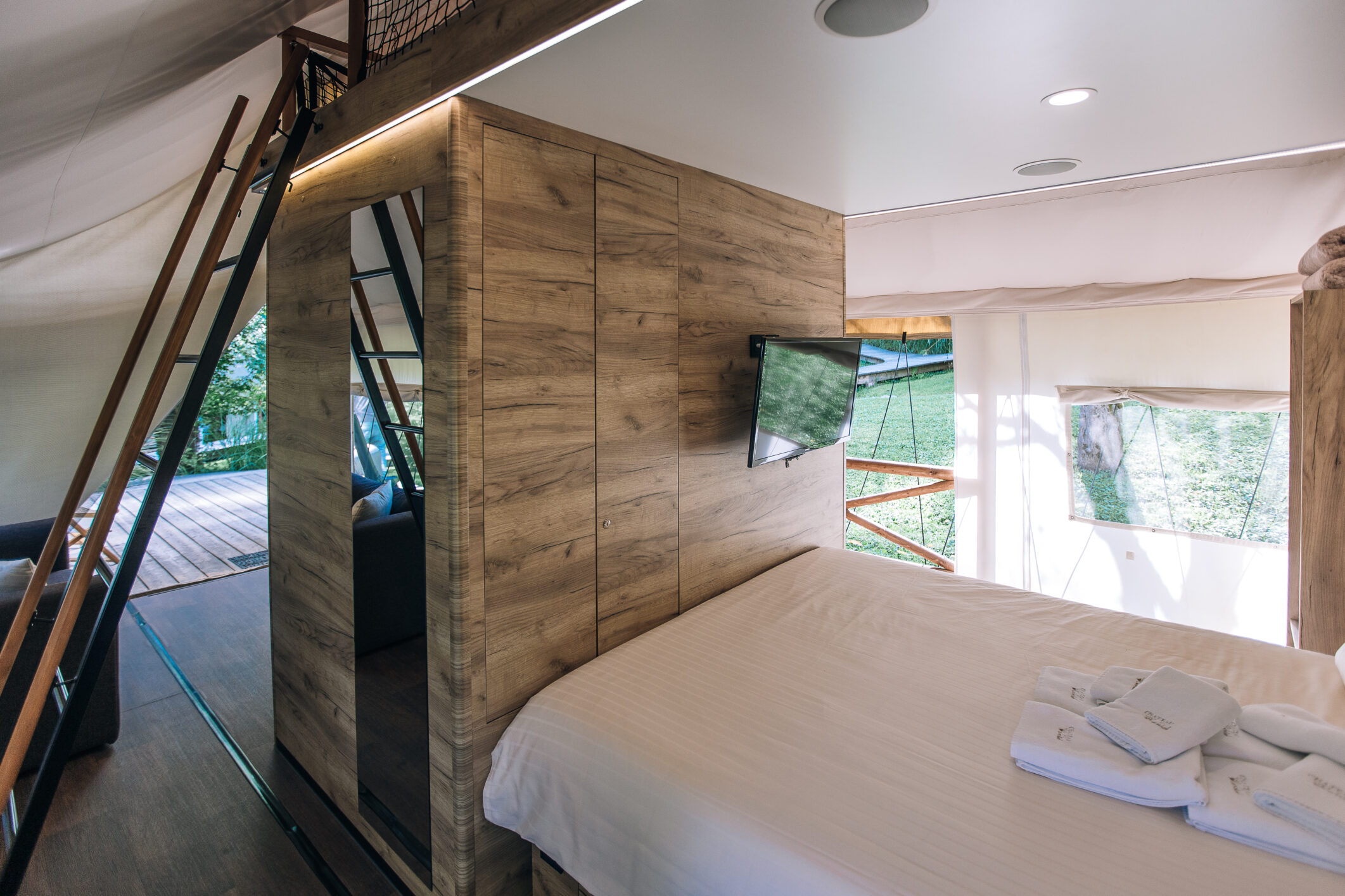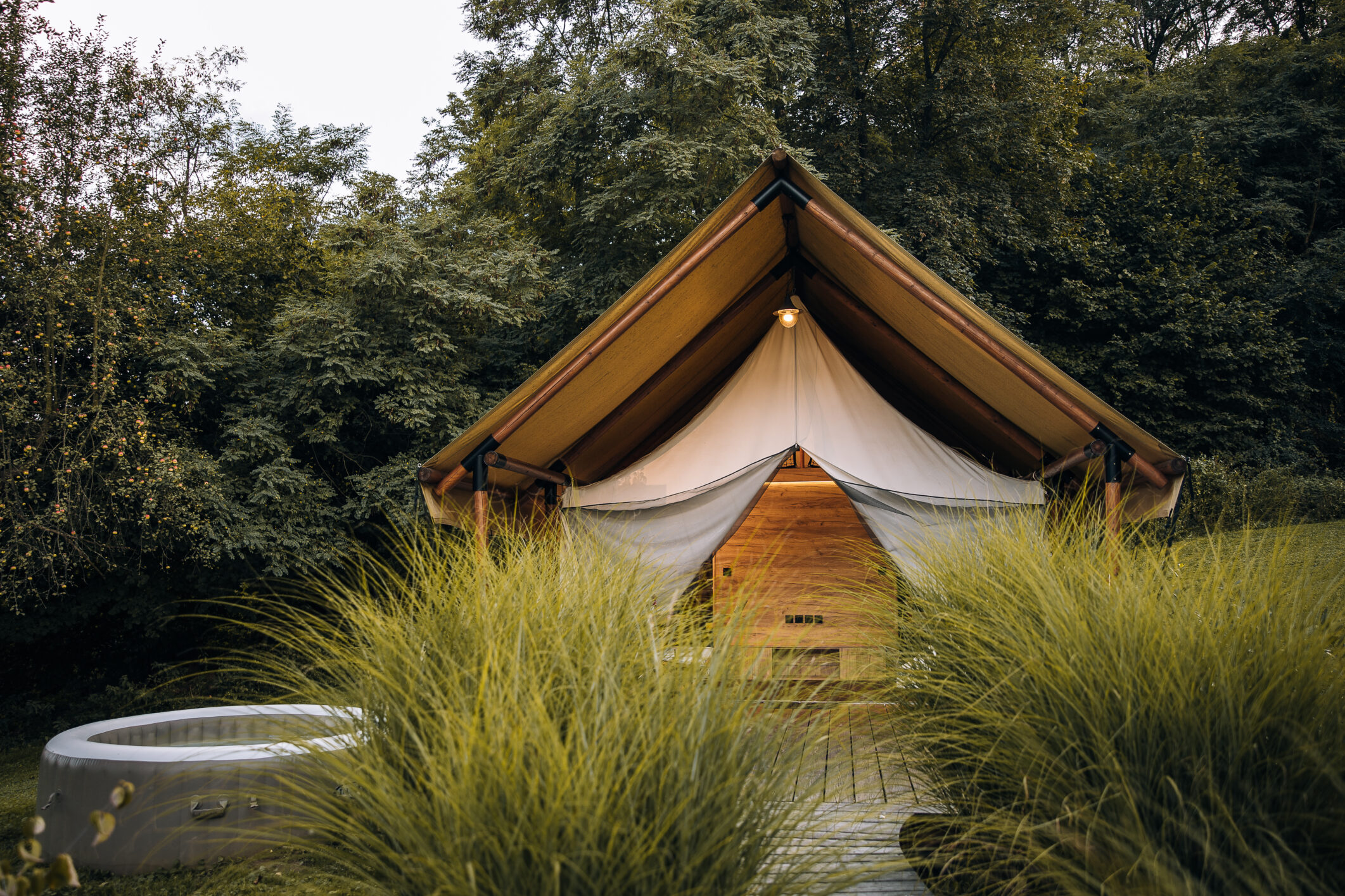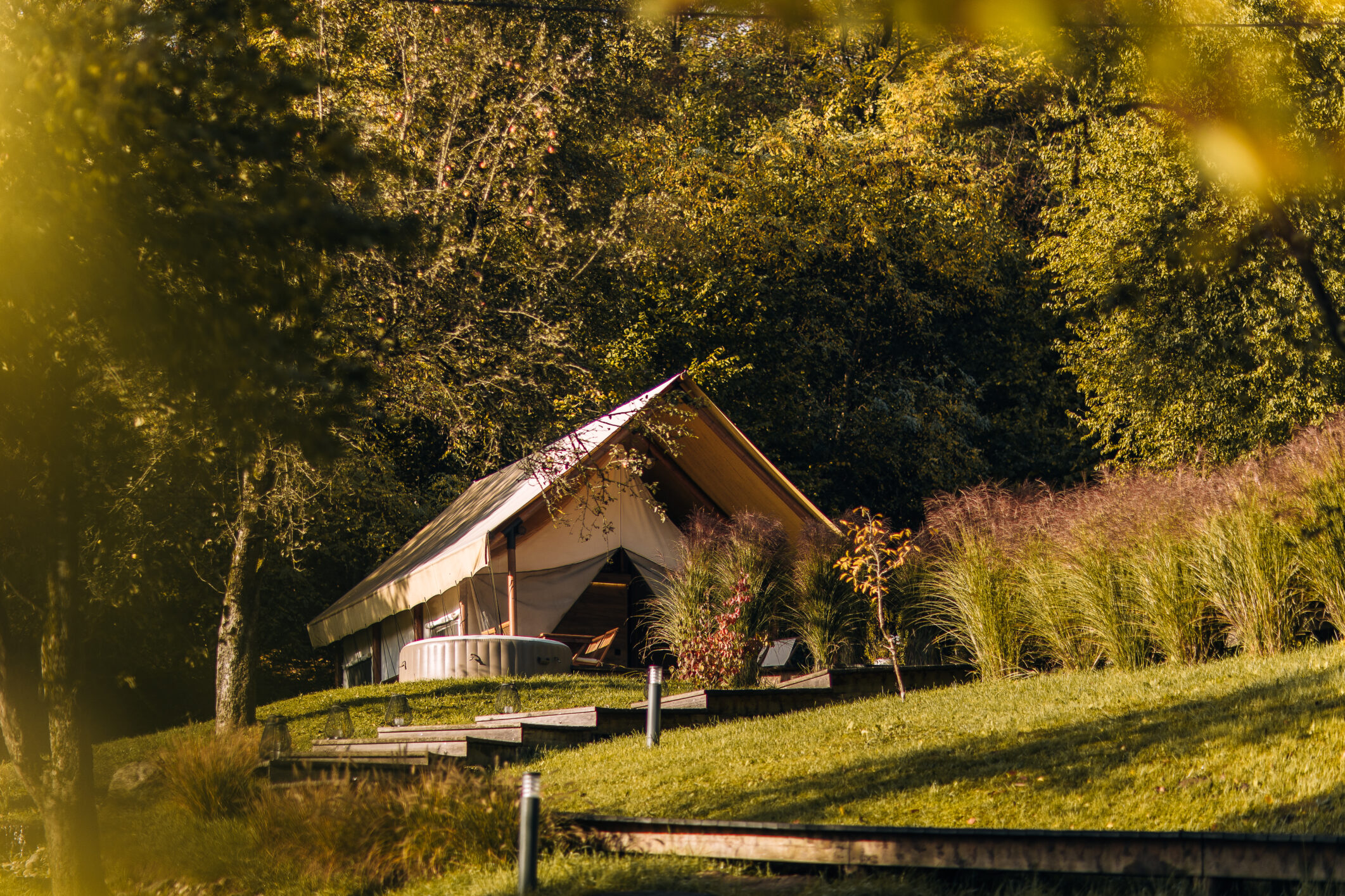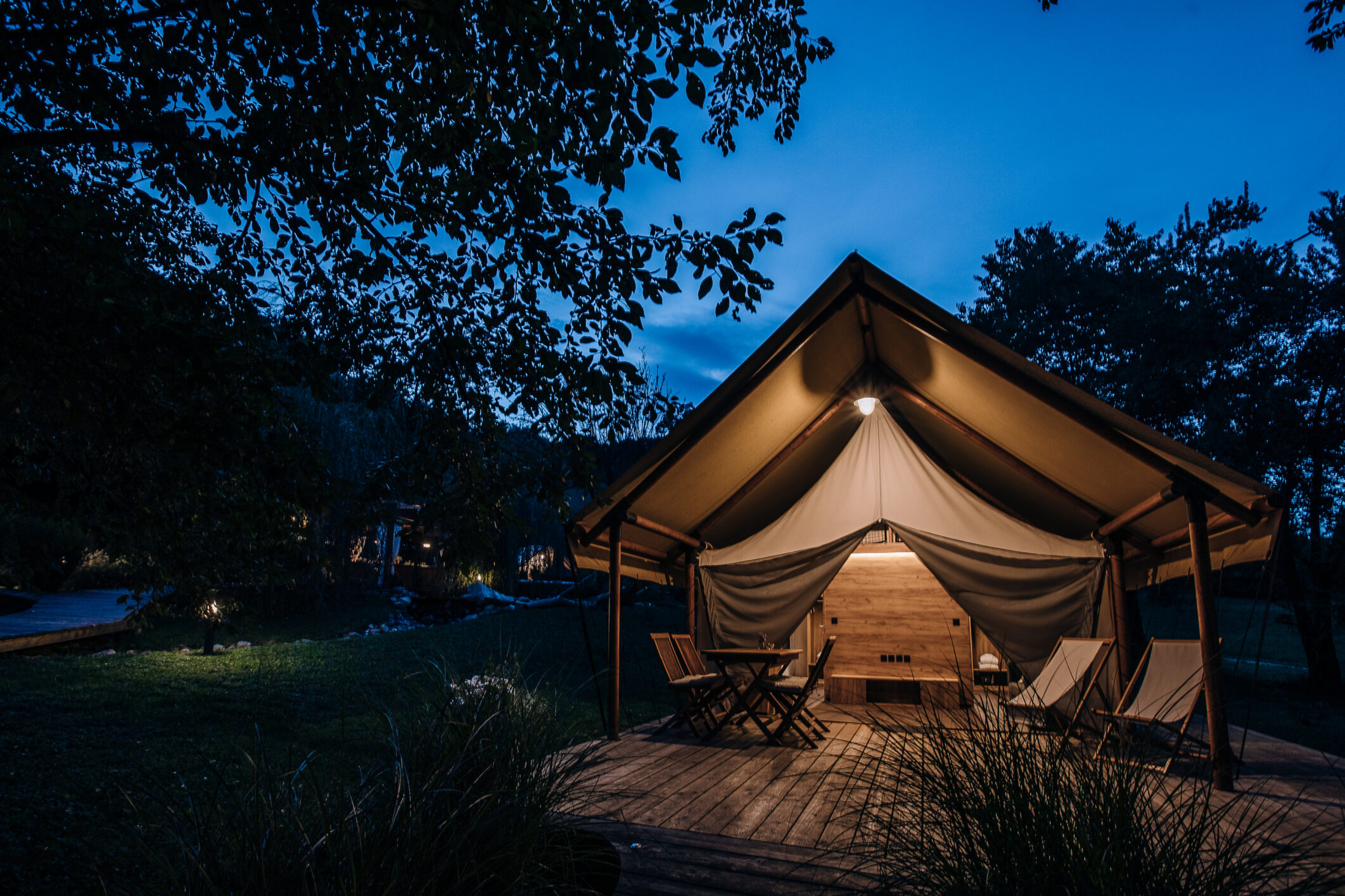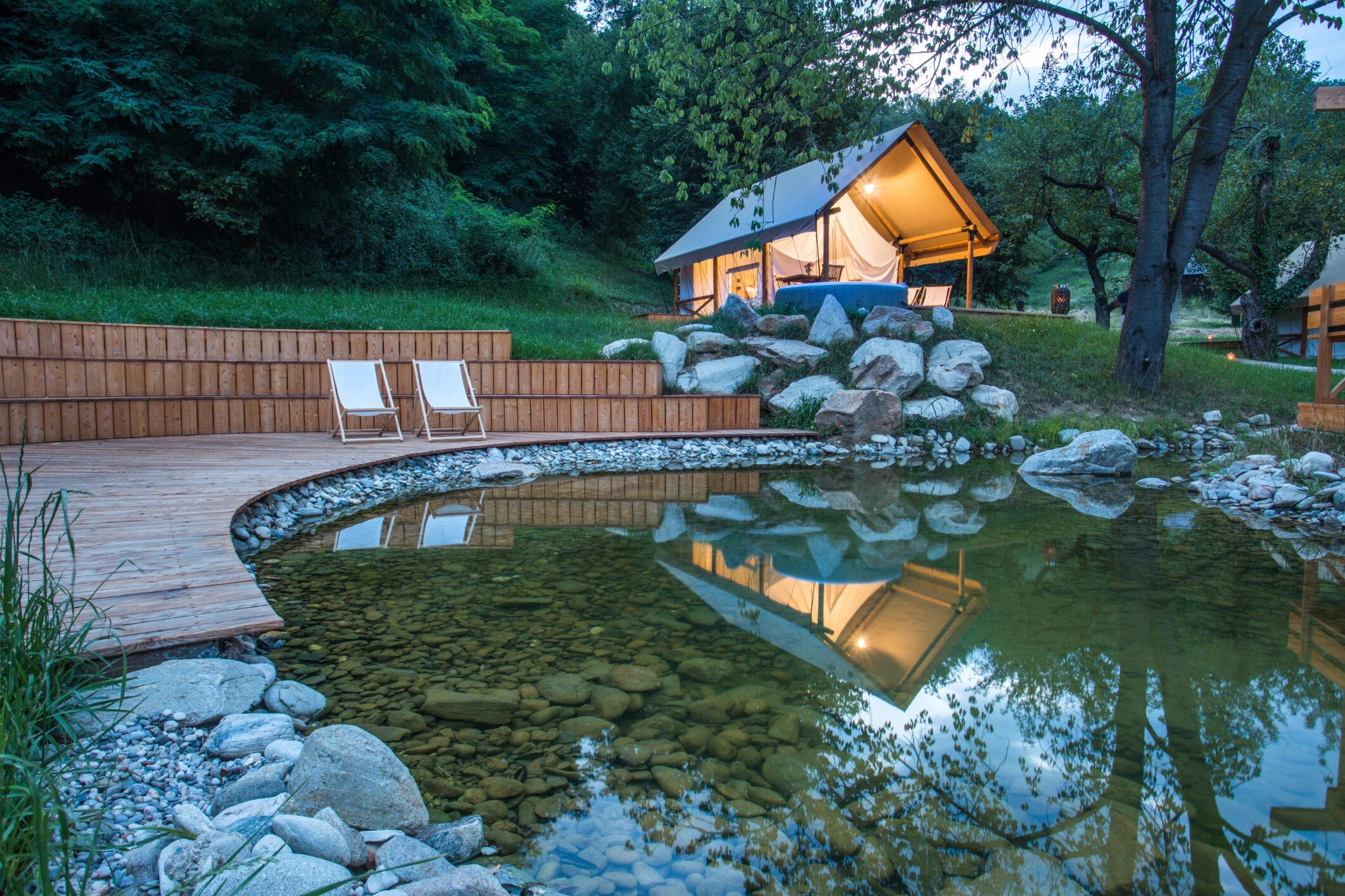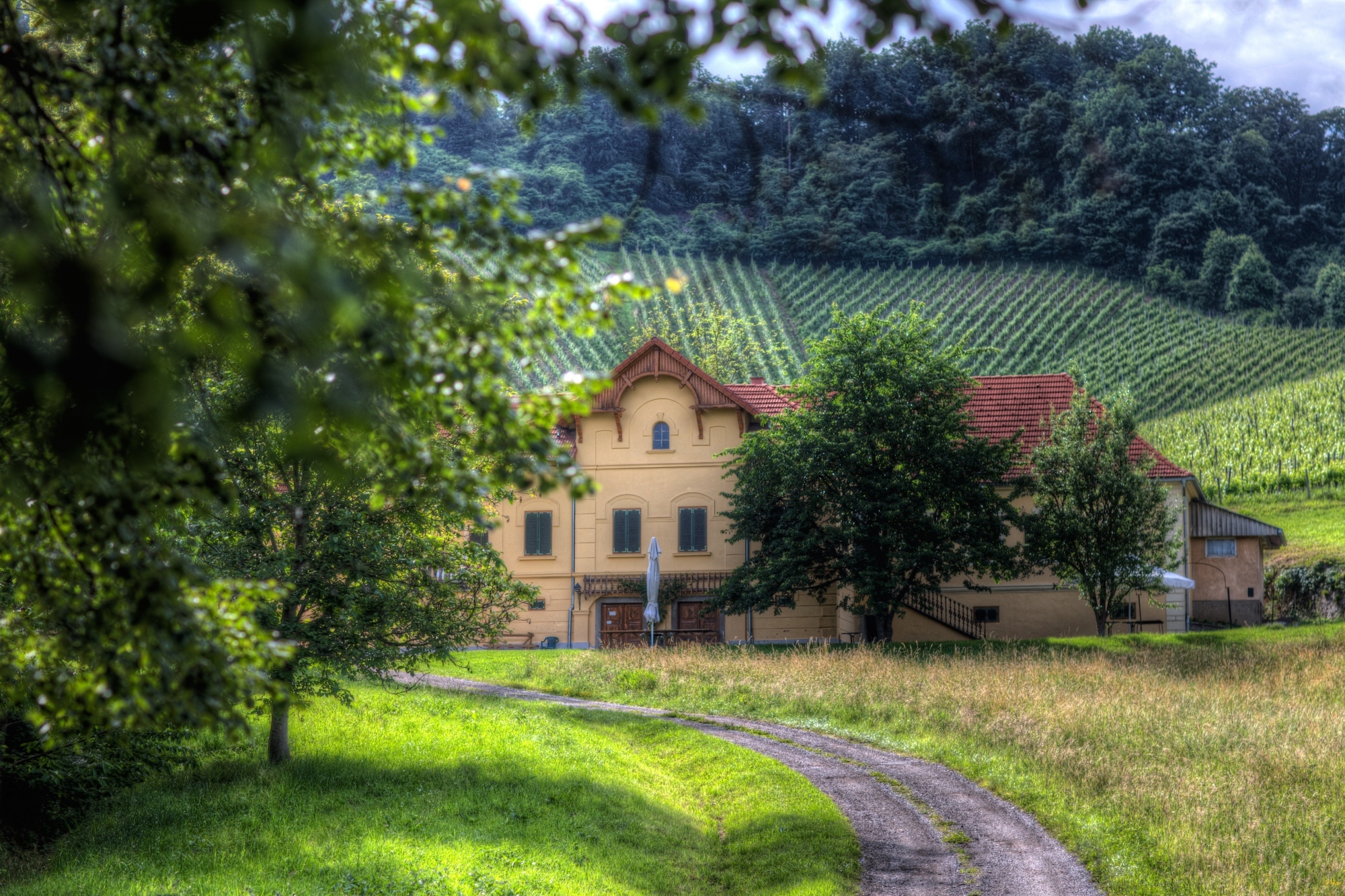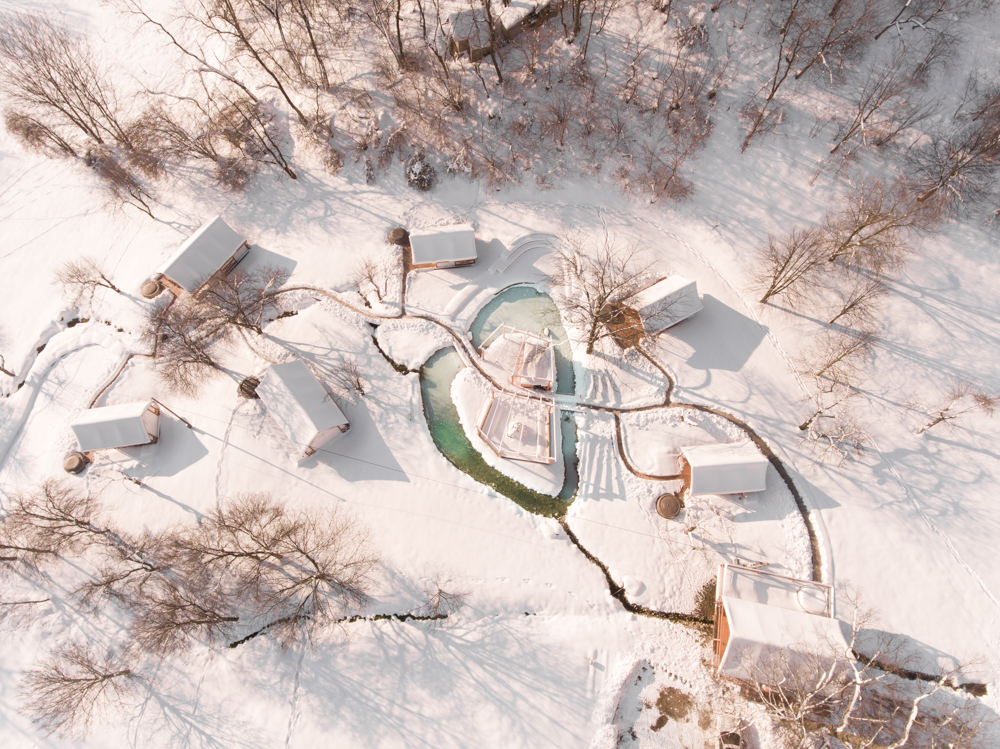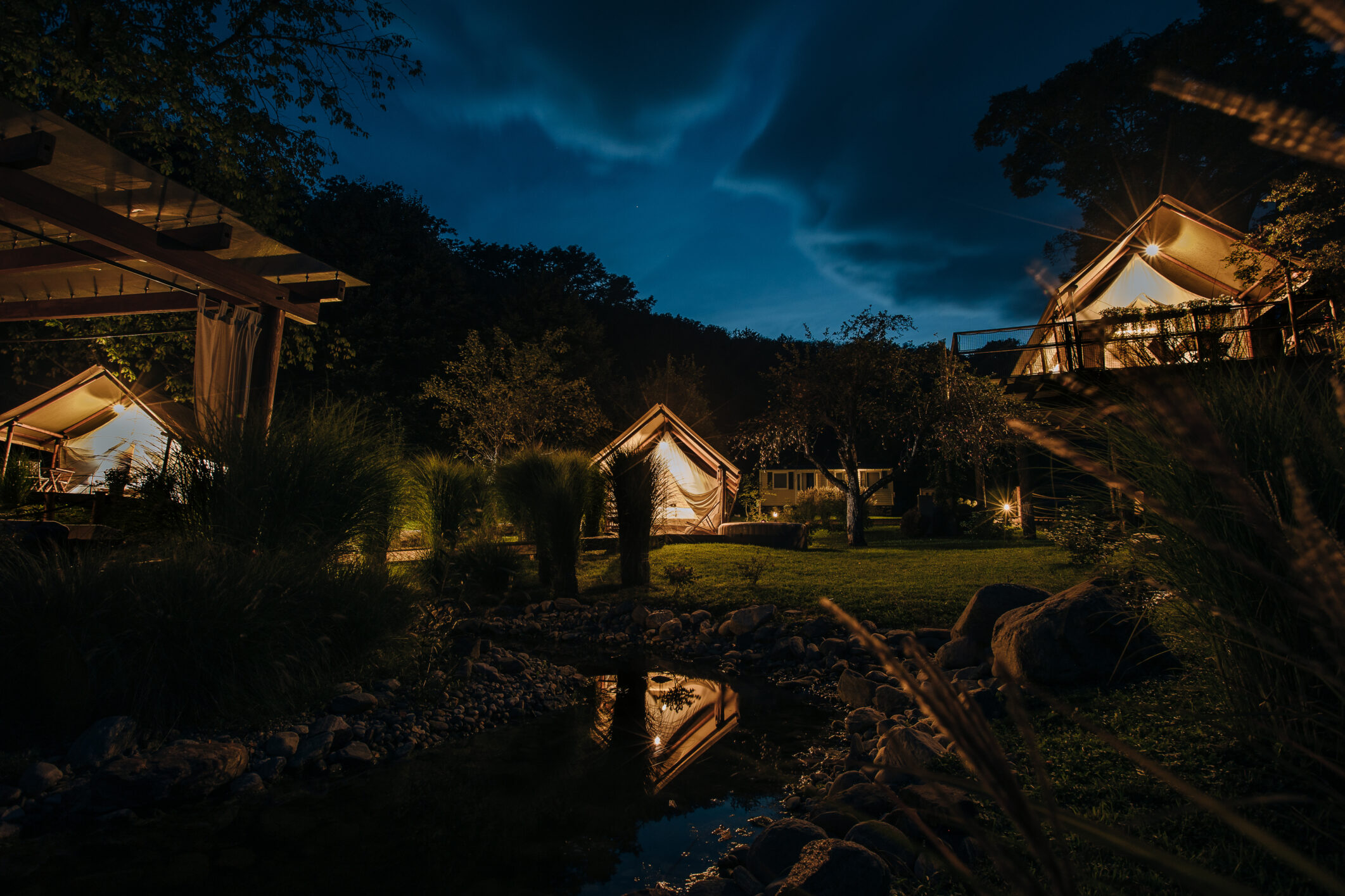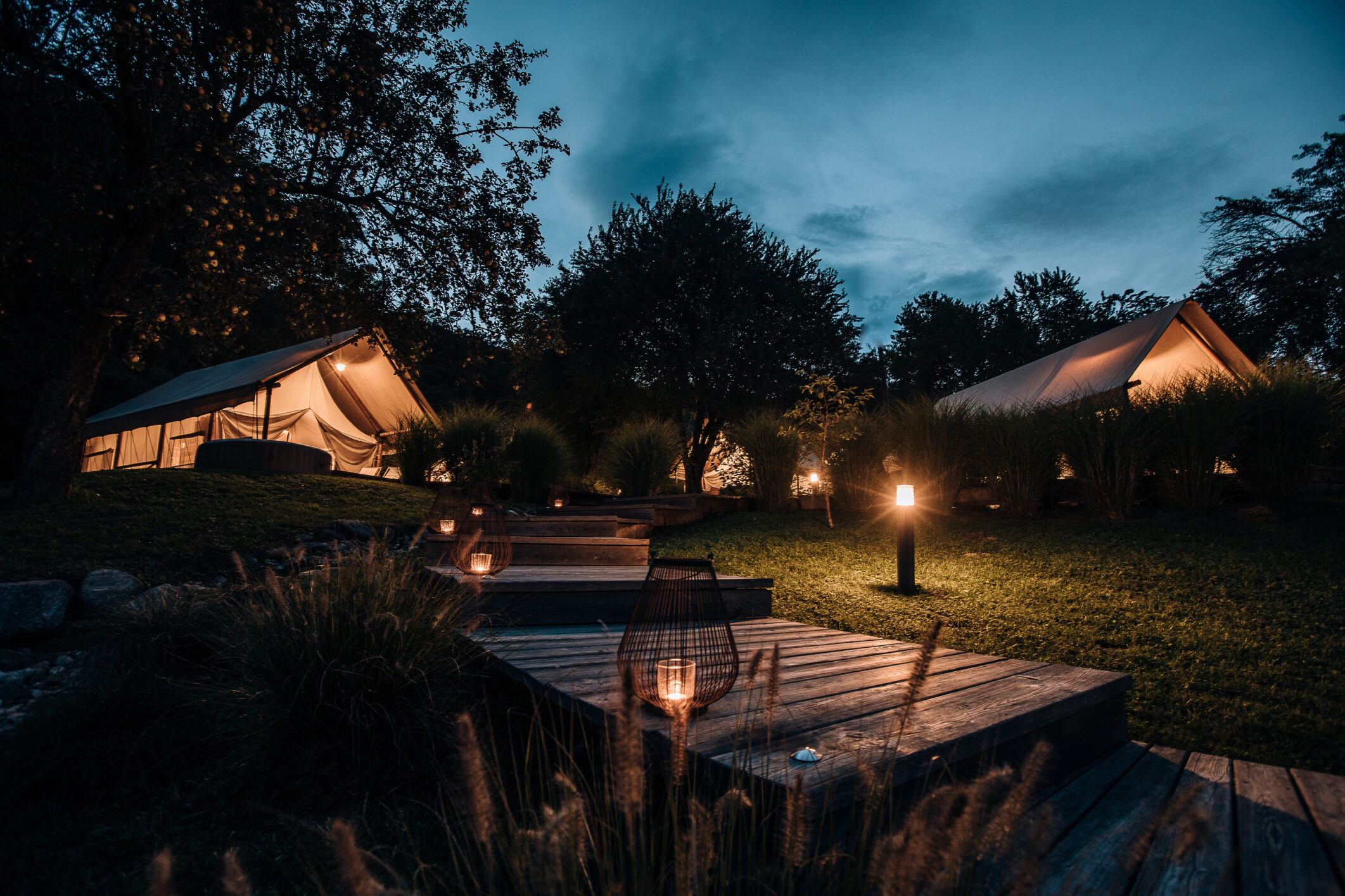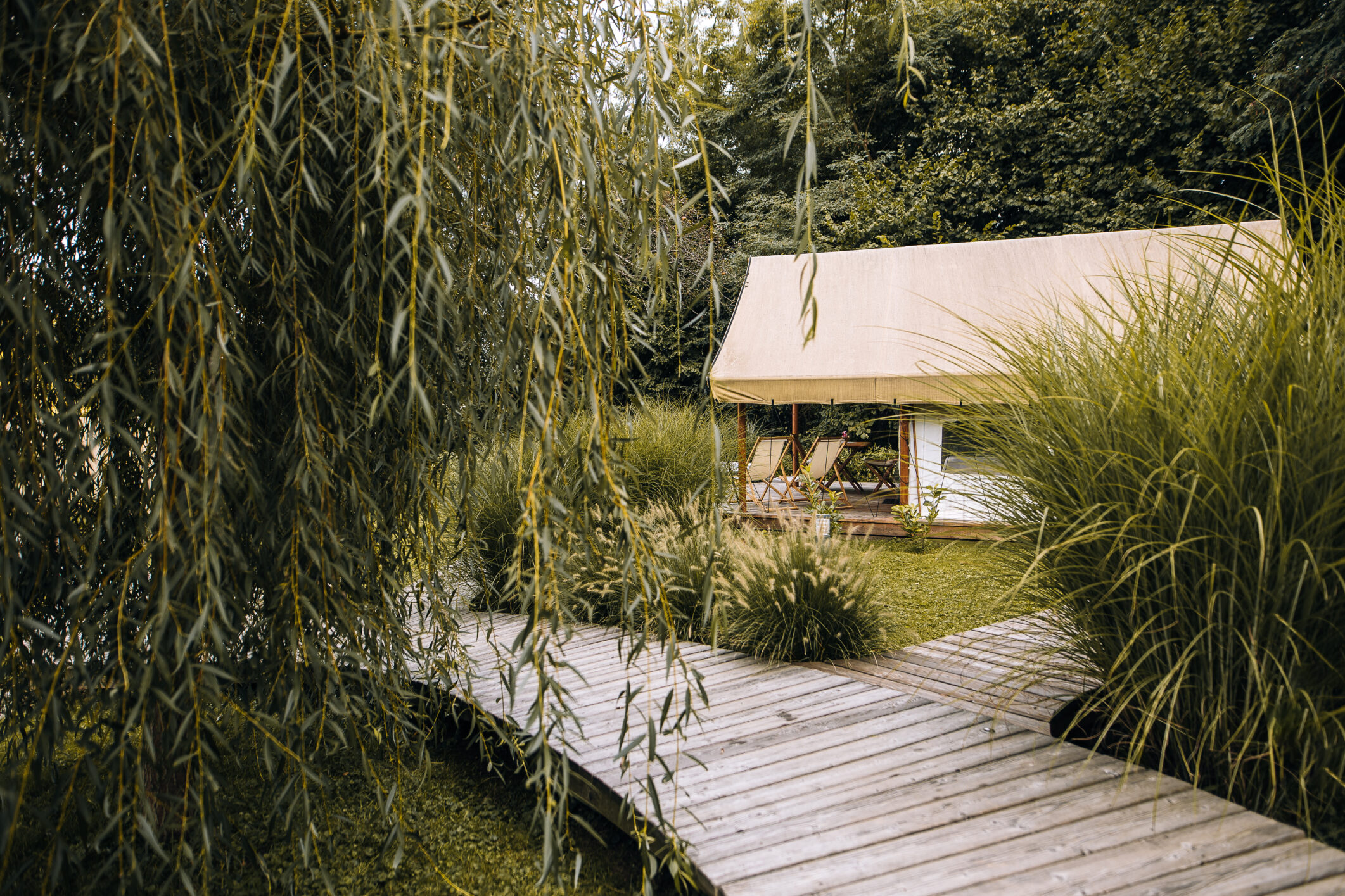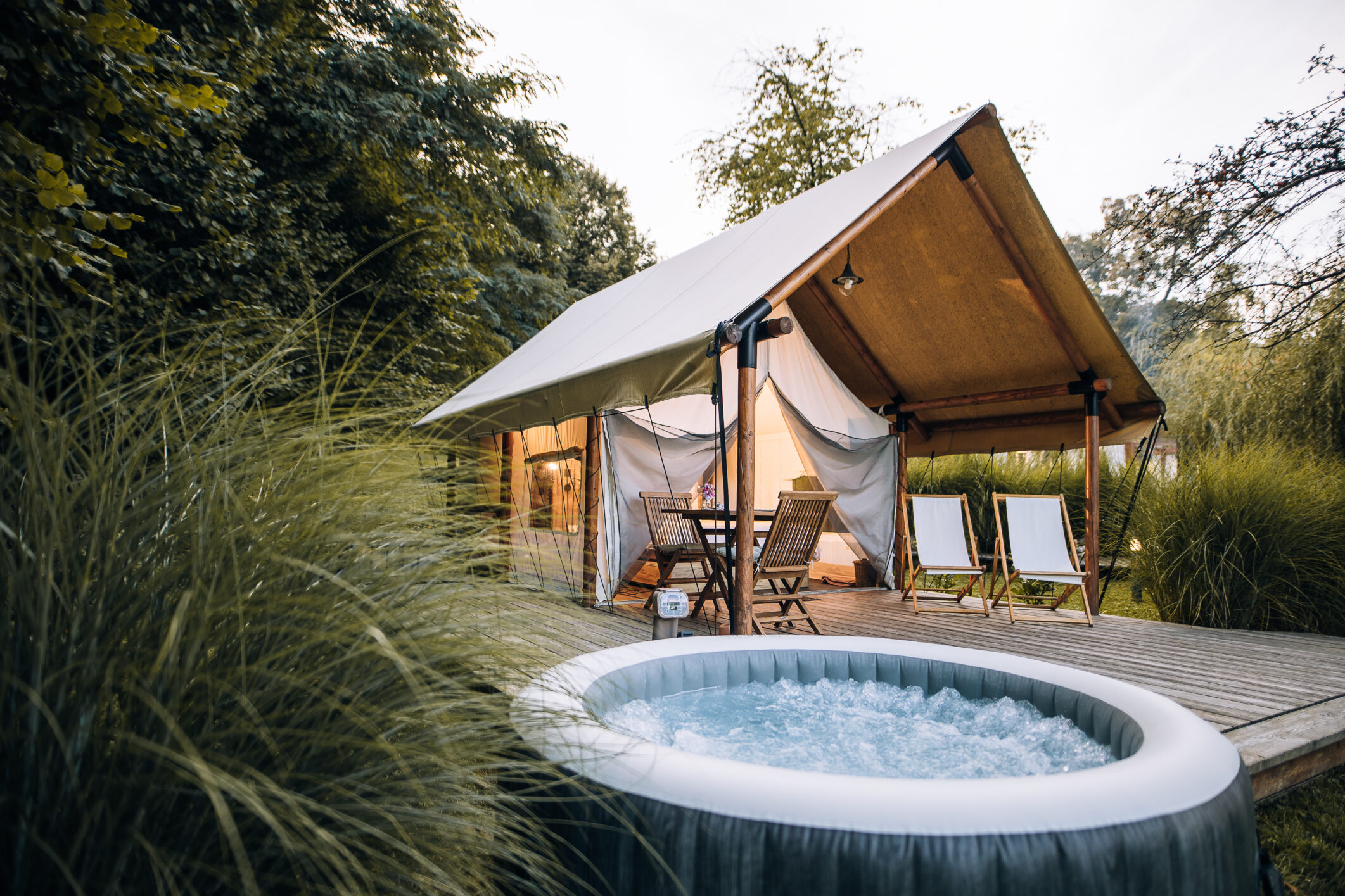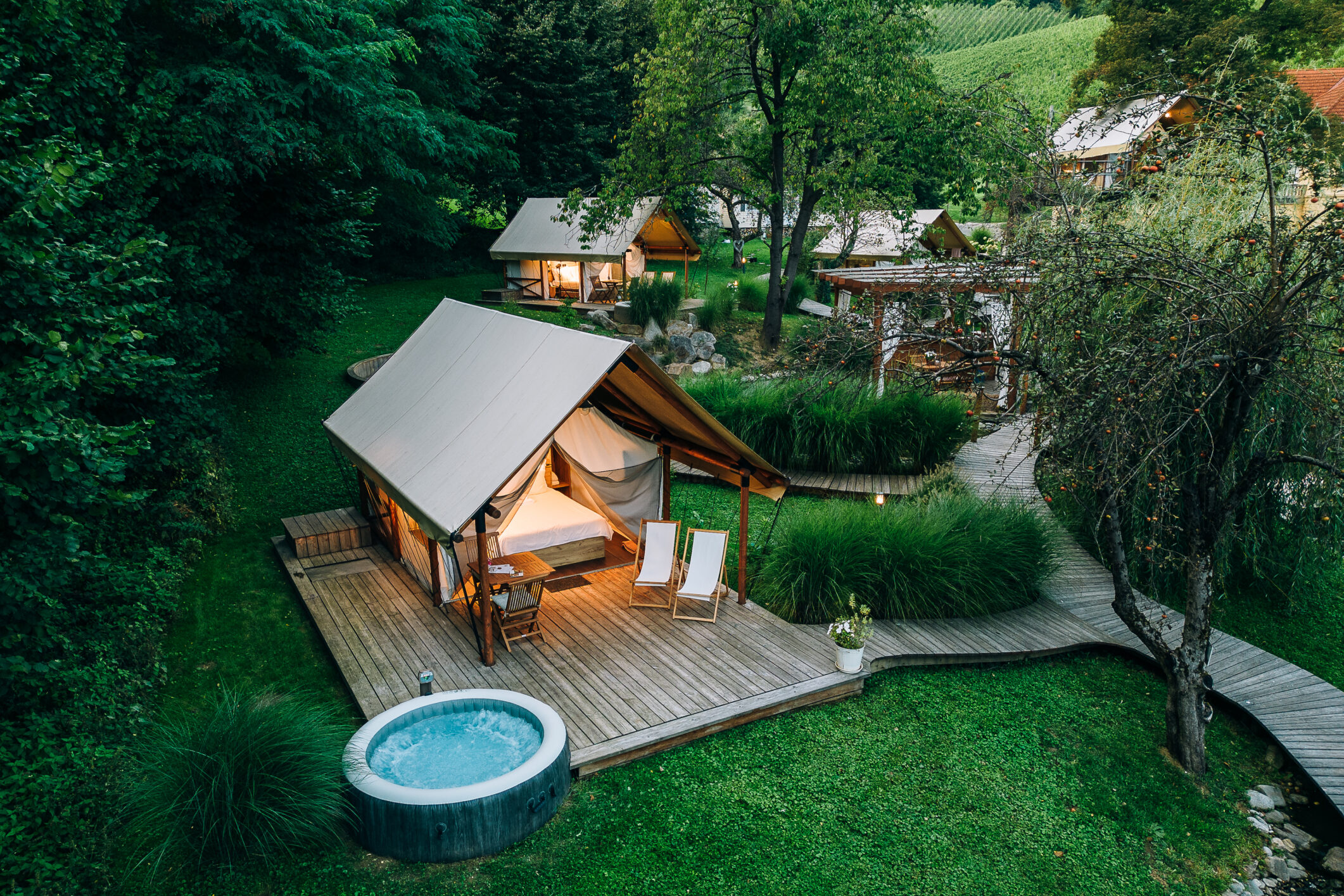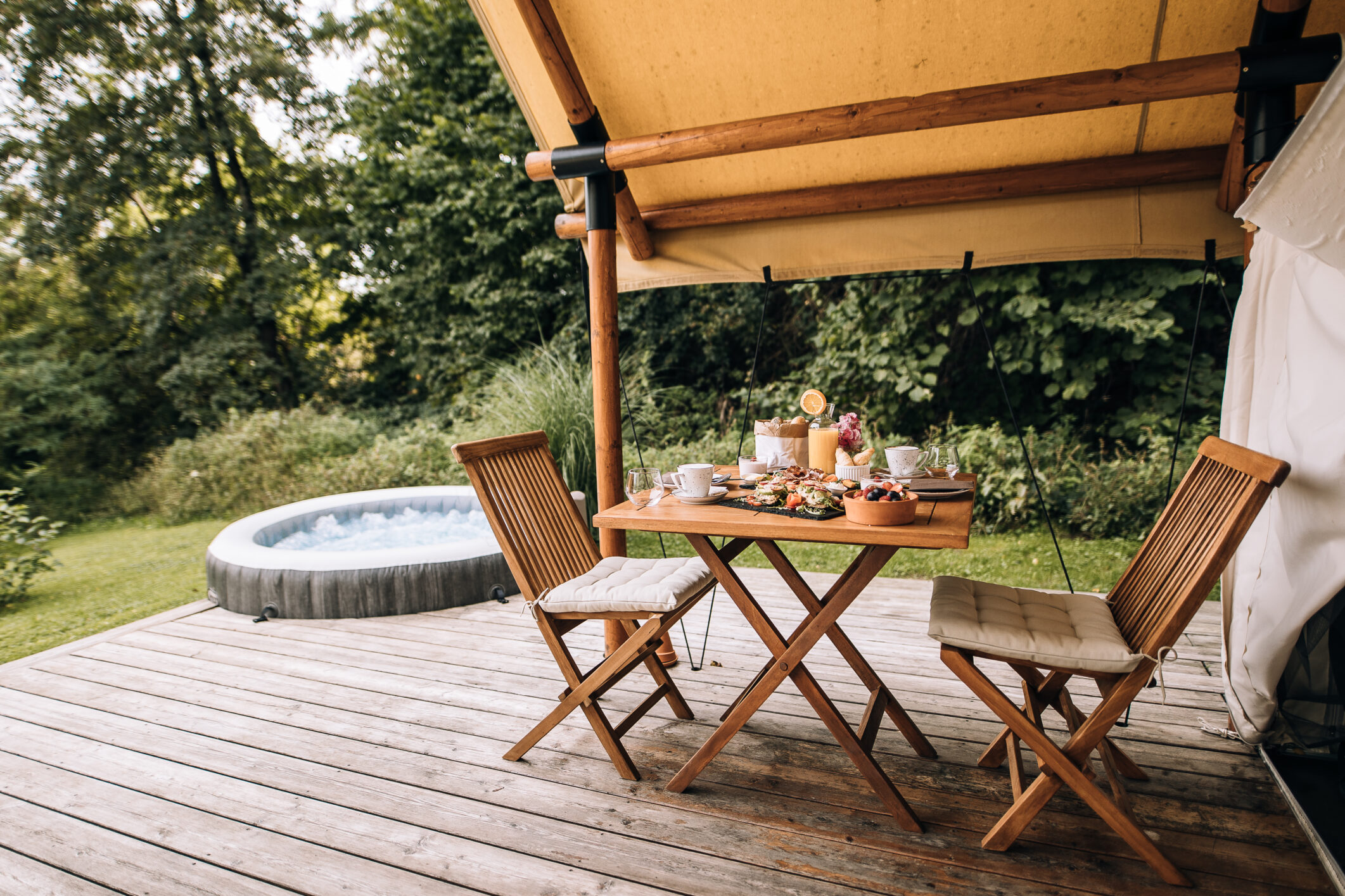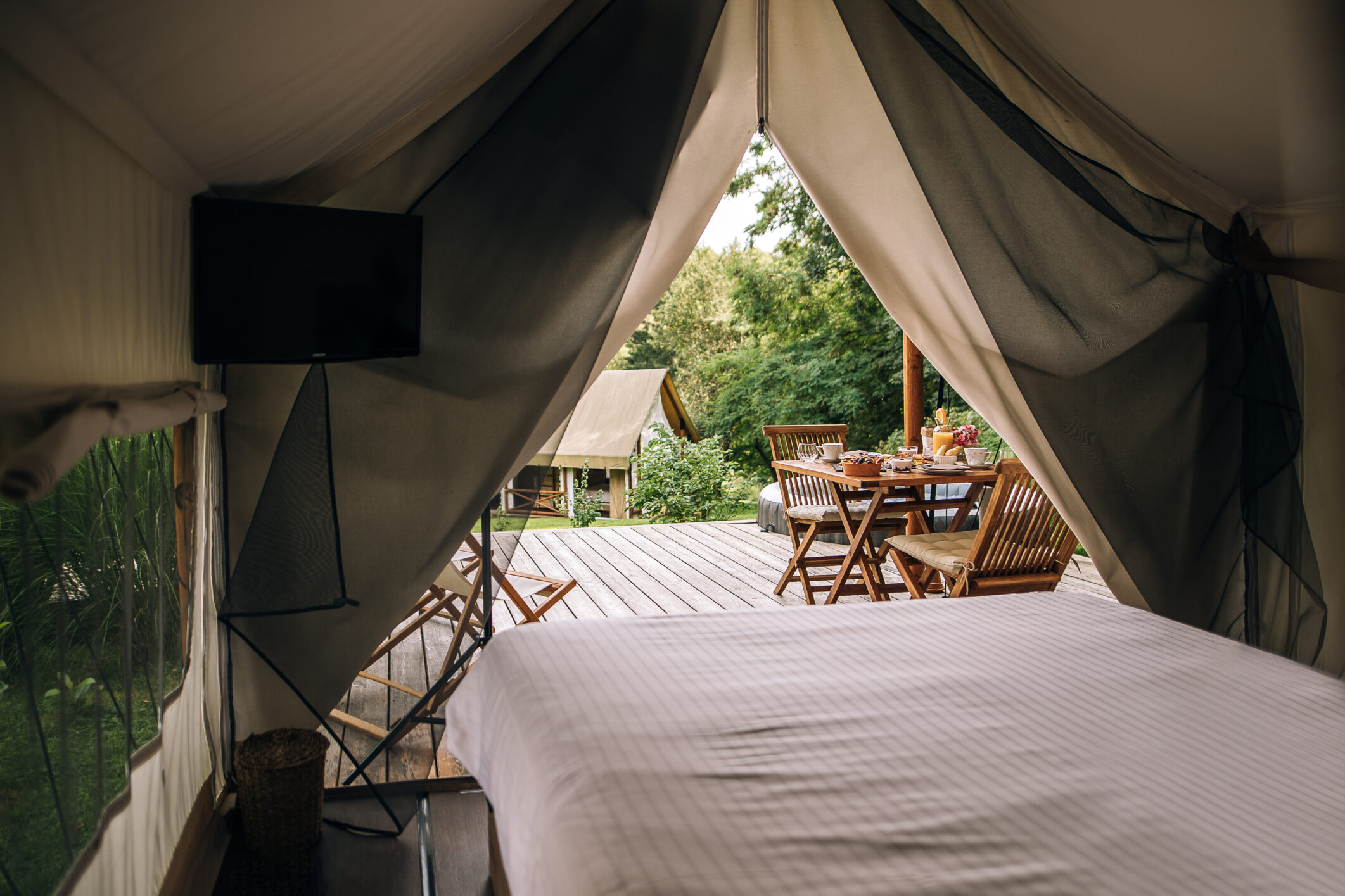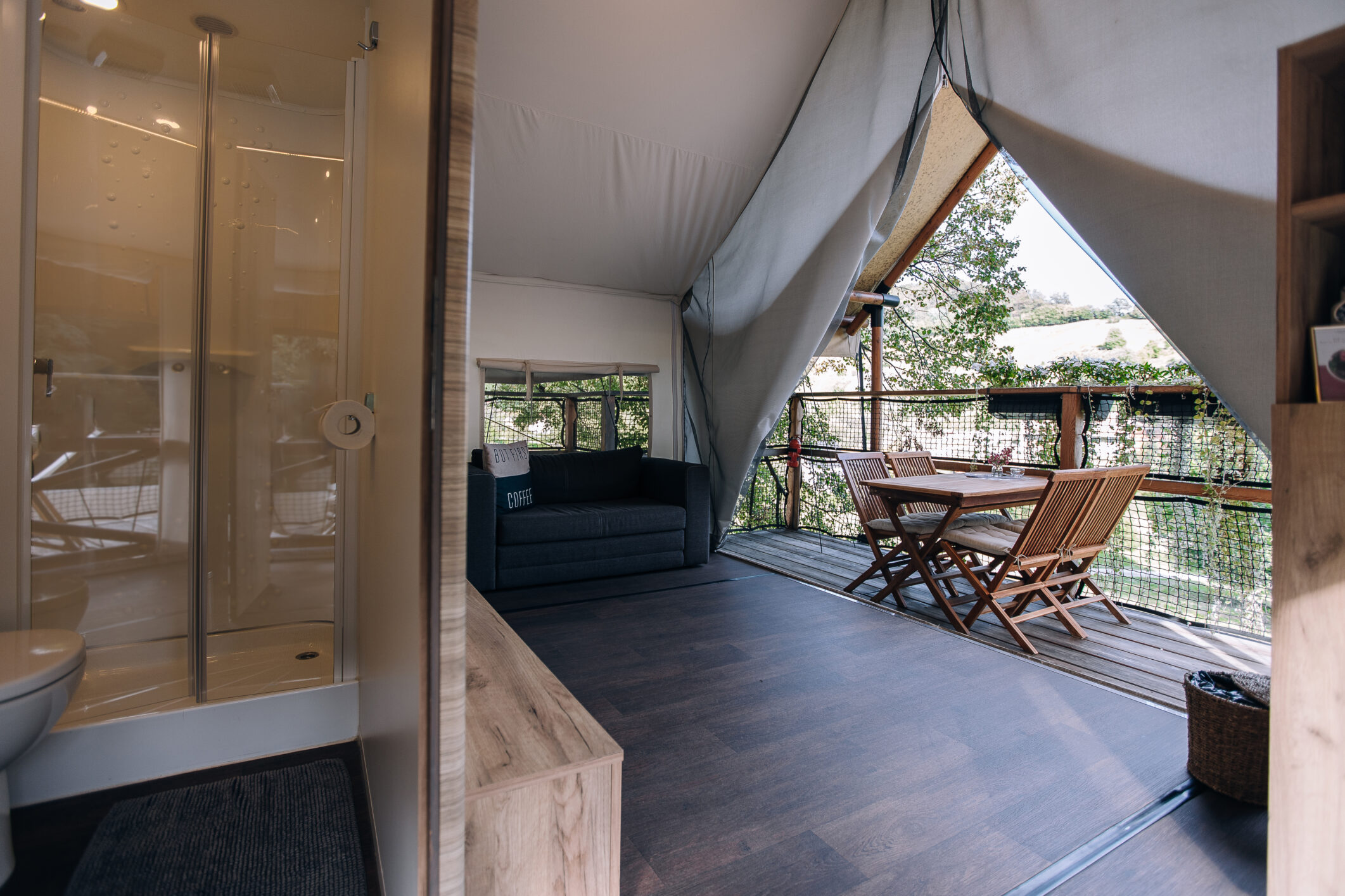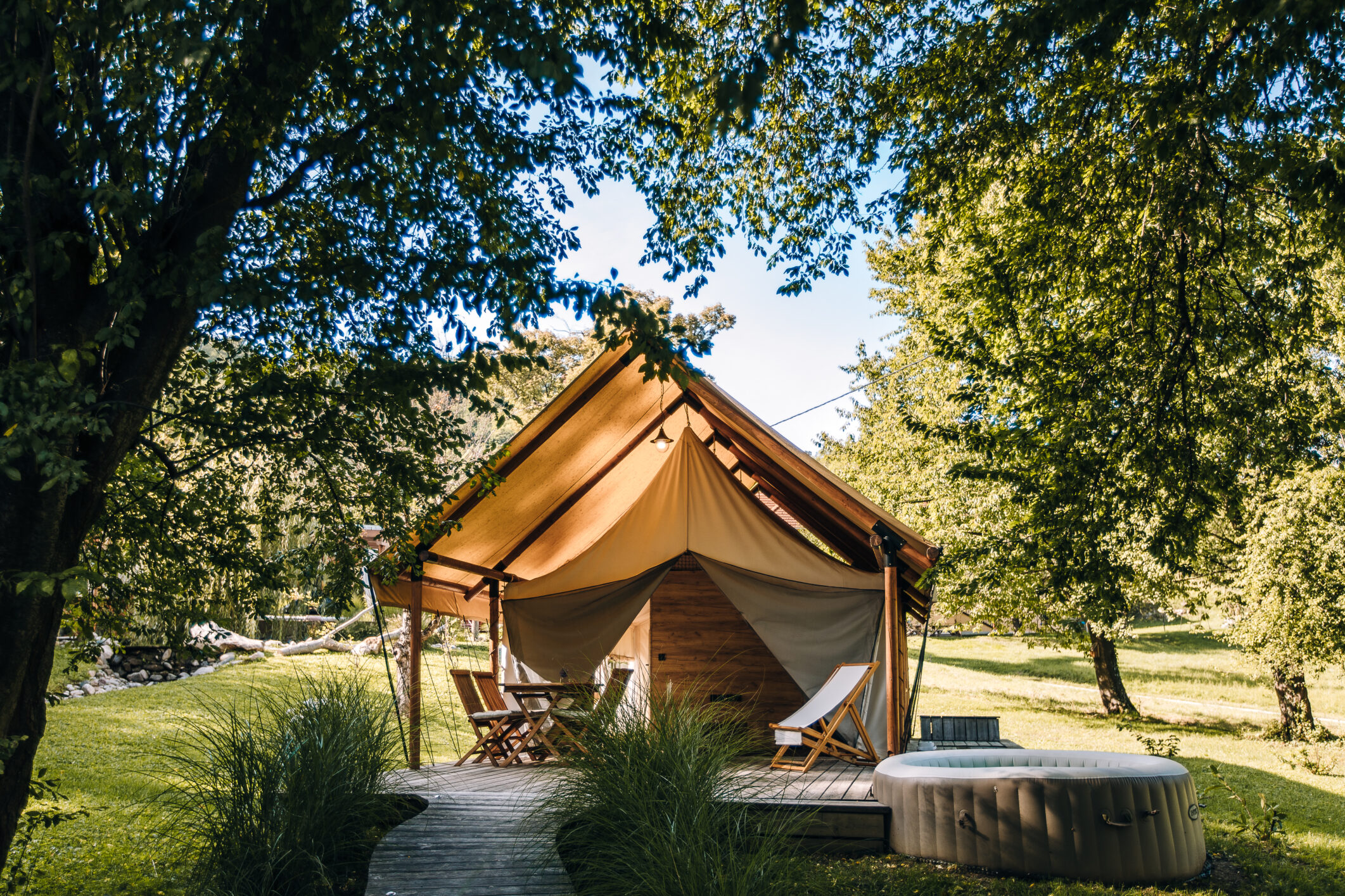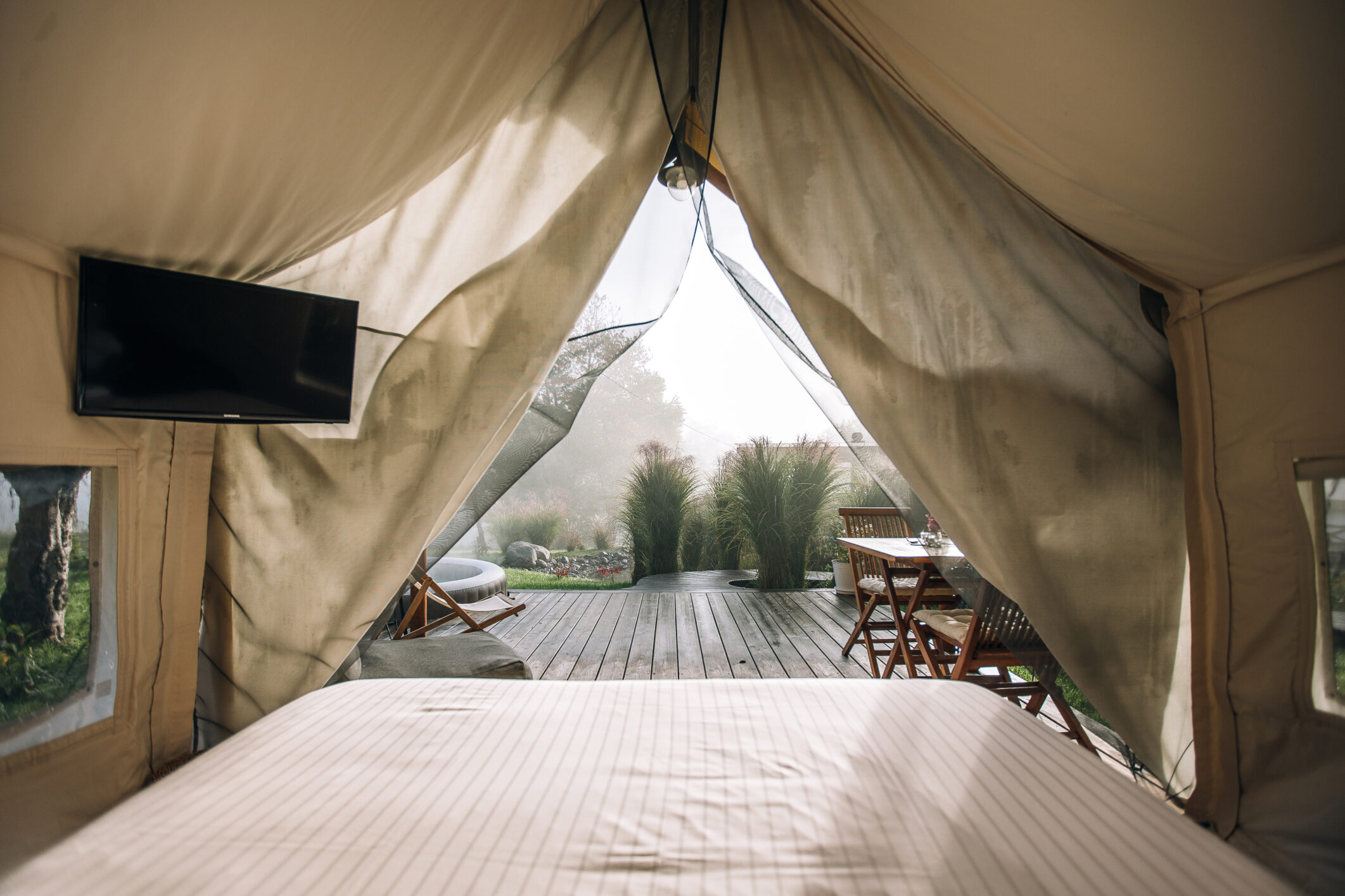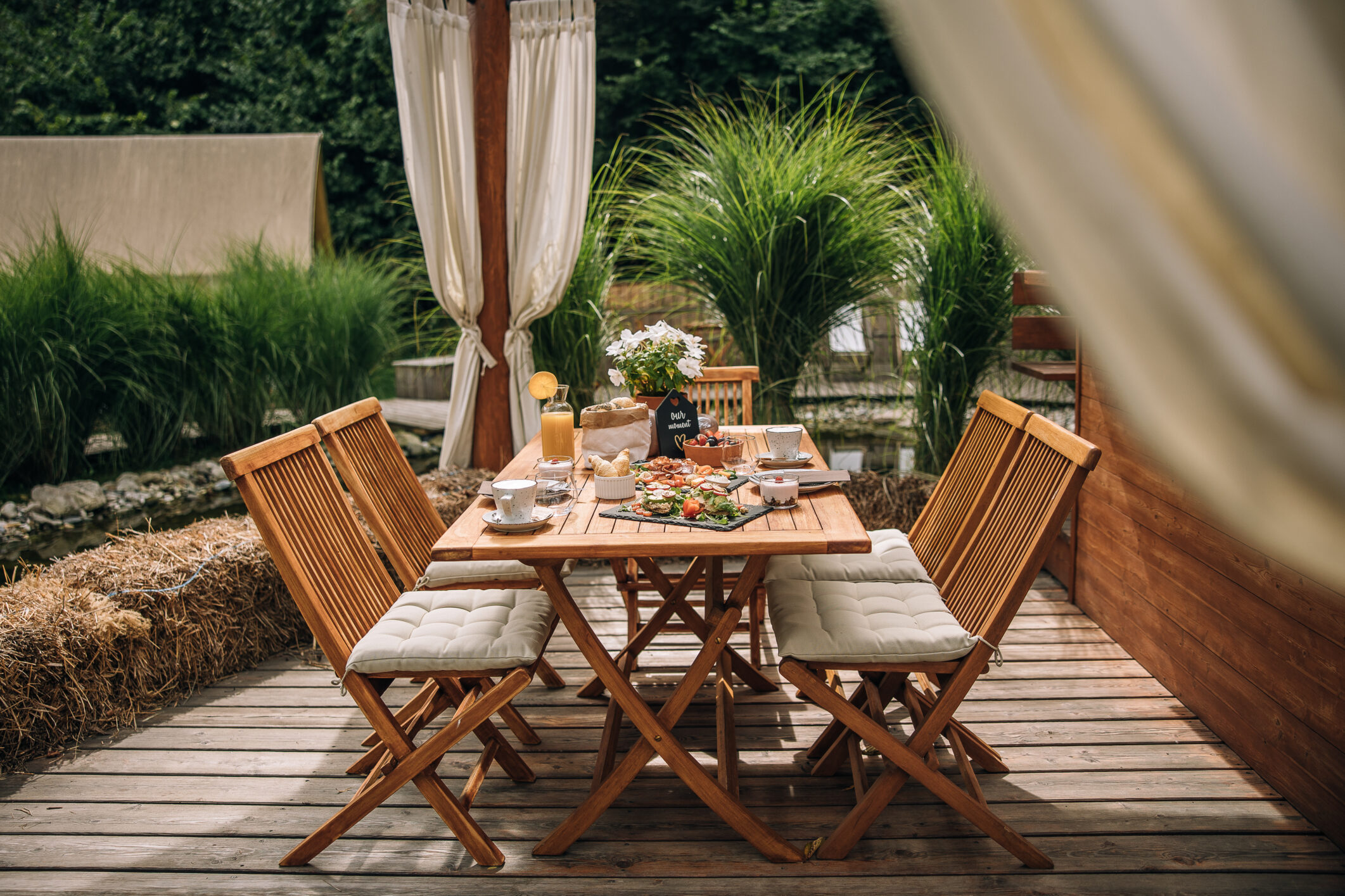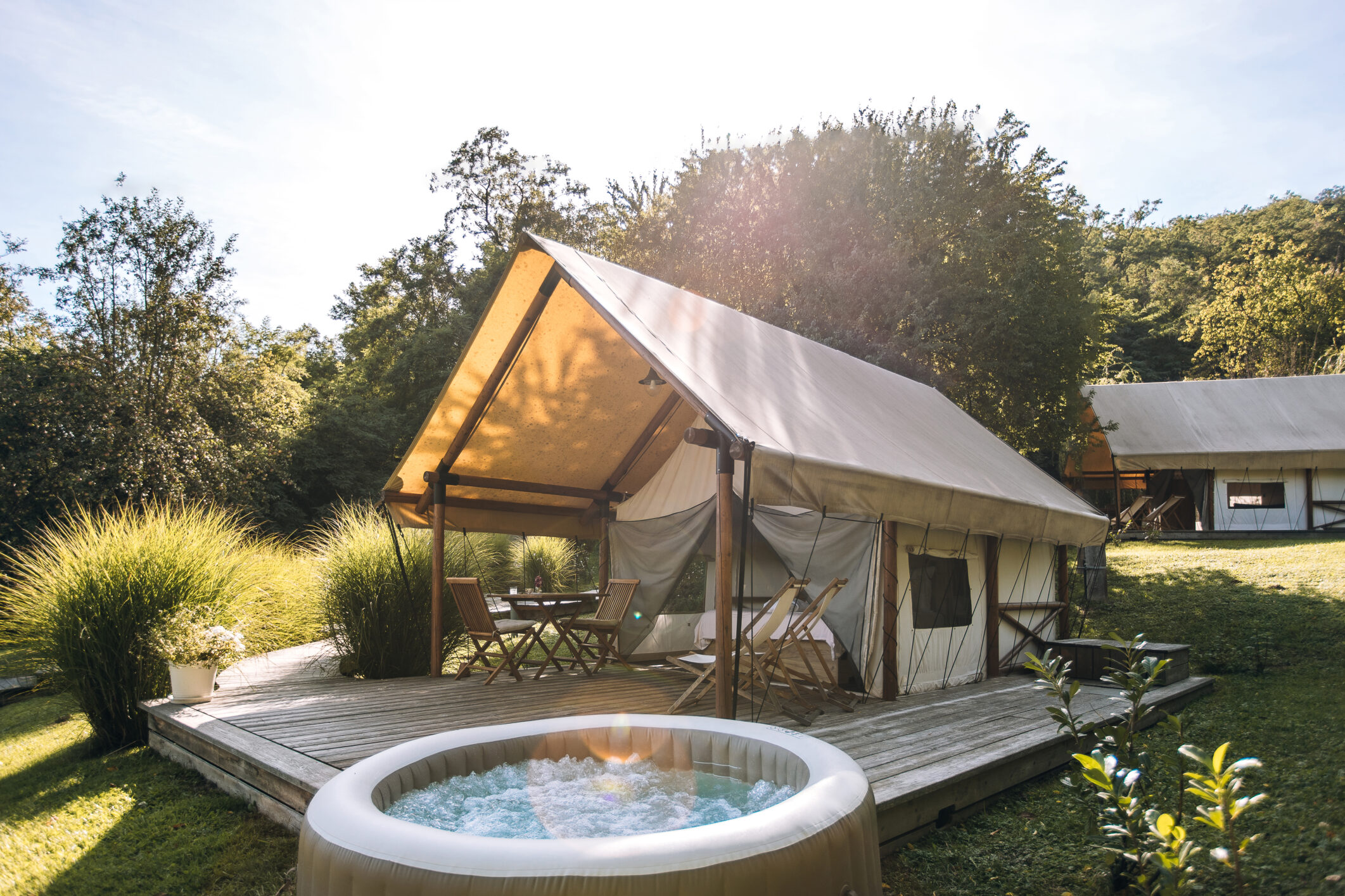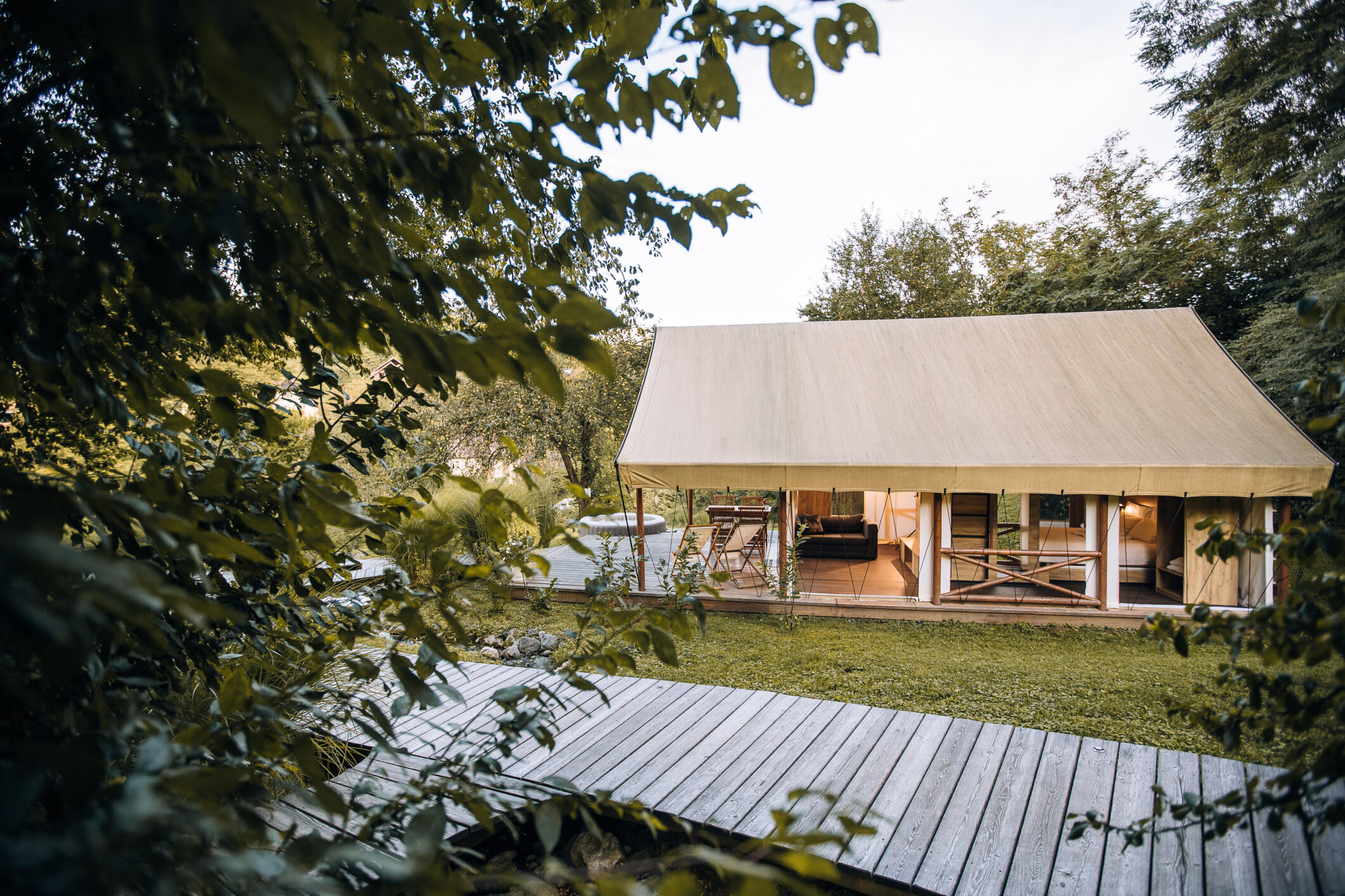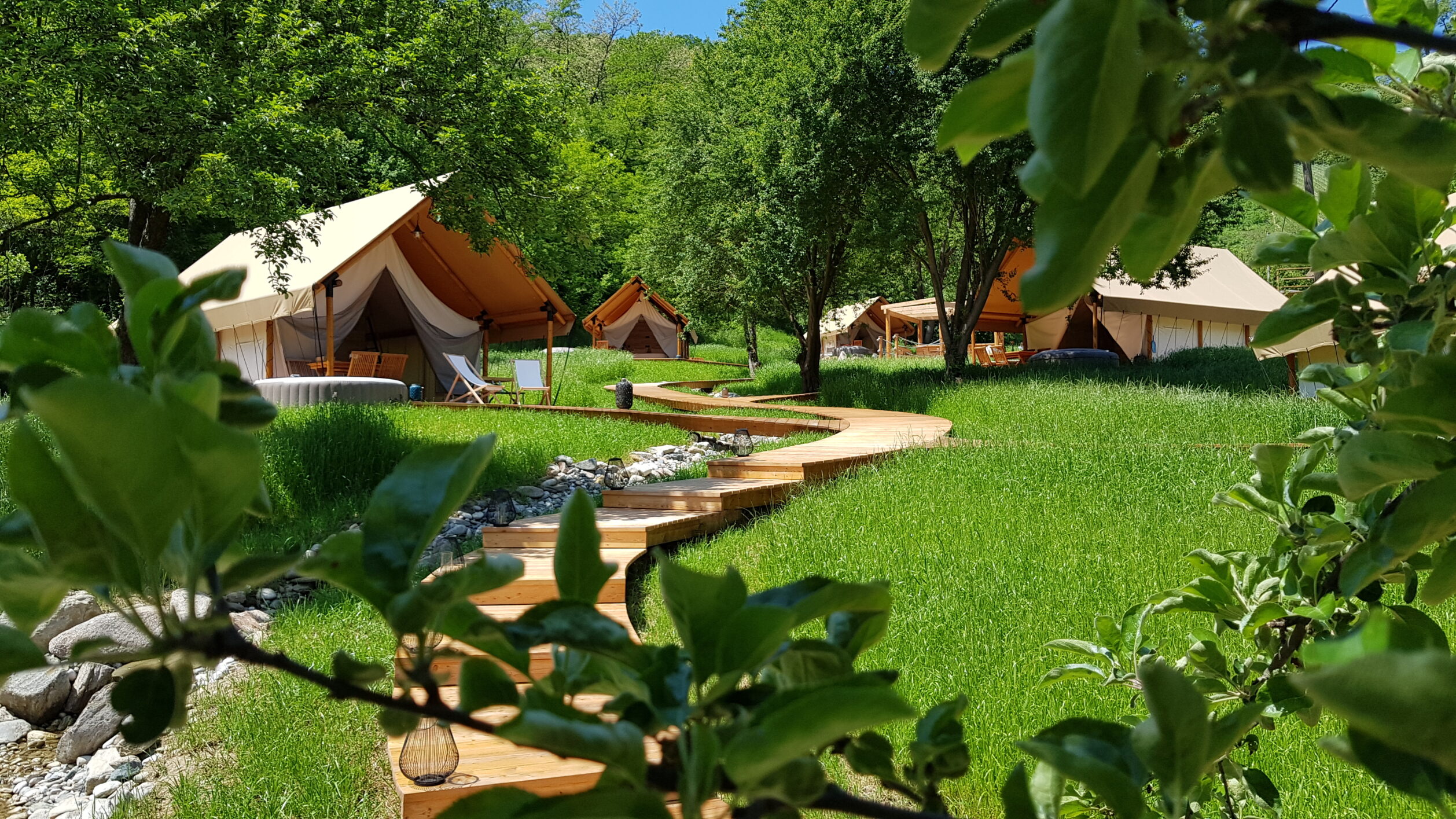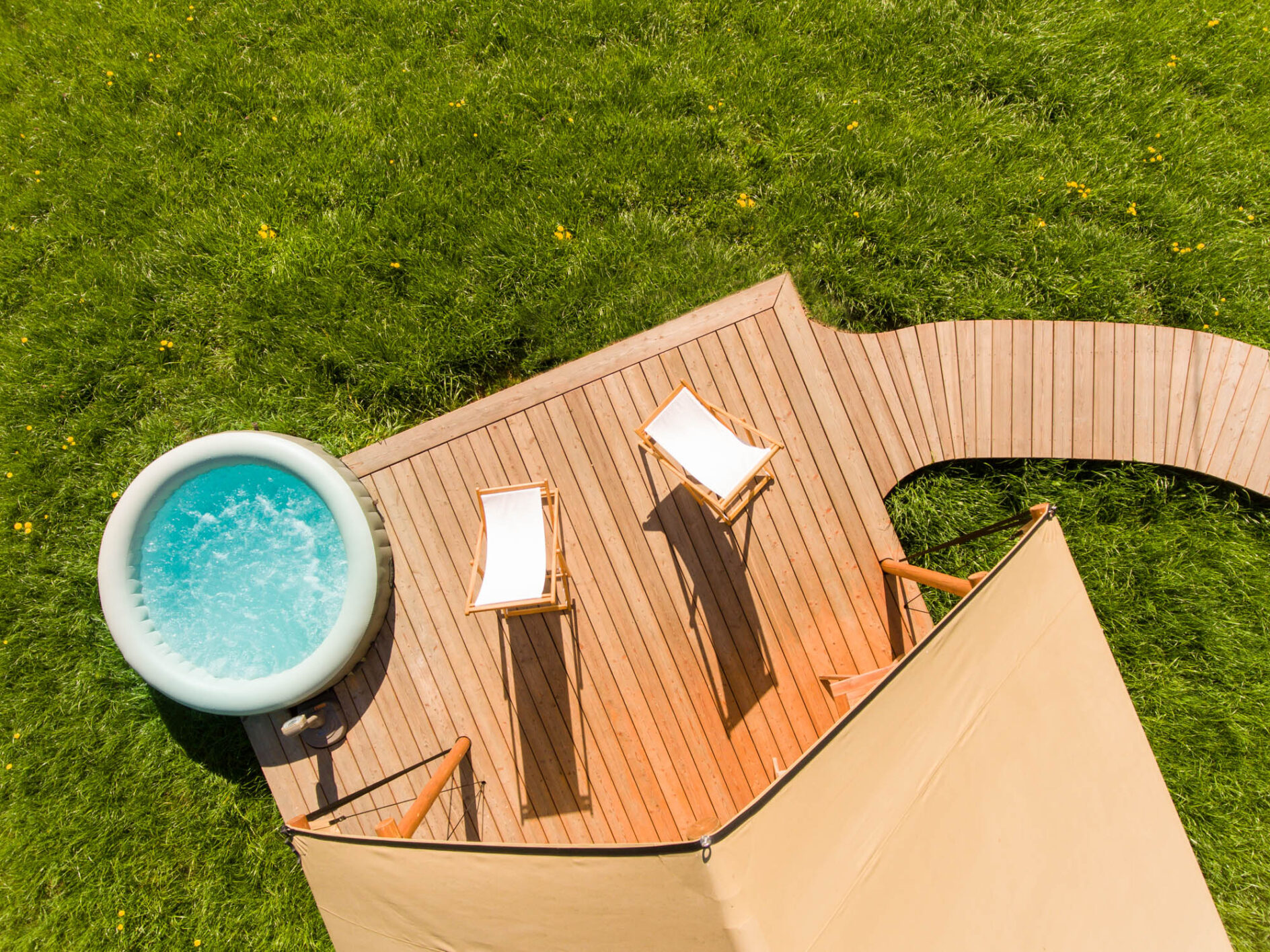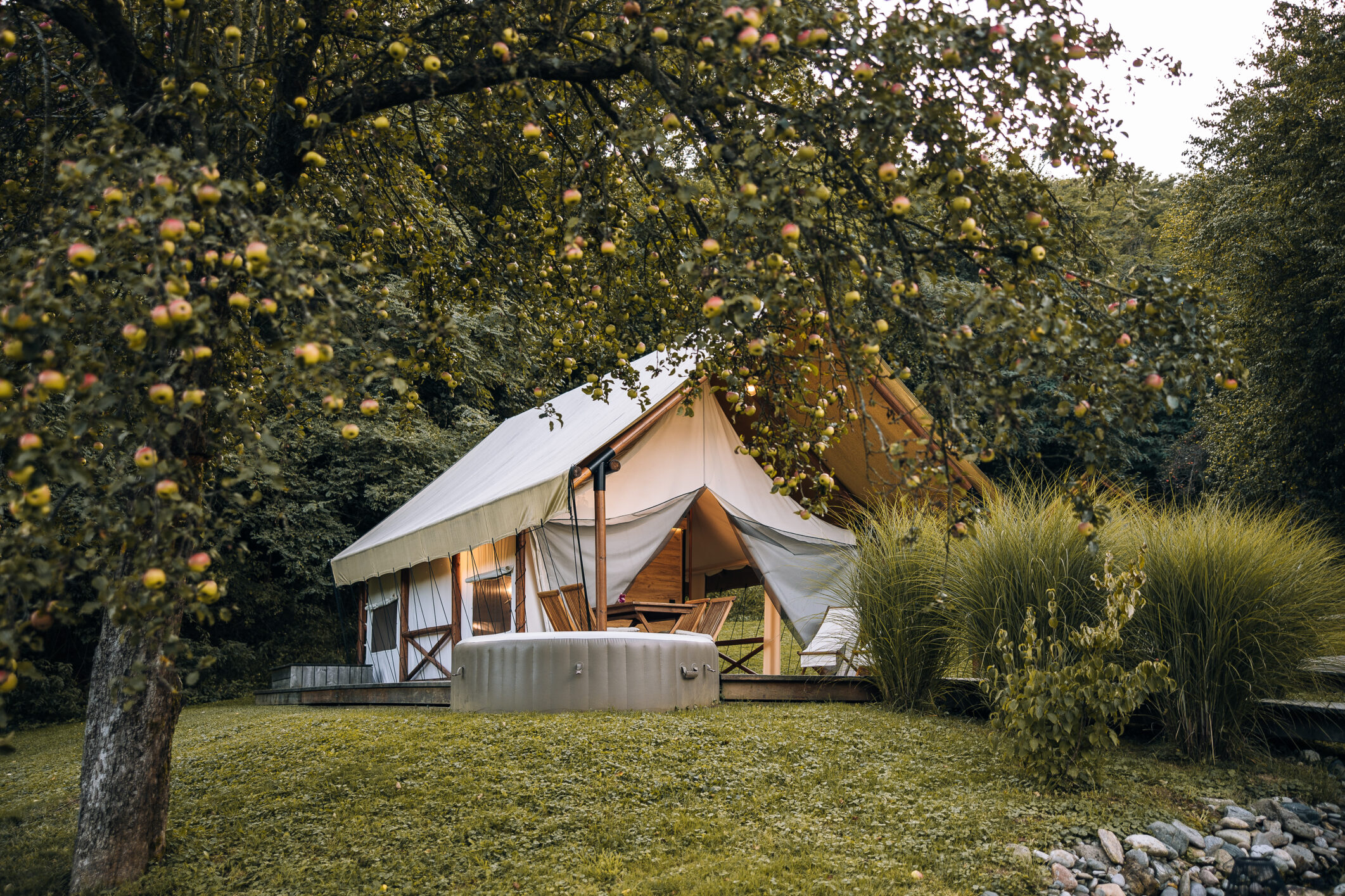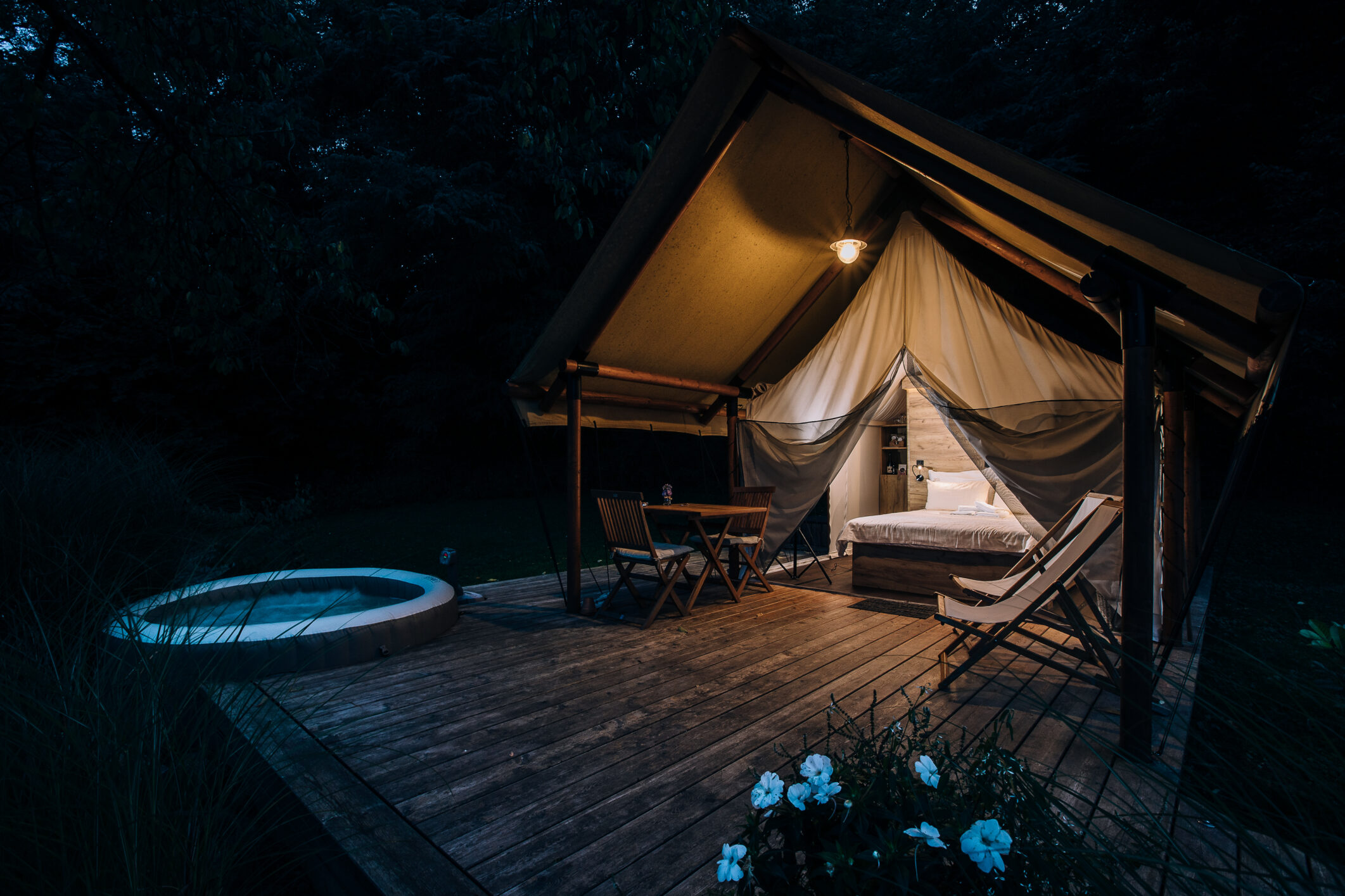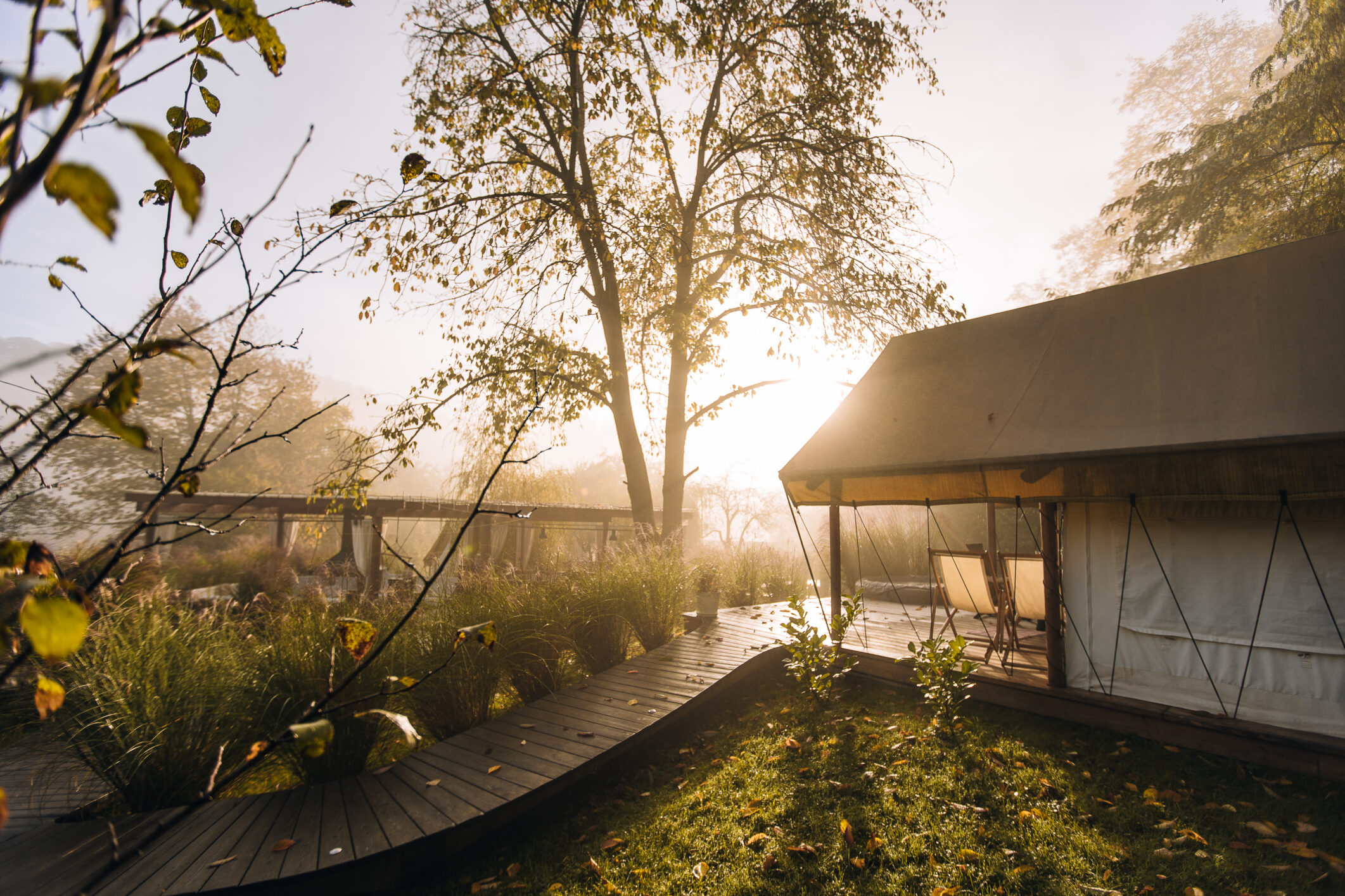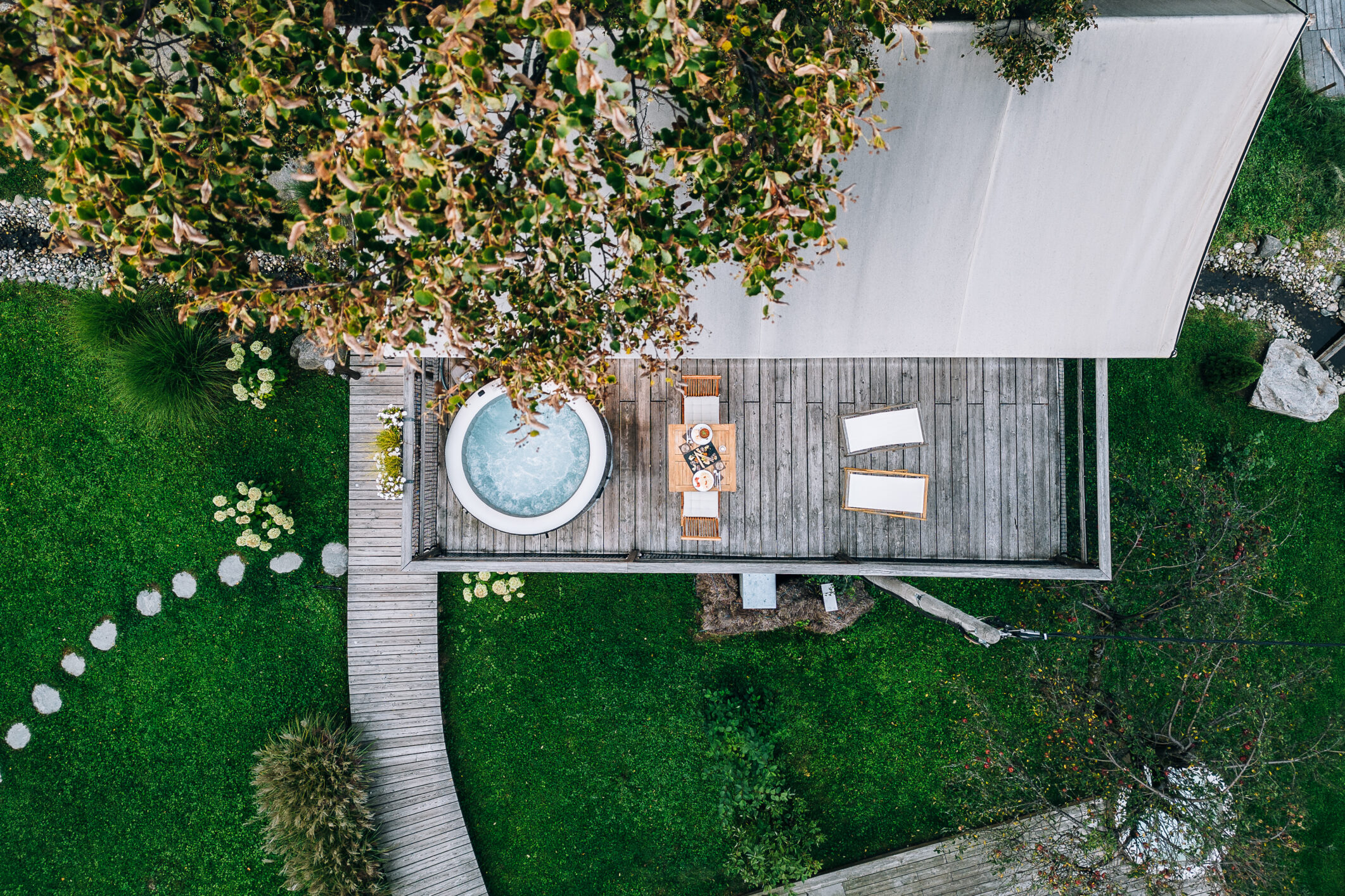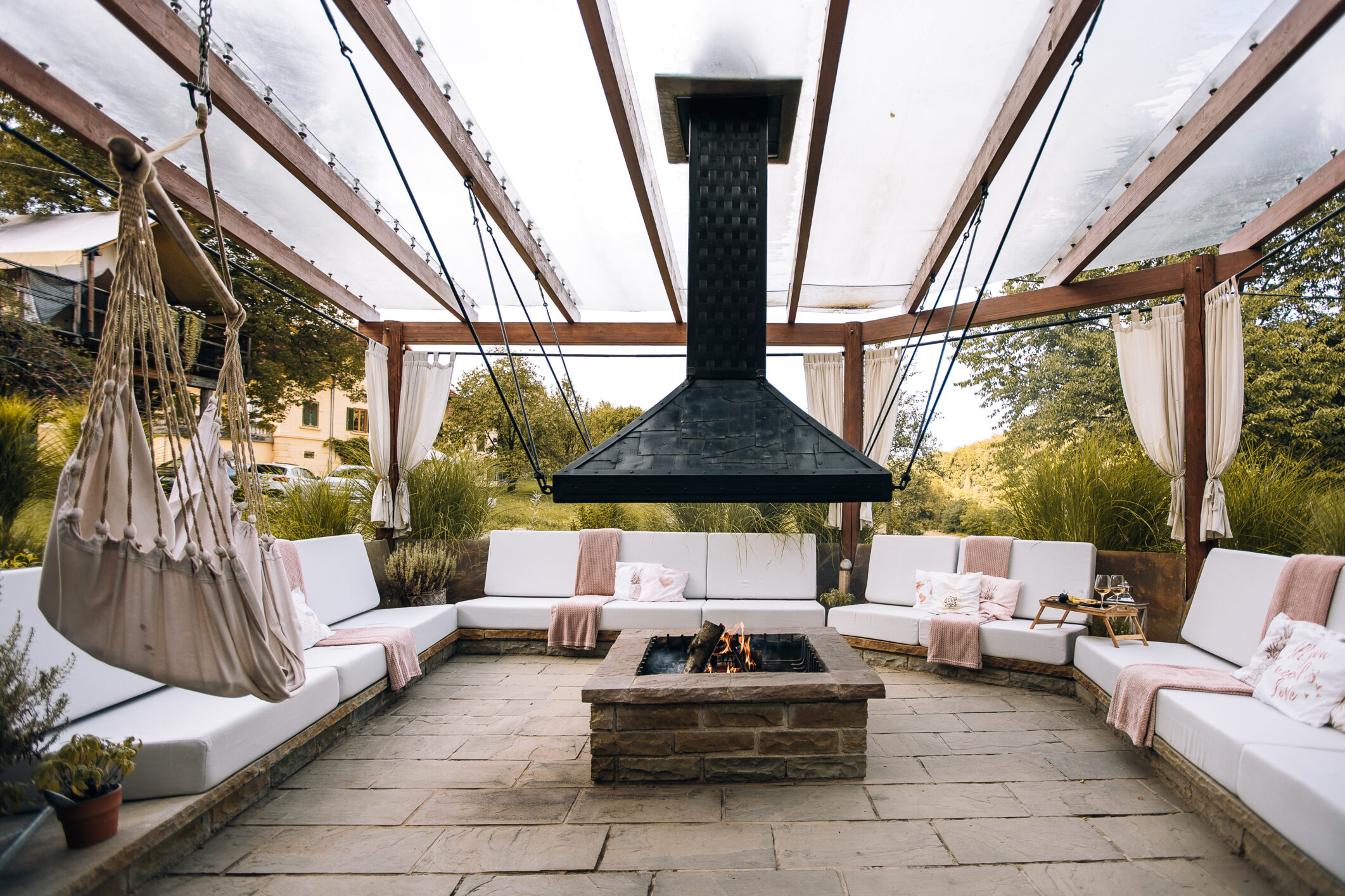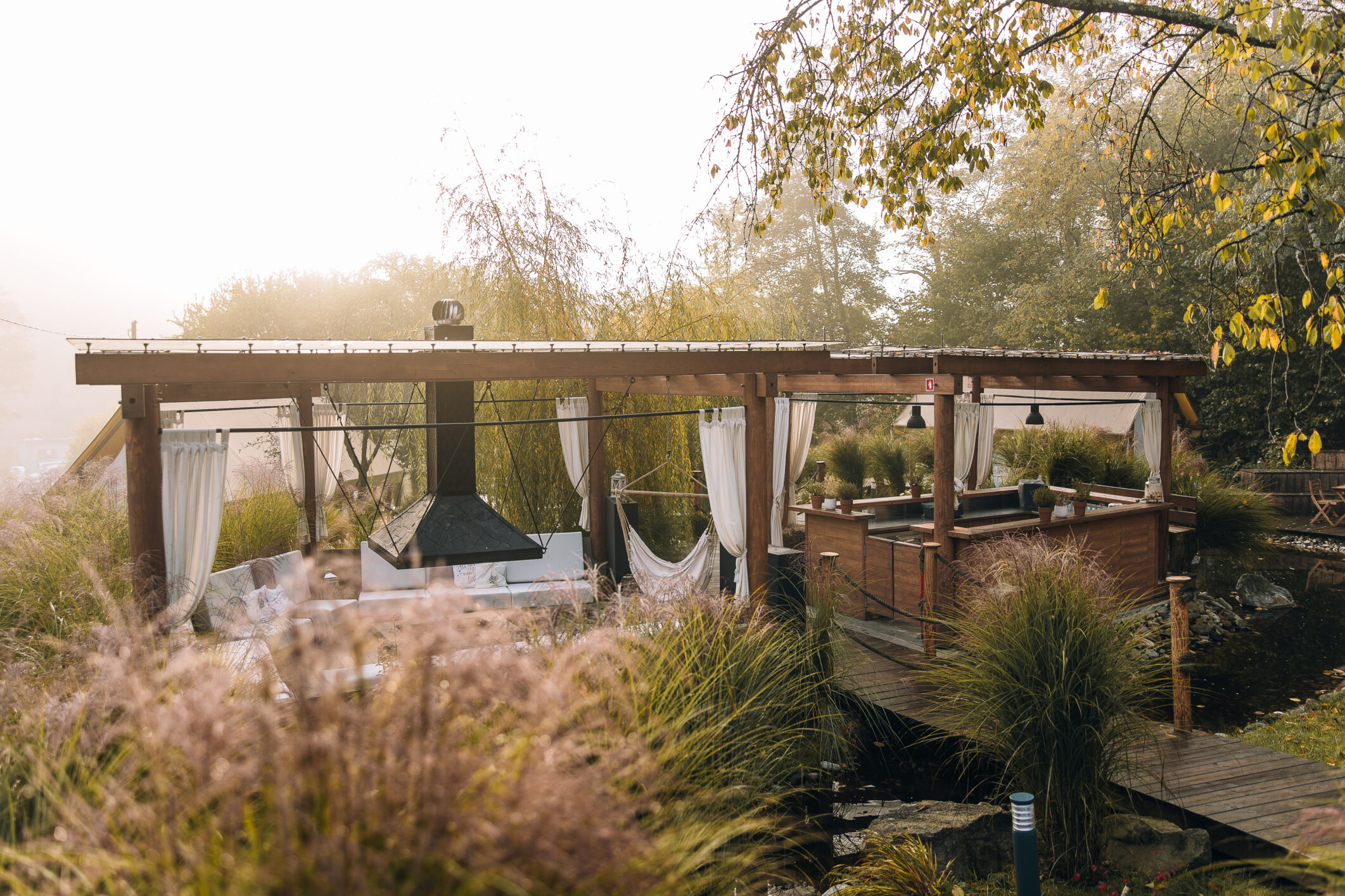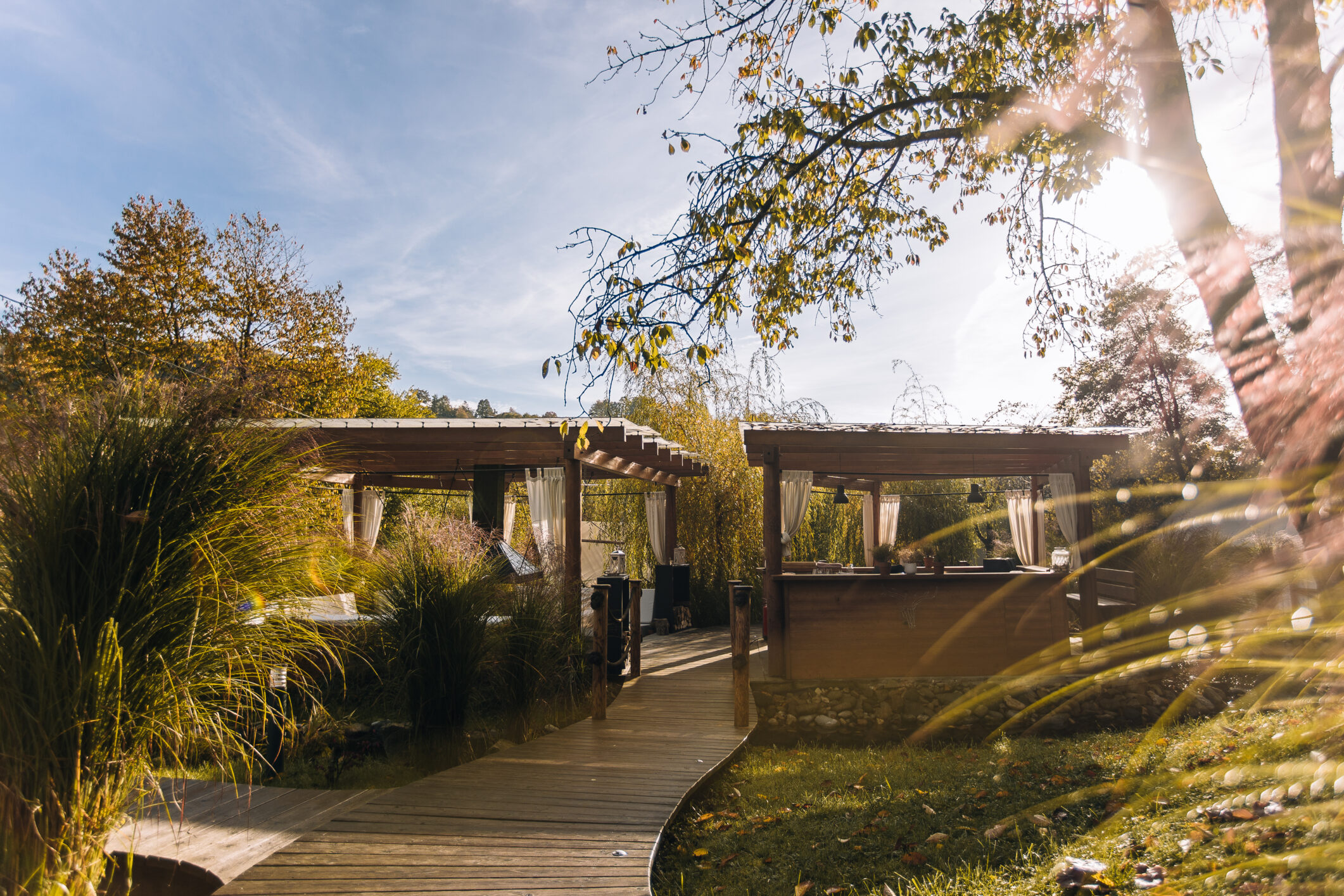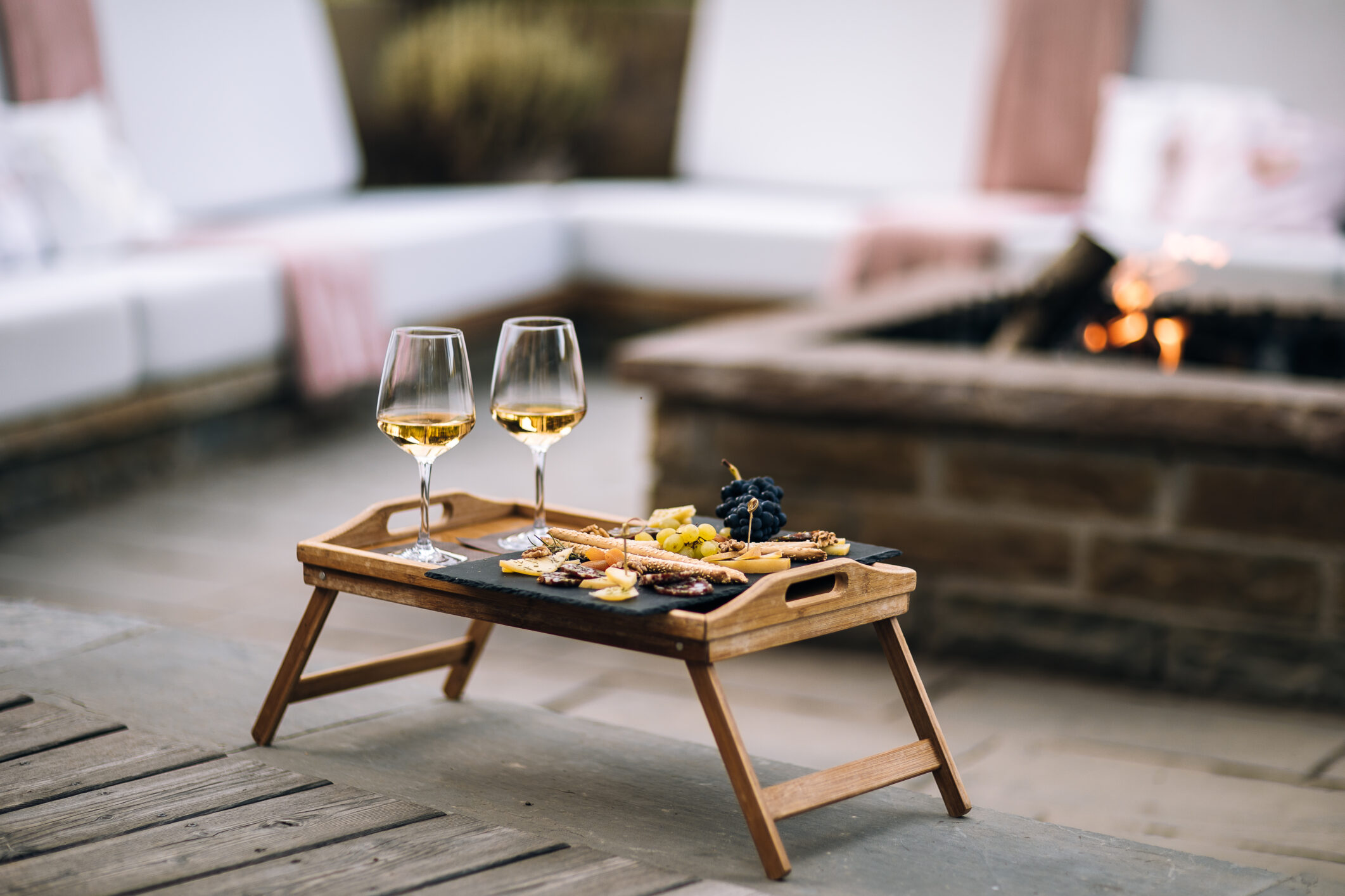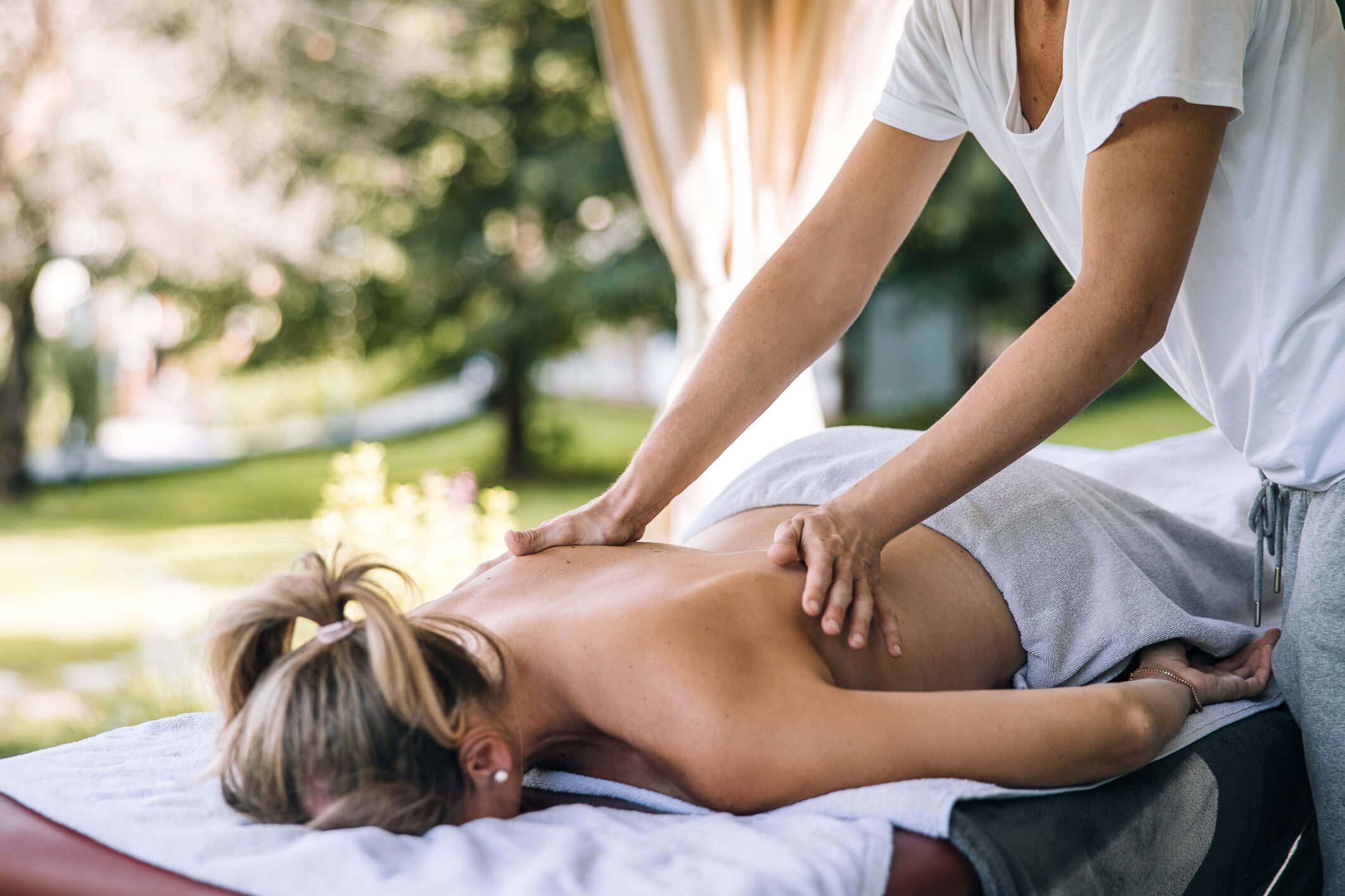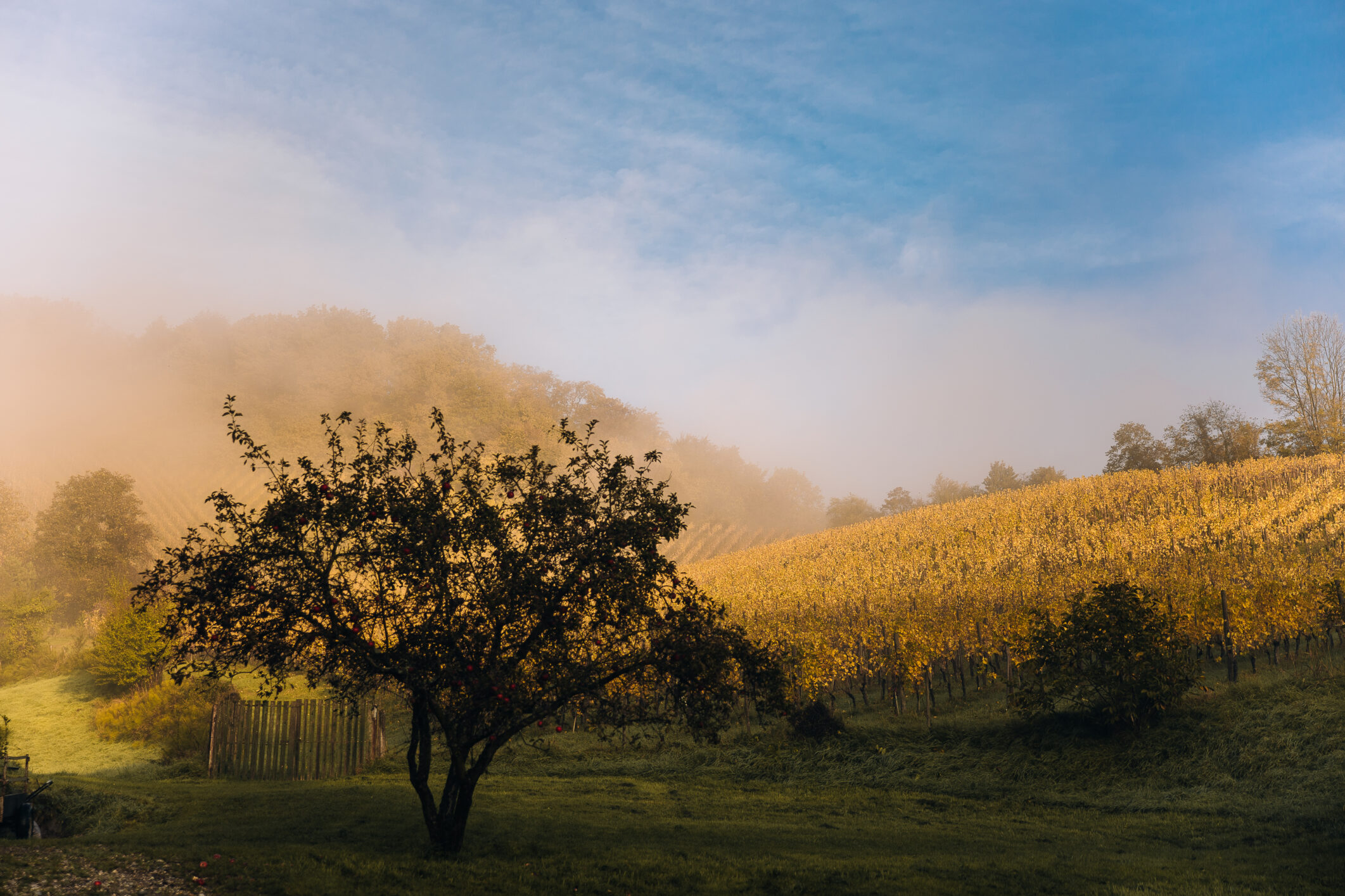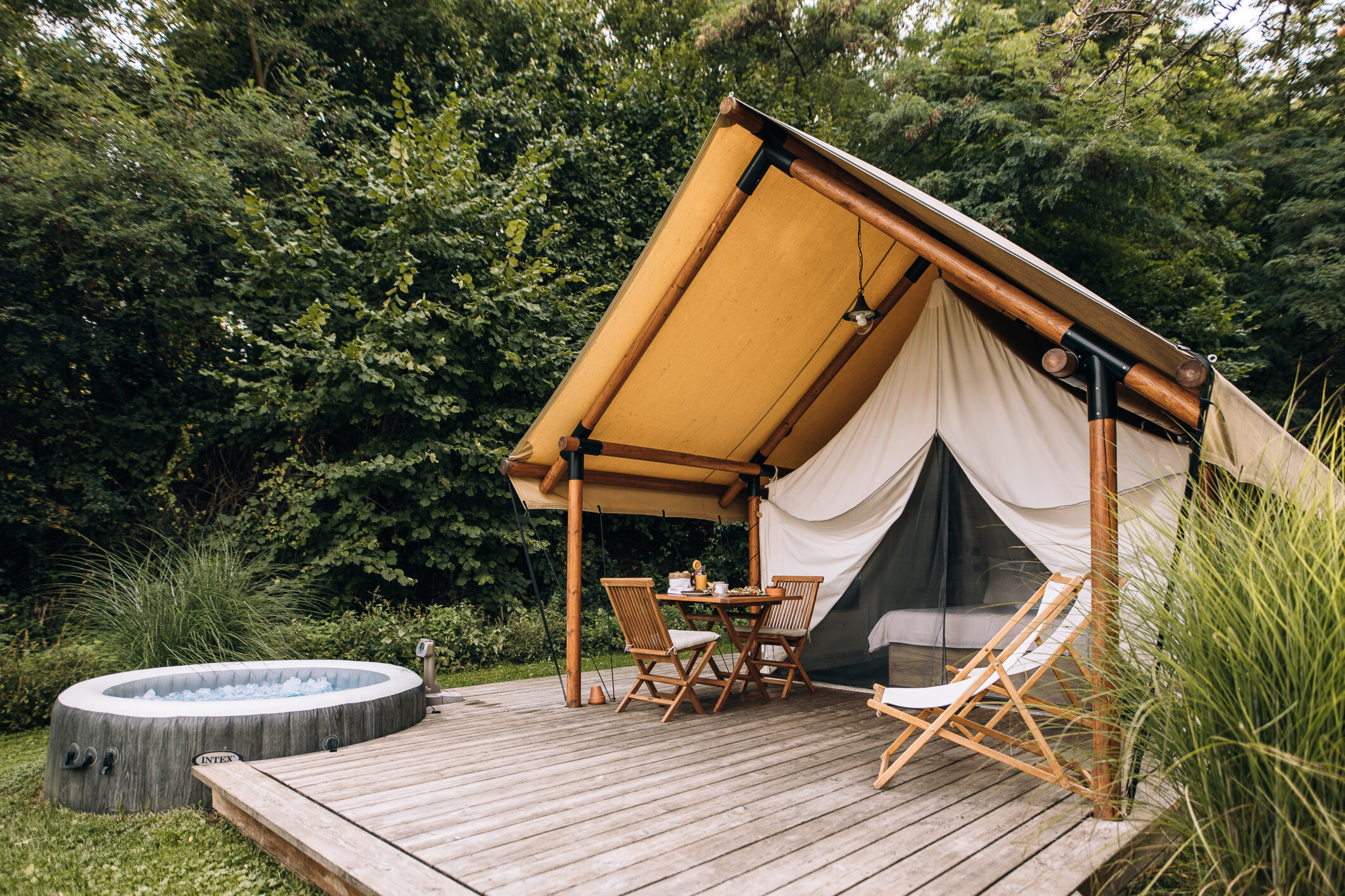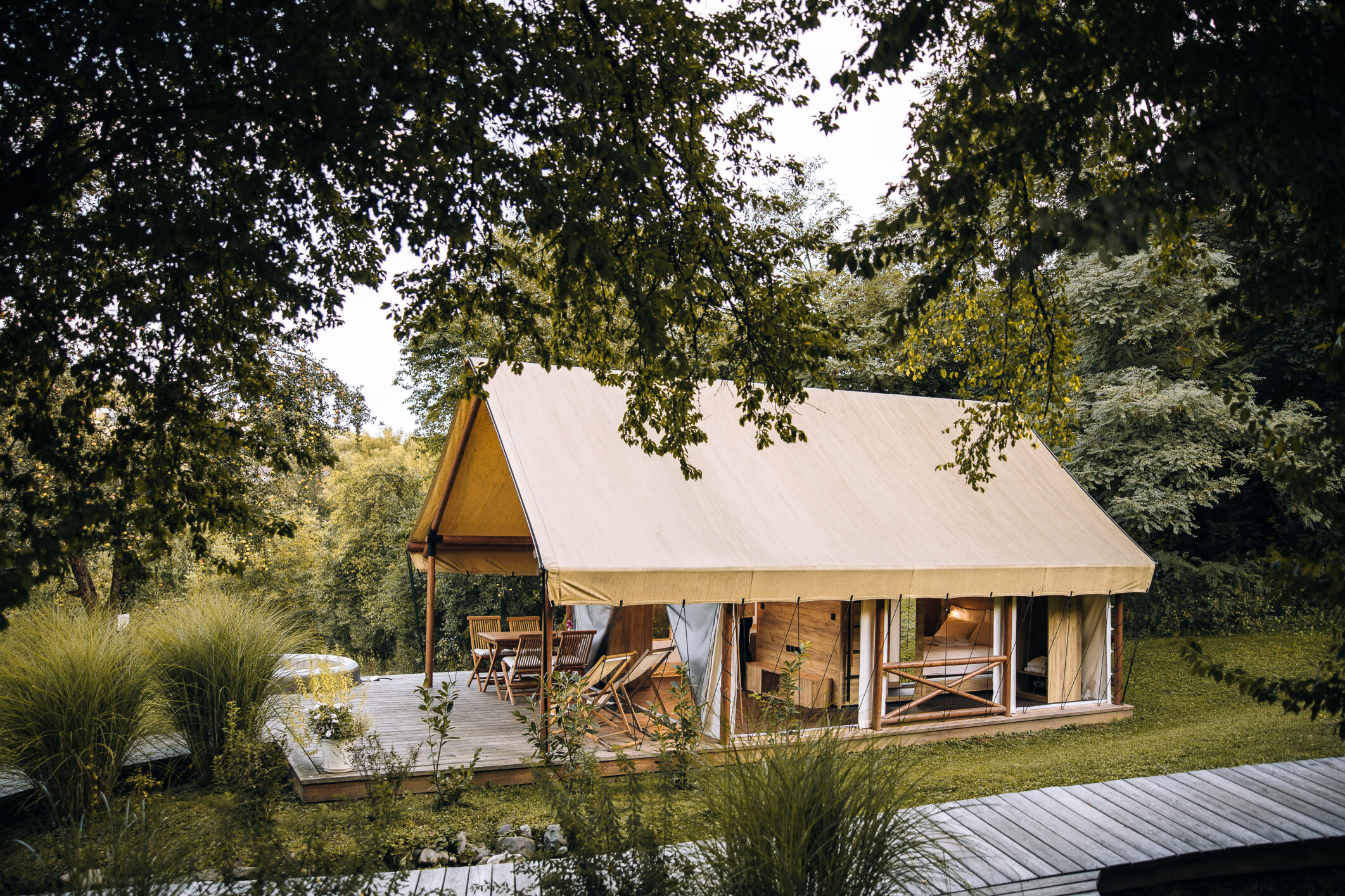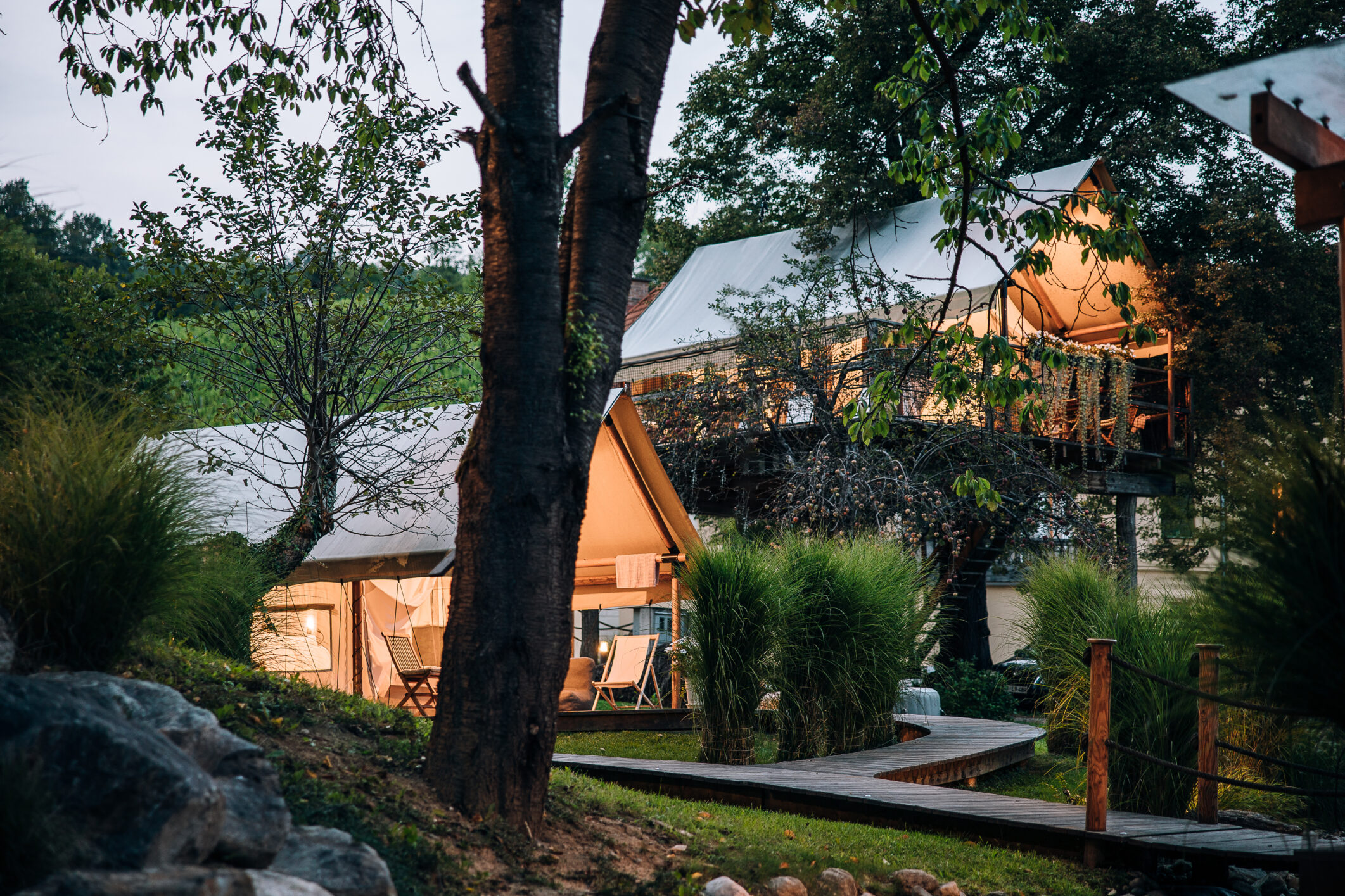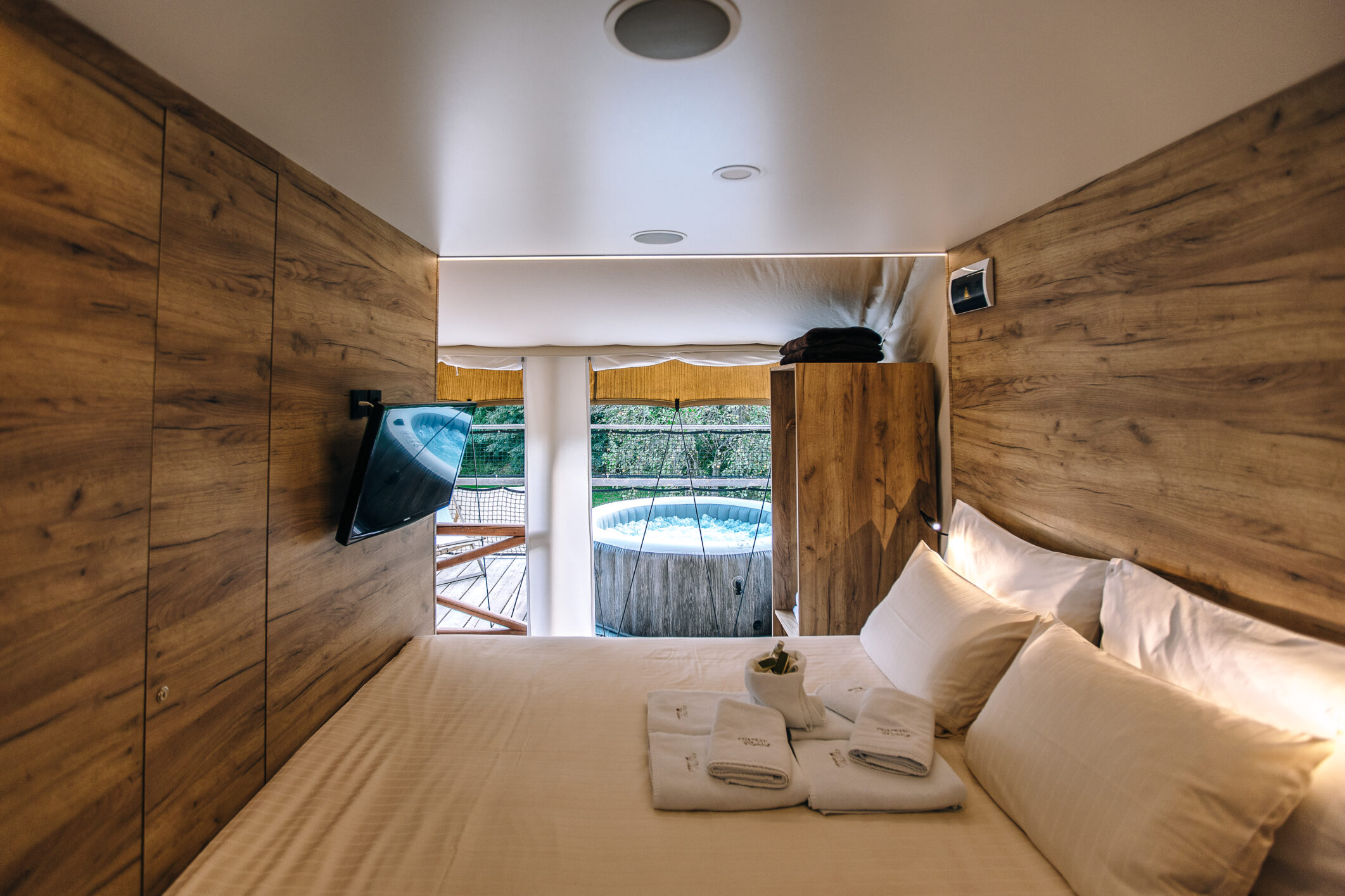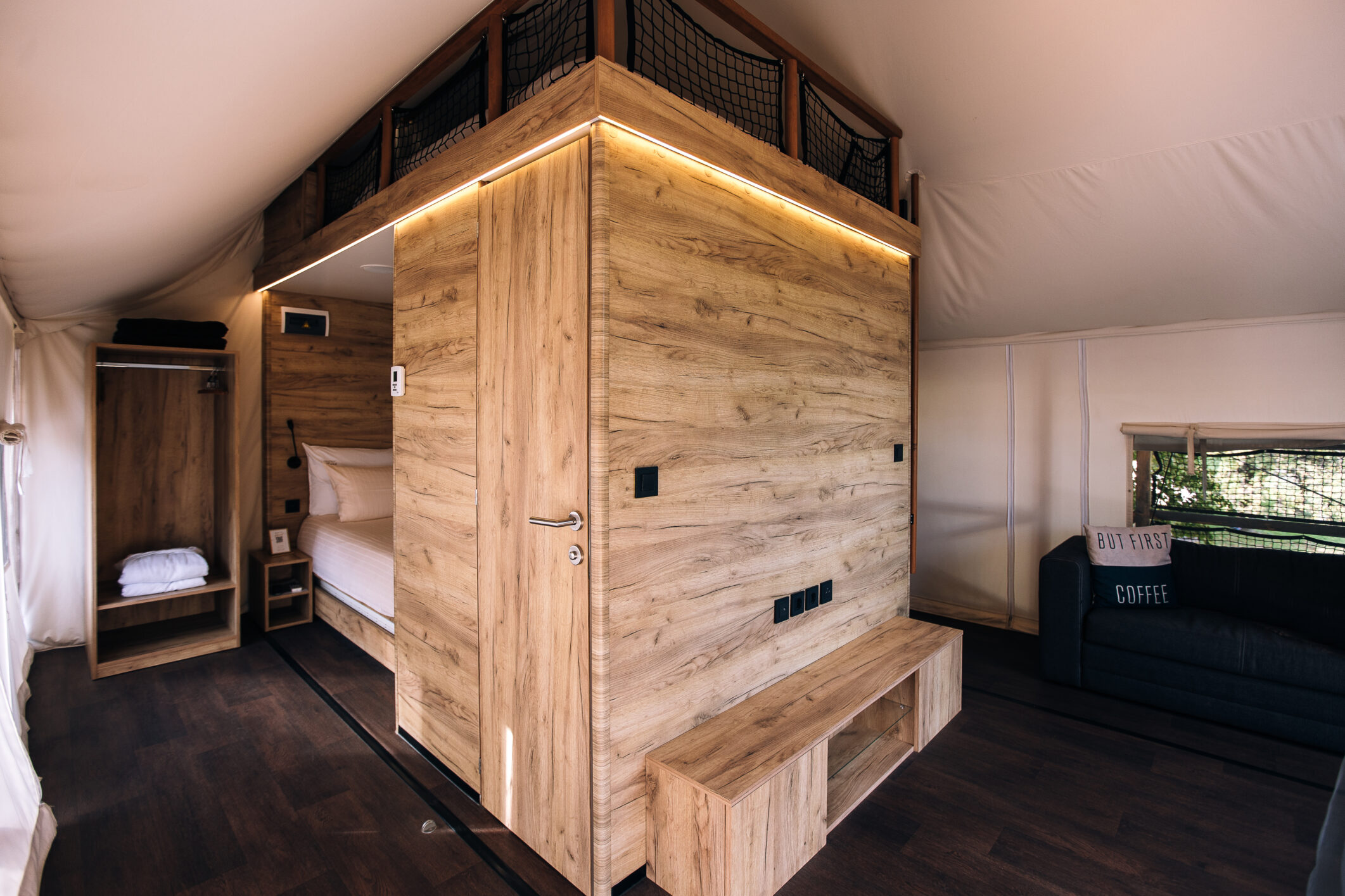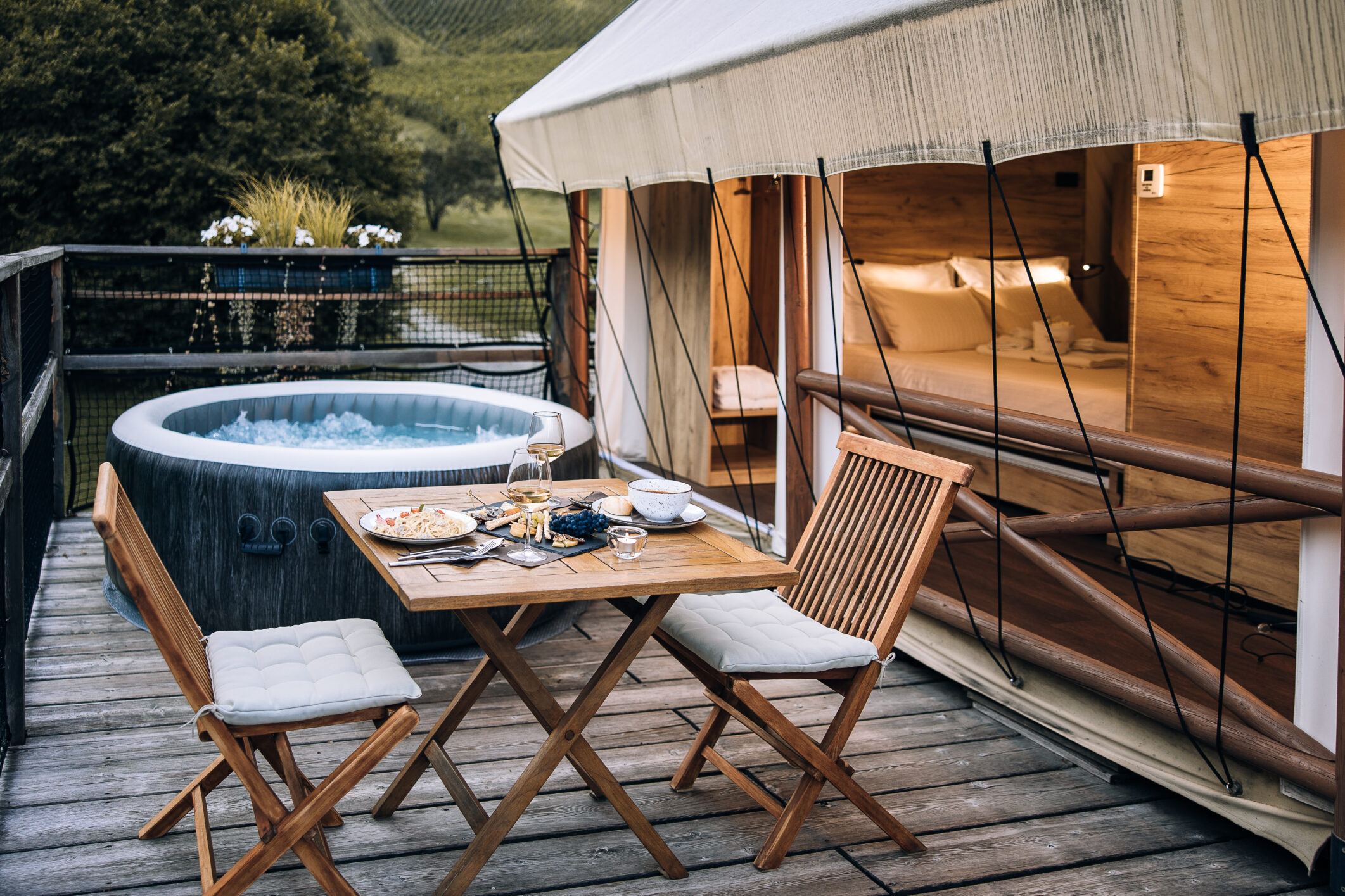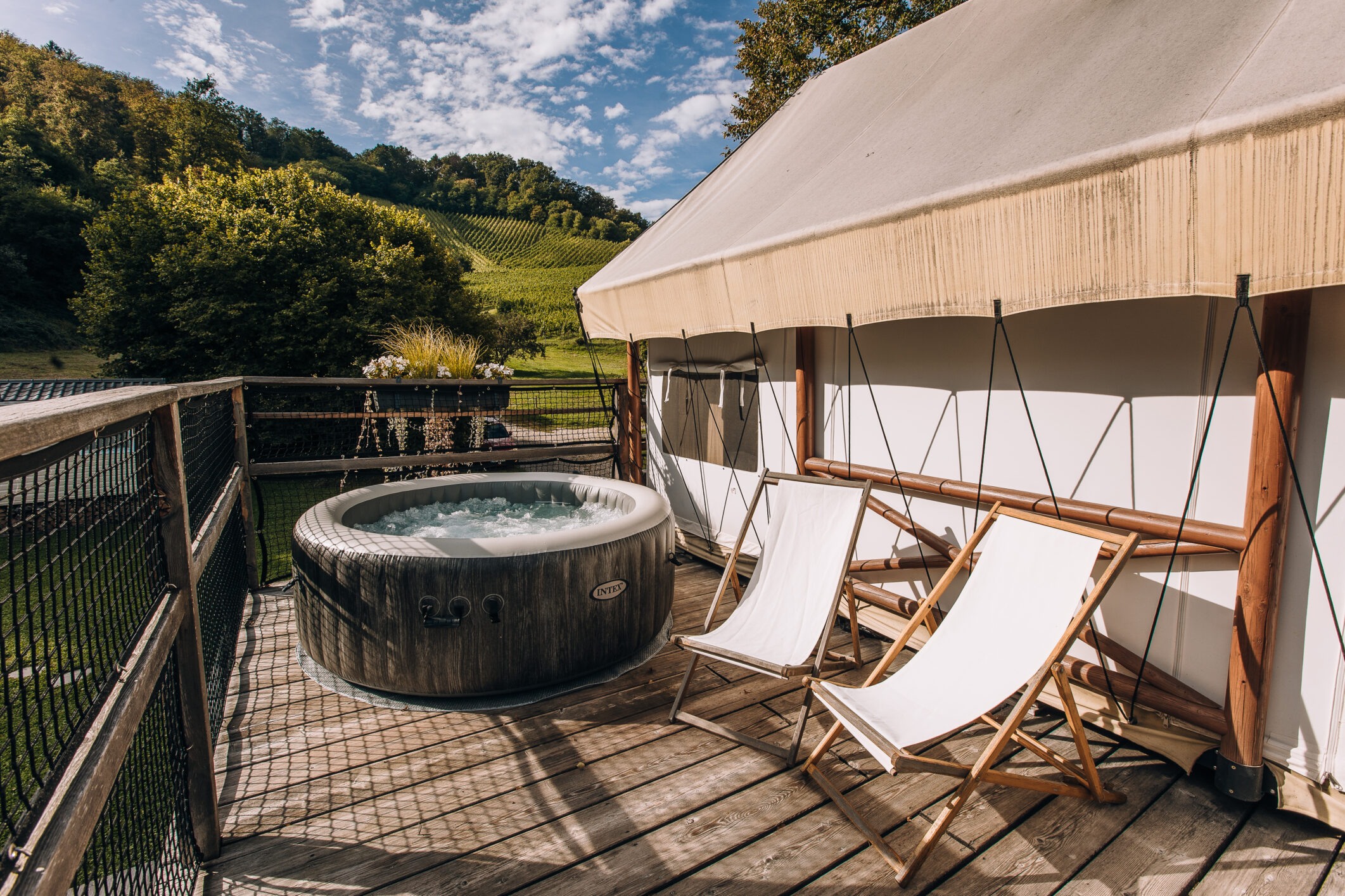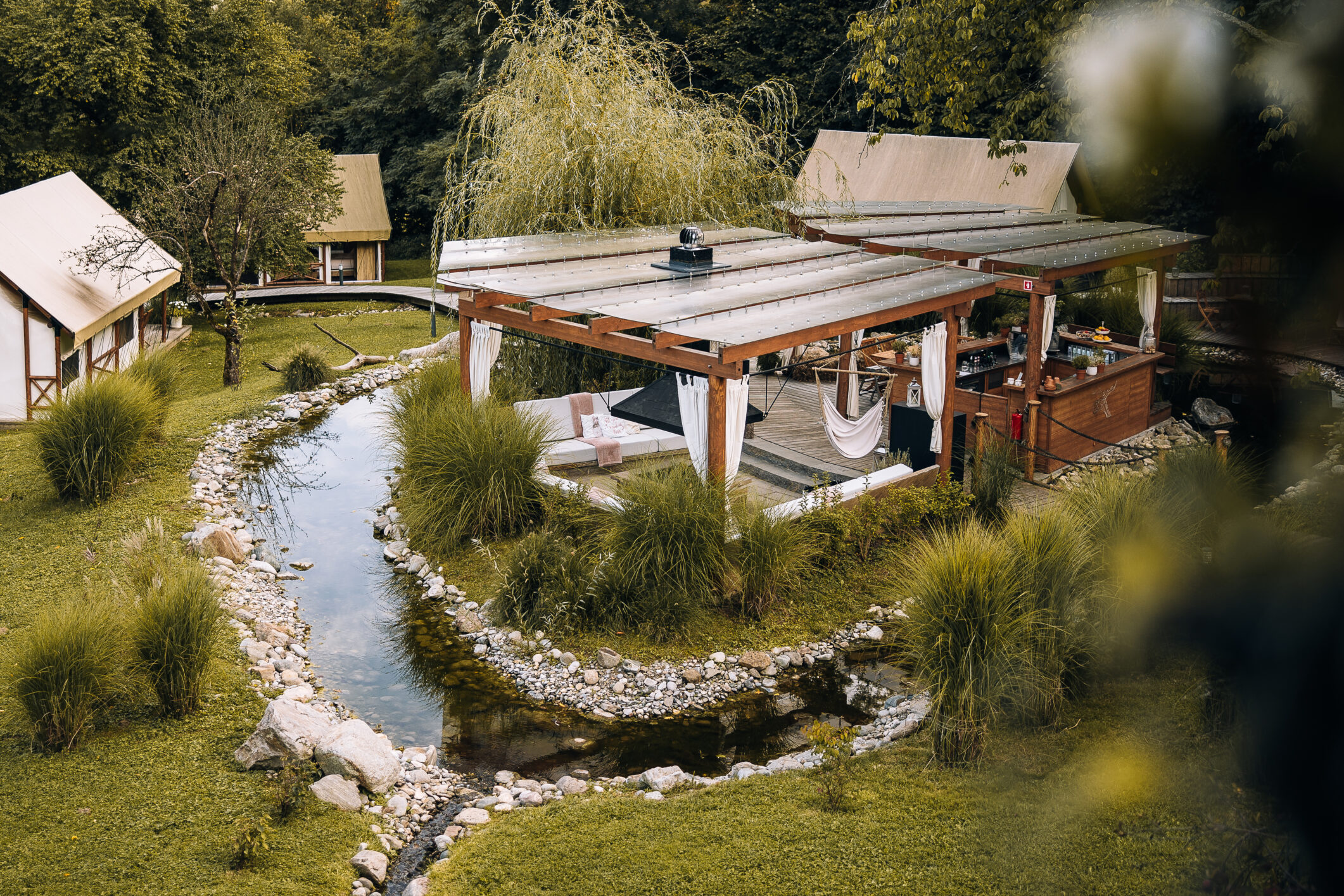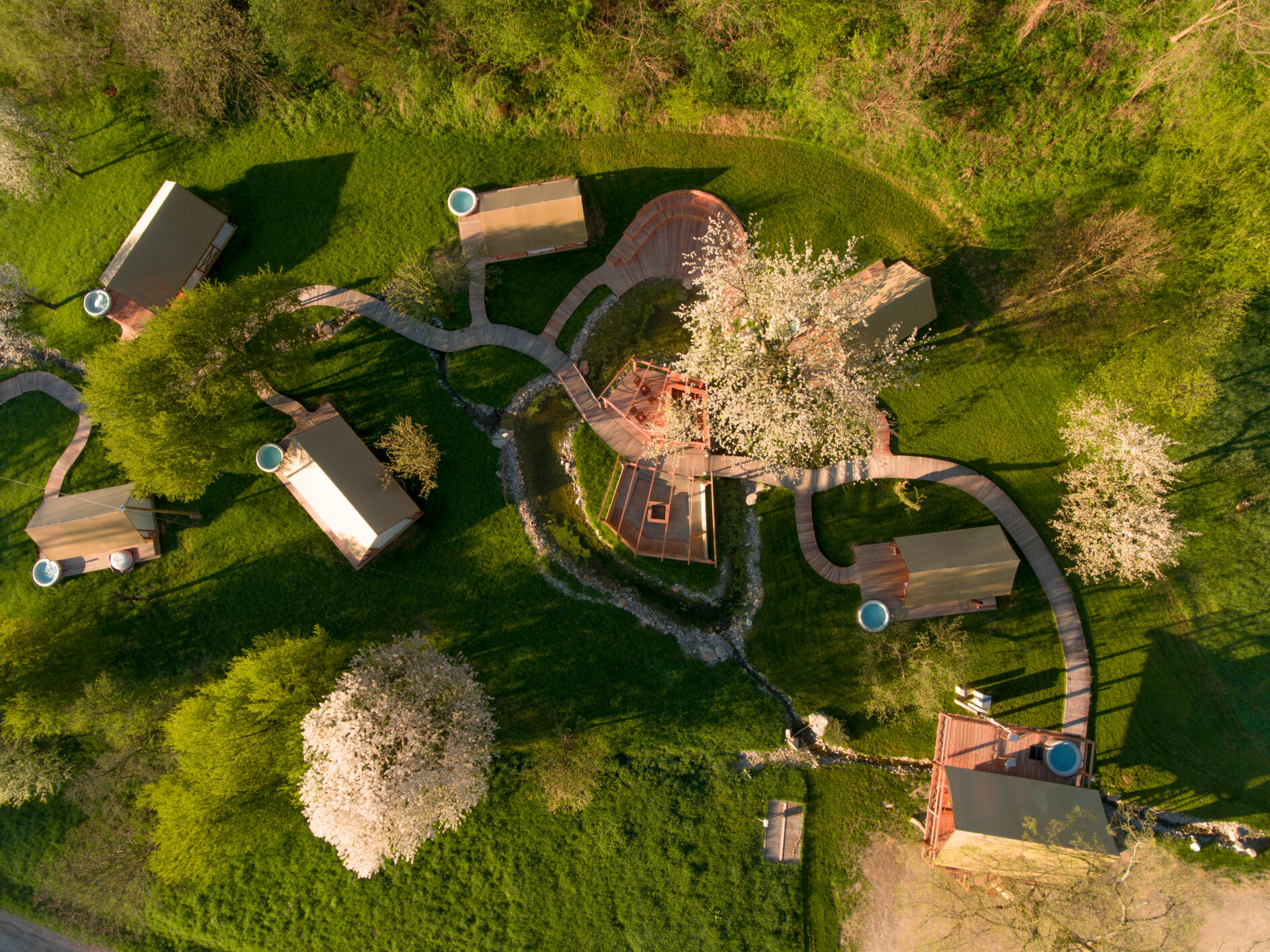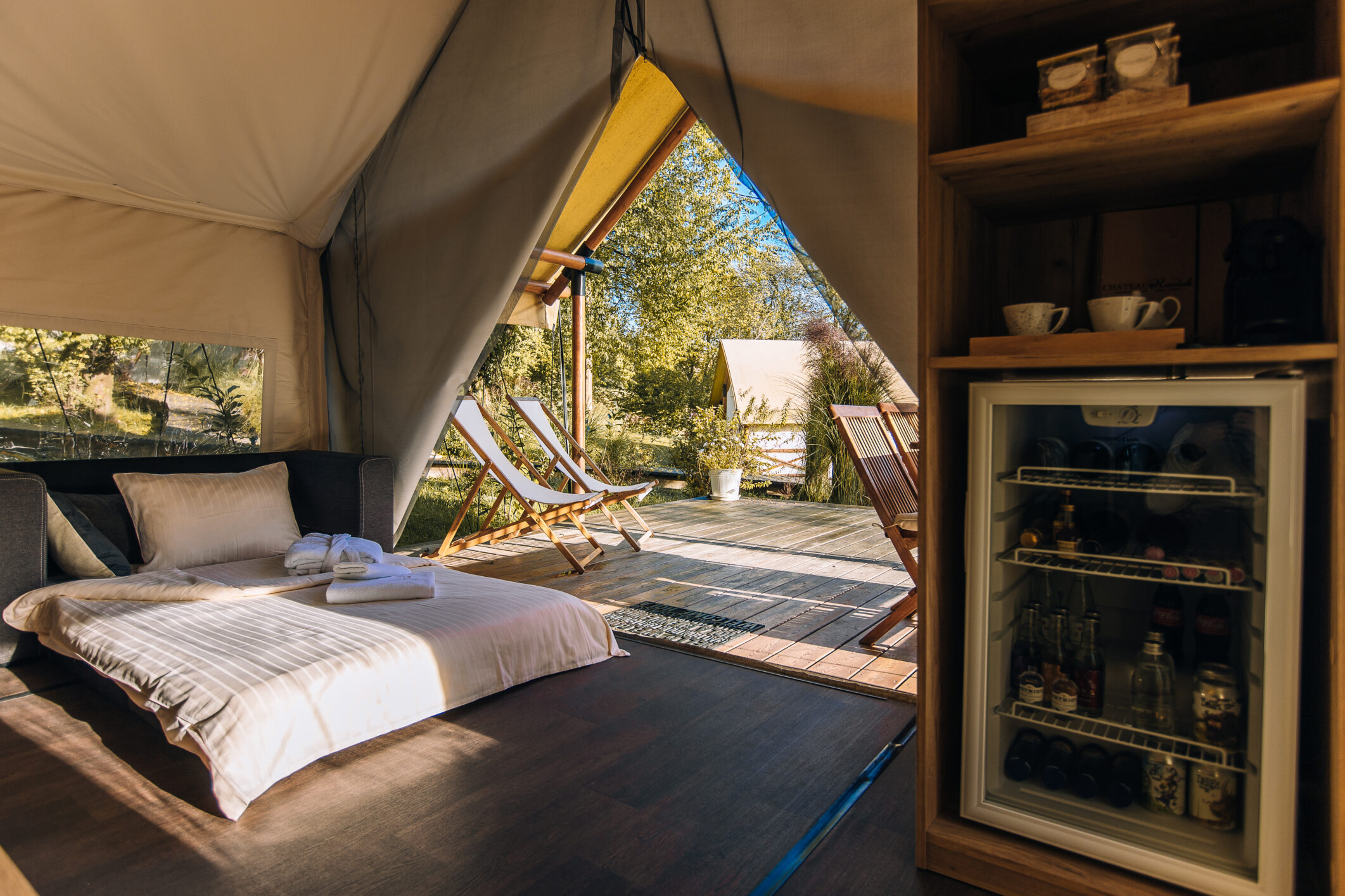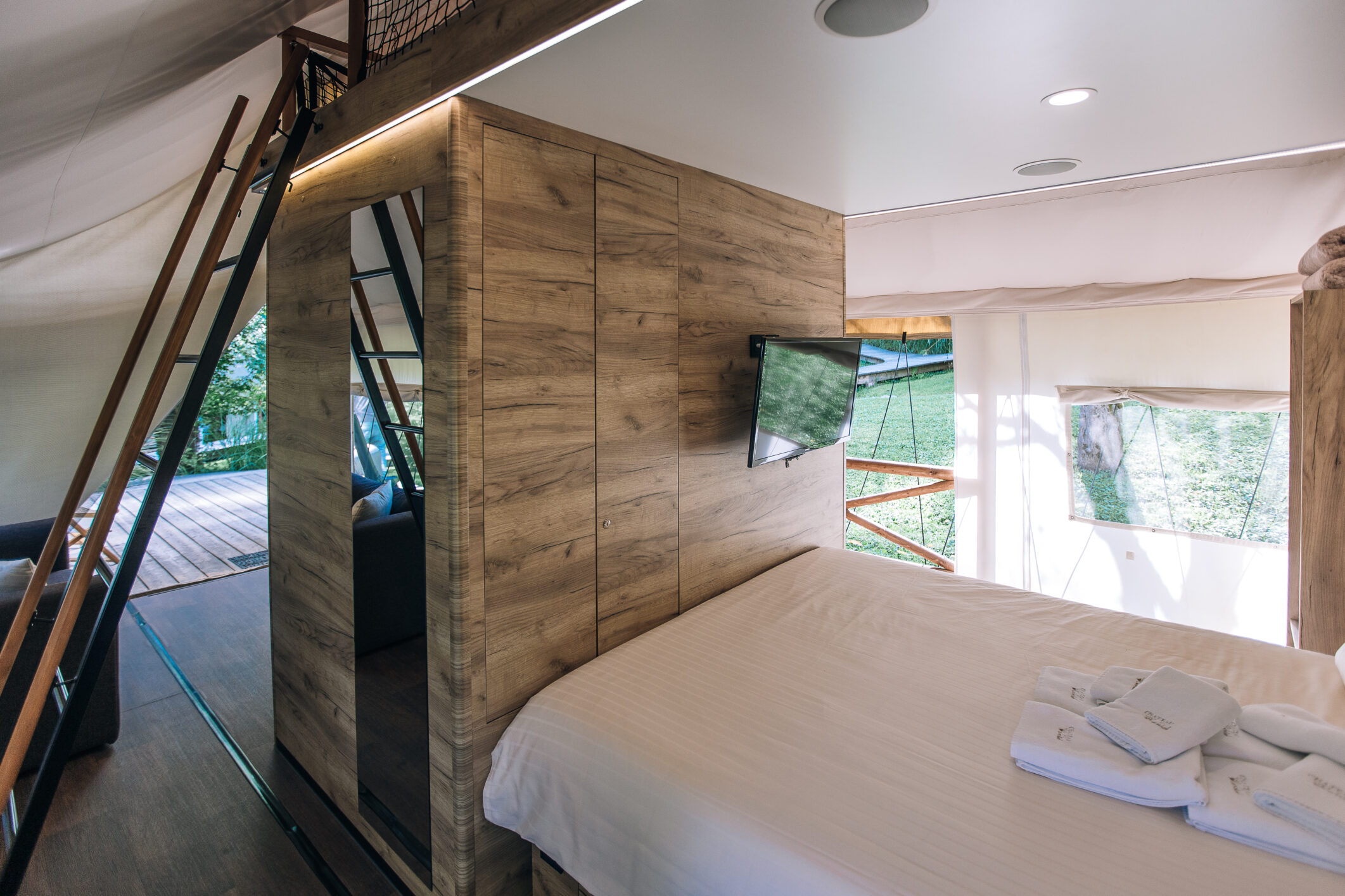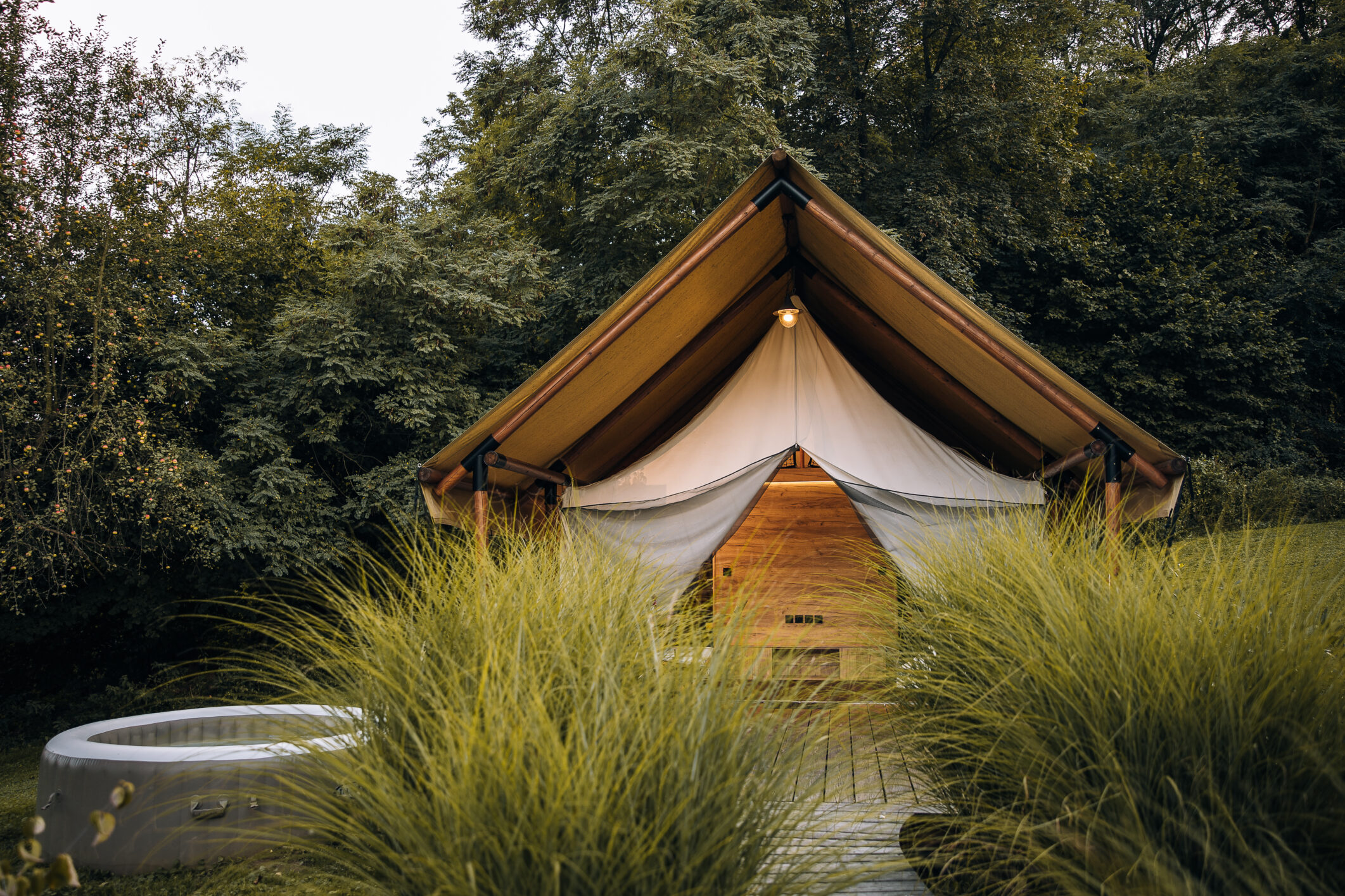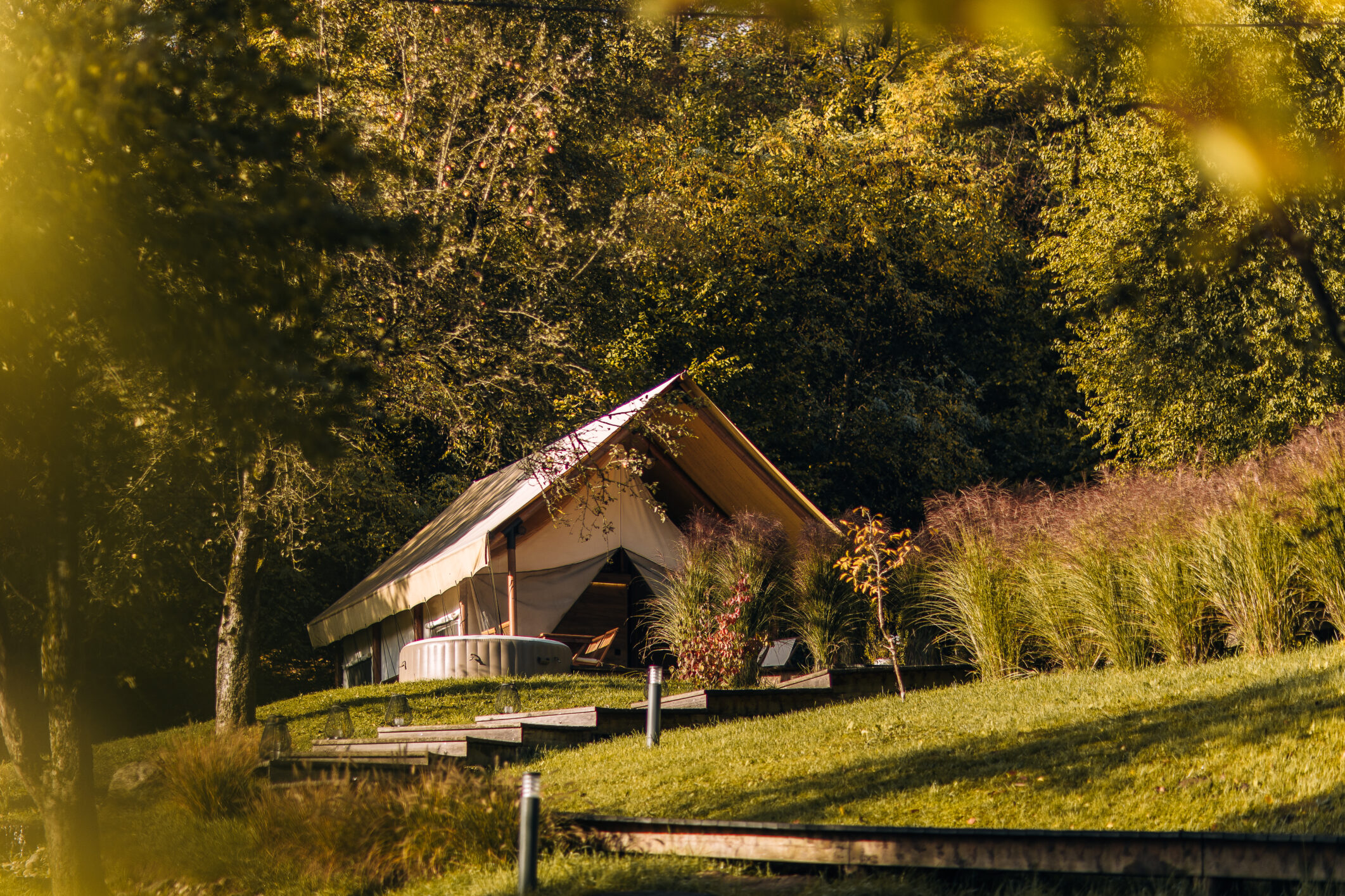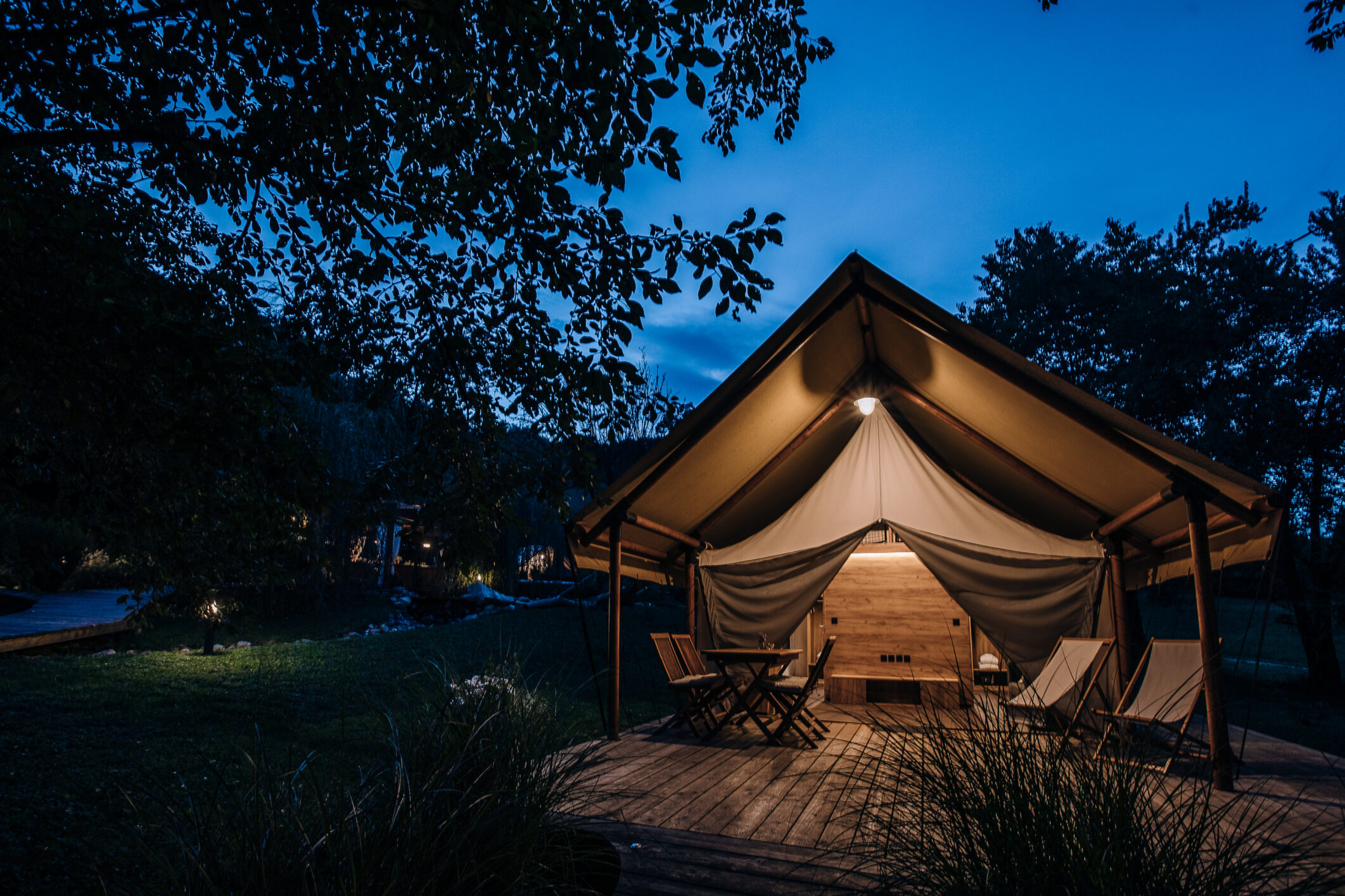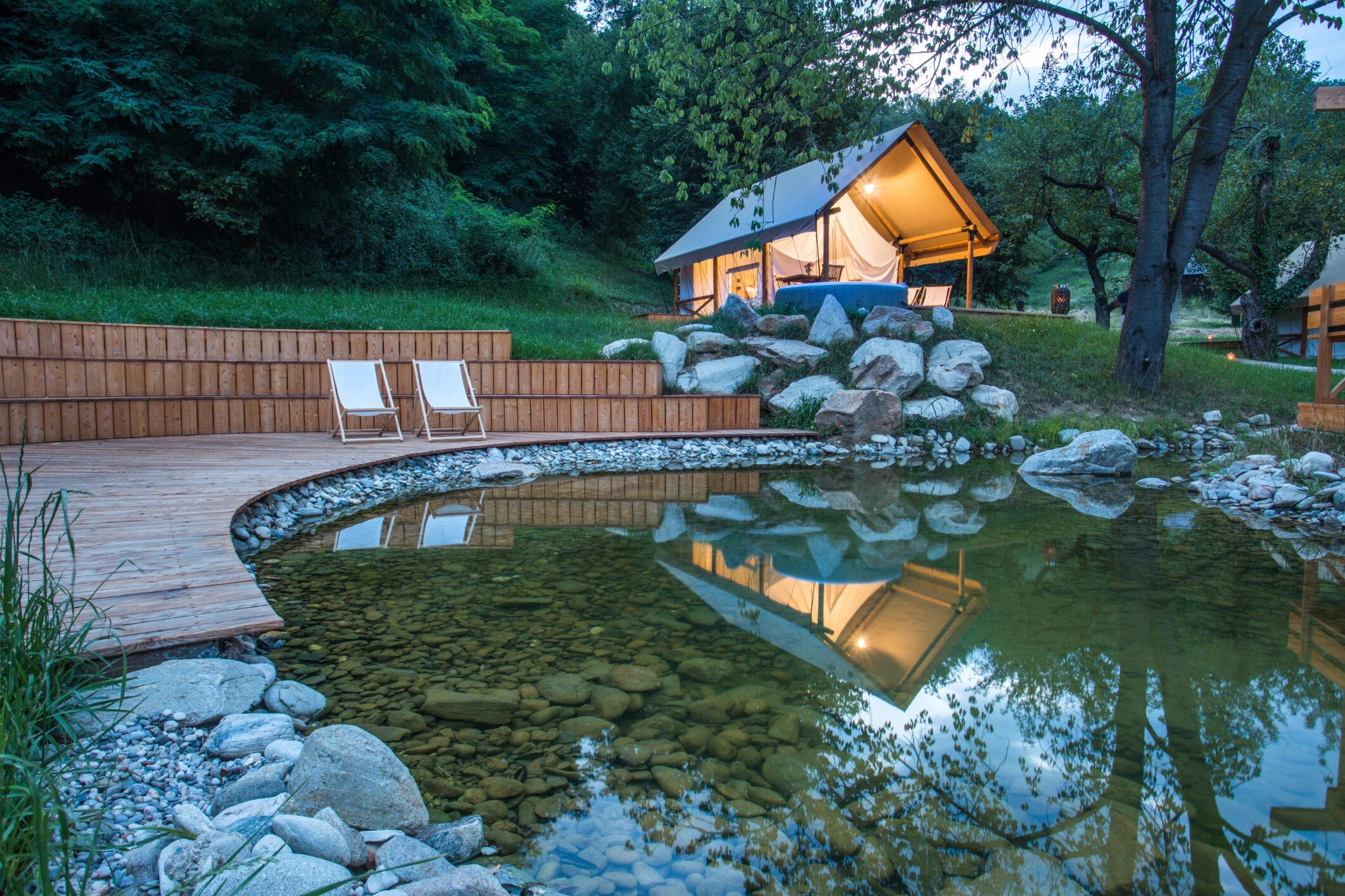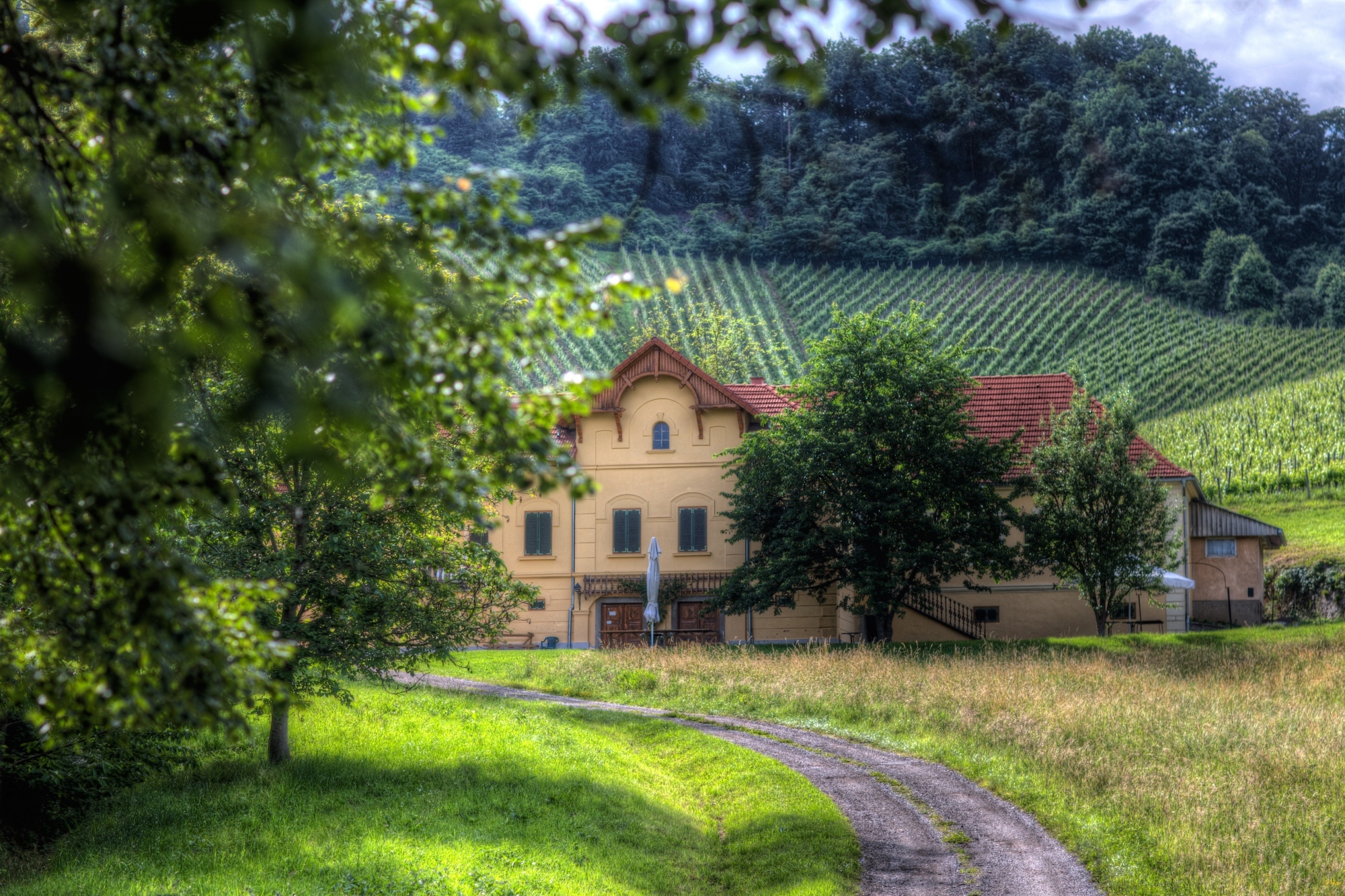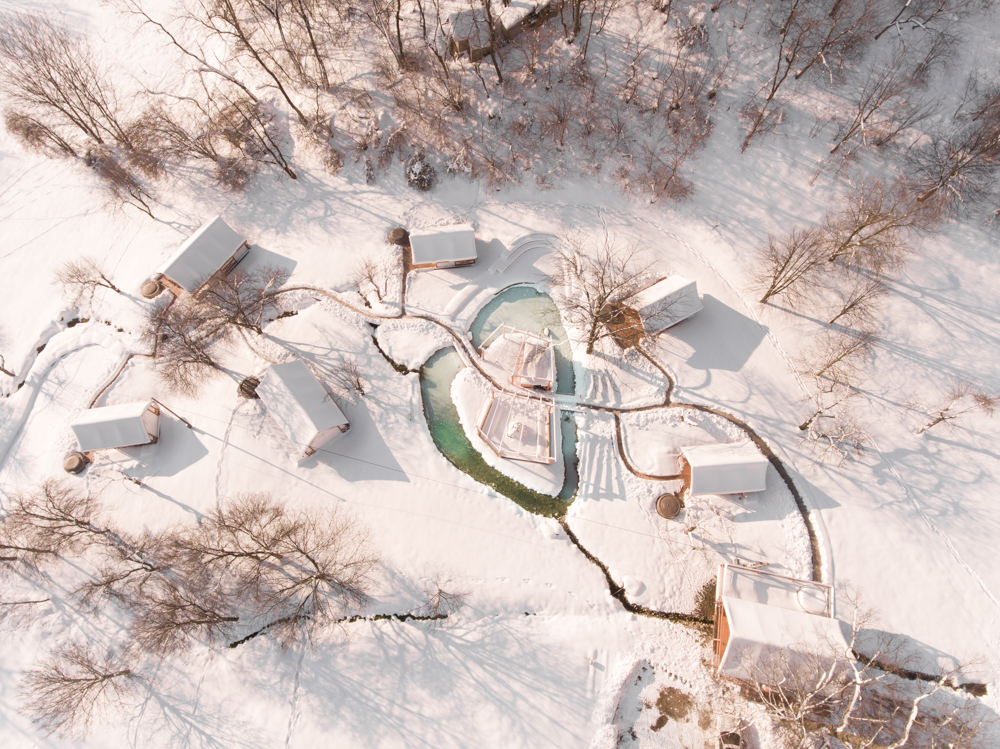 More information
Check-in: 2PM – 6PM in Season 2 and Season 3, from 3PM – 8PM in Season 1
Check-out: 8AM – 10AM
Breakfast: between 8AM and 9.30AM
Holidays and special dates:
are Season 1 or Season New Year's Eve (minimum stay of 2 nights): Special Holiday Day 7.2.2023, Easter Holidays from 07.04.2023 to 09.04.2023, 1st May from 28.04.2023 to 01.05.2023, from 12.05.2023 to 17.05.2023, 26.05.2023 and 27.05.2023, from 07.06.2023 to 10.06.2023, Slovenian National Day 23.06.2022 and 24.06.2022, from 25.10.2023 to 04.11.2023, 08.12.2023 and 09.12.2023, Winter Season 1 from 22.12.2023 to 28.12.2023, Season New Year's Eve from 29.12.2023 to 01.01.2024.
Weekends (Friday and Saturday) in Season 3 are prices of Season 2.
Weekends (Friday and Saturday): minimum stay of 2 nights.
Additional cost for 5th guest / extra bed / breakfast included (available in tent M and a Tree House accommodation): 50 €. *extra bed in romantic tent S is not possible
Free baby crib: available in tent M and Tree House (upon prior request).
Free baby chair in all accommodations (upon prior request).
Outside food and/or beverages are not permitted in the resort, we can charge 15 € per outside product.
Pets are not allowed.
All prices includes VAT.
In case of late payment due to given date for a payment we reserve the right to cancel the reservation.
We reserve the right to change prices anytime.
Your reservation is safe with us. If we won't be able to provide a service to you, we will issue you a voucher which you will be able to use another time. 
Tourist and Promotional tax / per person / per night is not included in price. Adult: 2,5€ / day, kids from year 7 to year 18: 1,25€ / day, kids up to year 7: free.
VAT 9,5% is included in the price.
Cancellation Policy:
The cost of cancellation depends on when Chateau Ramšak Glamping resort receives the cancellation note. The cancellation of reservation is possible only by emailing at reception@chateauramsak.com
The minimum cancellation fees are the following:
Non-refundable in Season 1, Season 2 and Season New Year's Eve (minimum stay of 2 nights).
Free cancellation up to 30 days before the arrival (not valid for the Season 1, Season 2 and Season New Year's Eve)
Cancellation 30 days or less before the arrival and up to 1 day before the arrival up to 10AM: 70 % of the total price is charged (not valid for the Season 1, Season 2 and Season New Year's Eve)
Cancellation up to 1 day before arrival after 10AM or / and failure to arrive (no-show) at the resort is subject to a 100% cancellation fee. Local time of accommodation is listed (CEST)
Season 1, Season 2 and Season New Year's Eve is non-refundable. Guest will be charged 100% of the reservation price at the reservation.
In case of shorter stay the guest is charged 100% of the total price of the reservation.
No-show:
If the guest fails to check in at the resort on the day of scheduled arrival, he will be charged according to the cancellation-related terms and conditions, meaning 100% of the total cost.
In case of force Majeure:
In the case of force Majeure such as e.g. illness, disaster, war, earthquake, epidemic or pandemic, the prepaid funds or the prepayments made in accordance with our general terms and conditions are not refundable.
Experience
Organization of excursions
Silence is like the best music
You can indulge in pampering at our location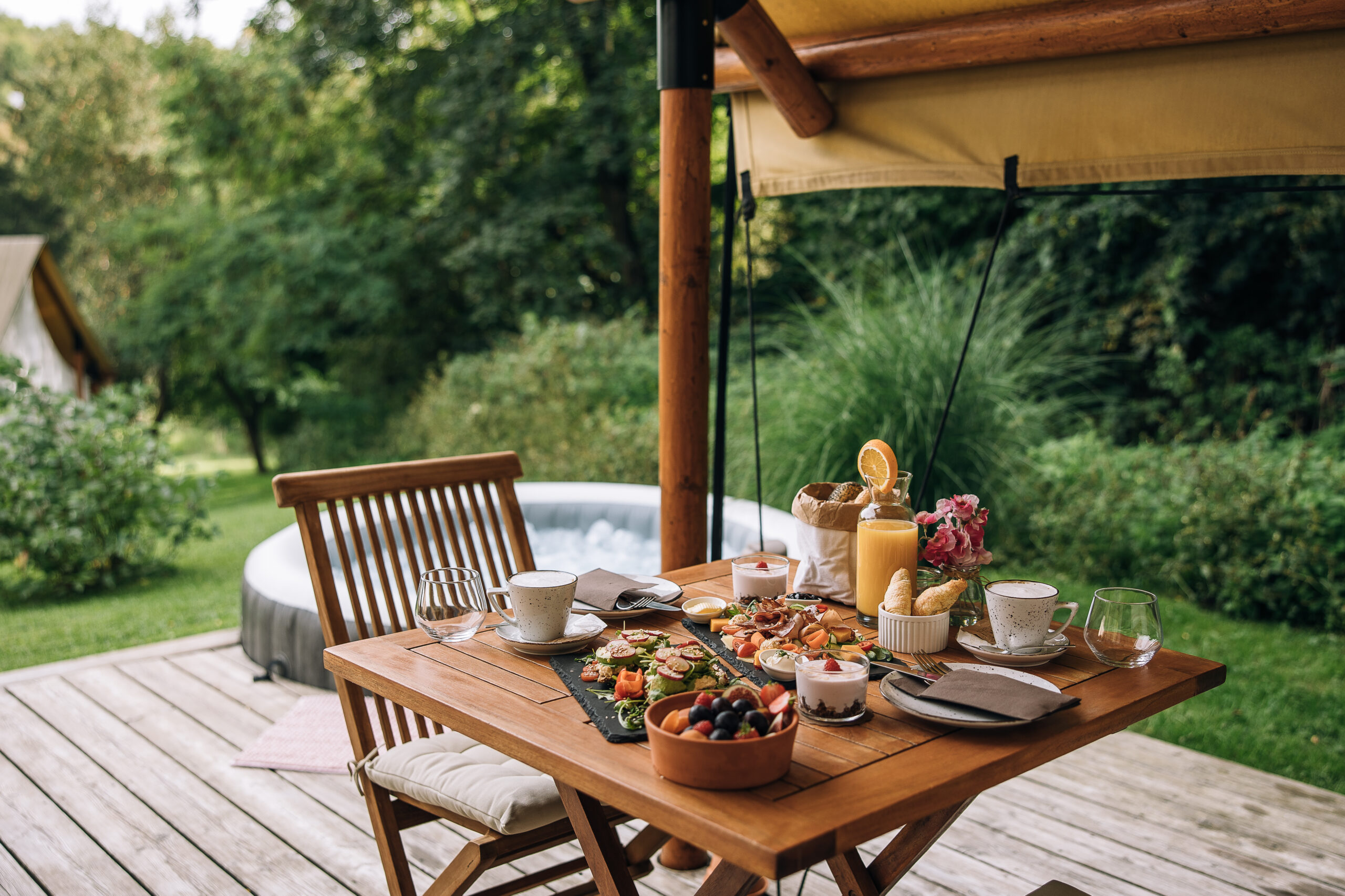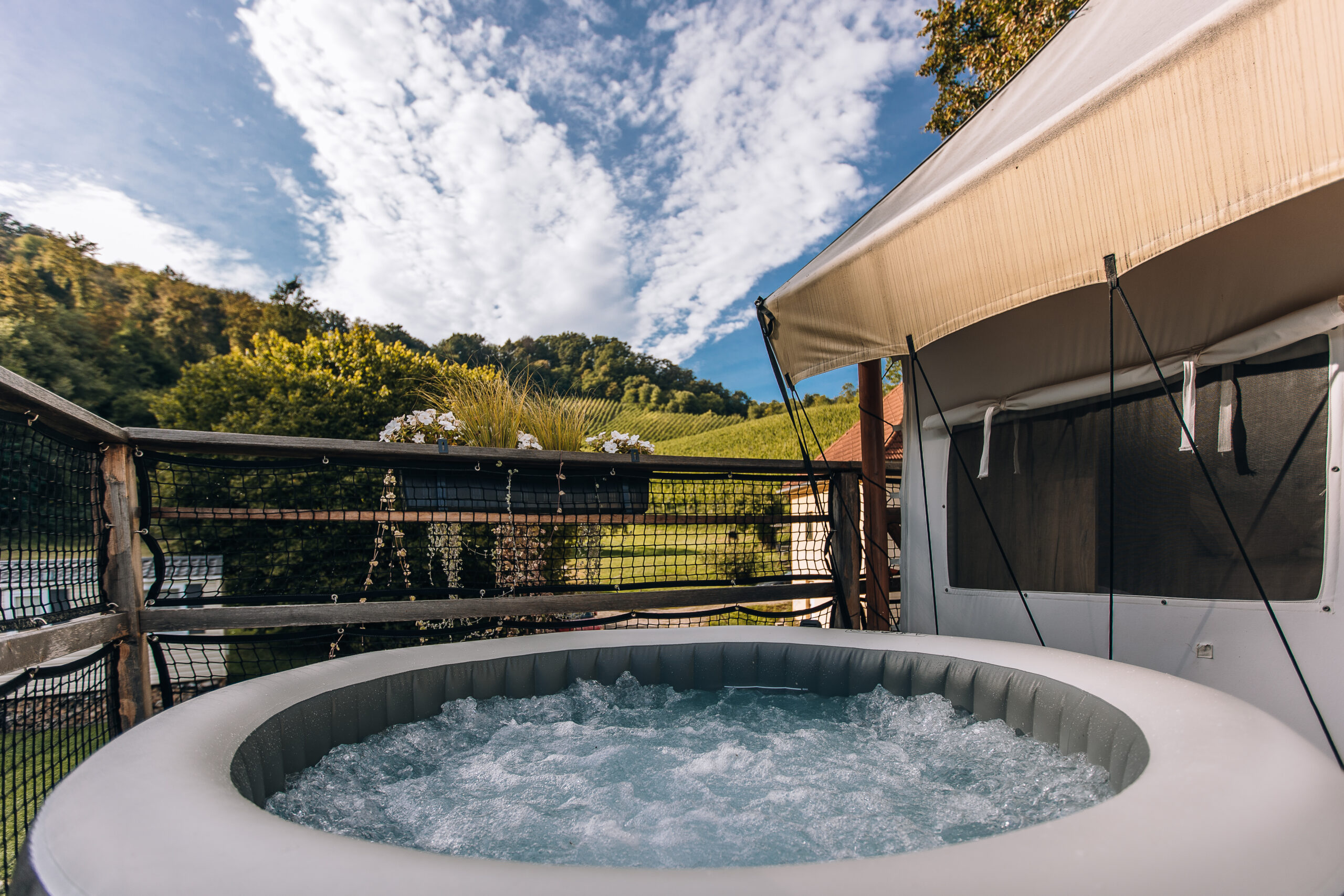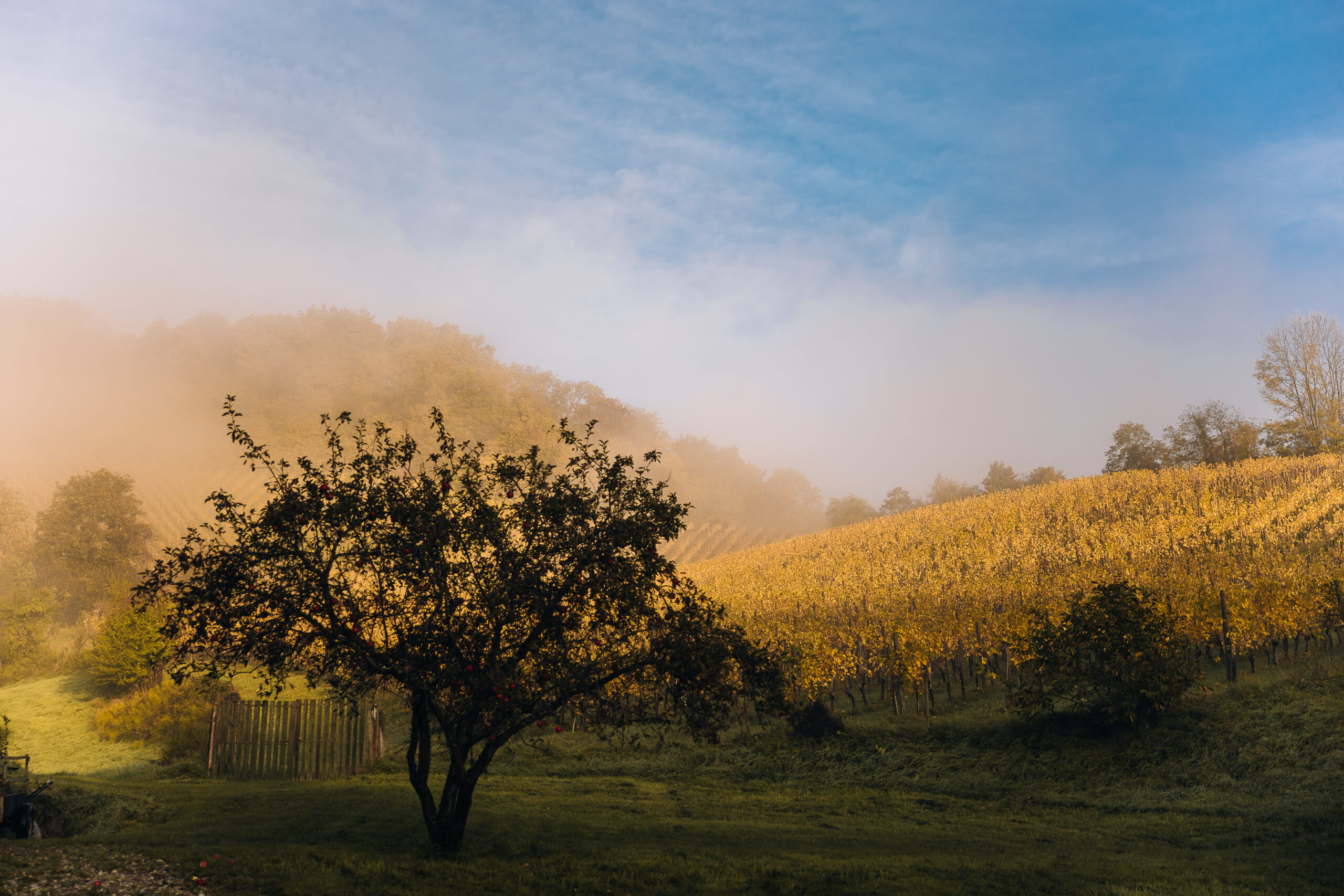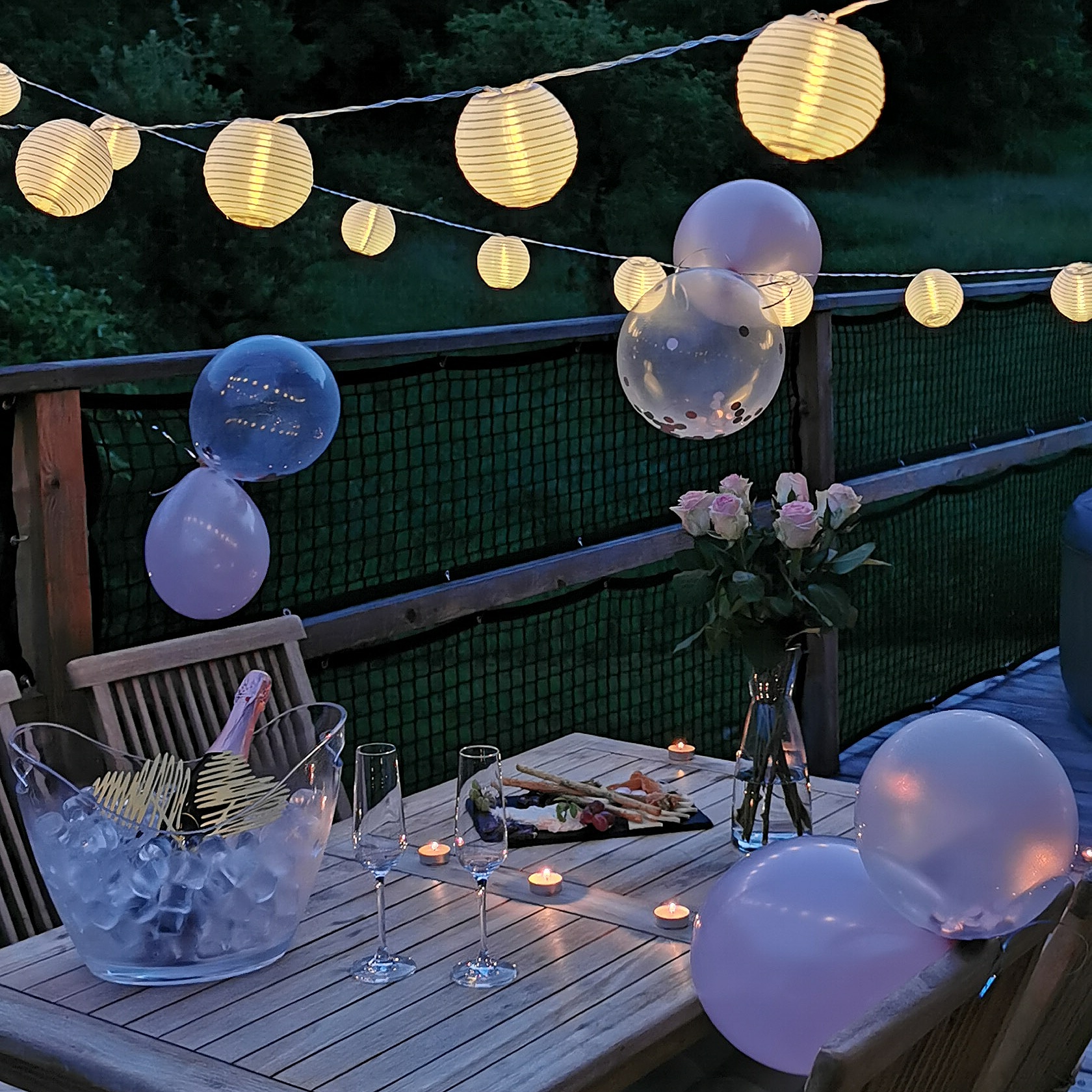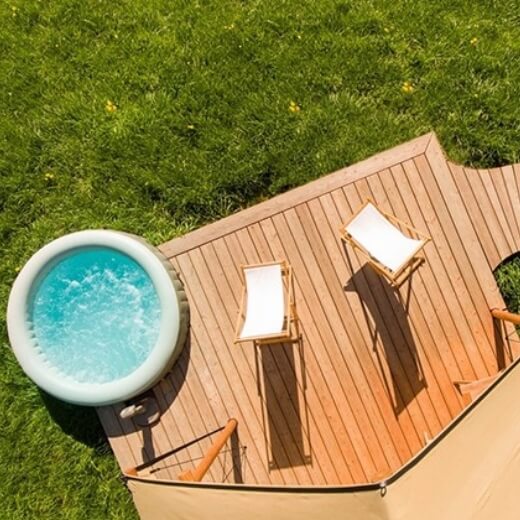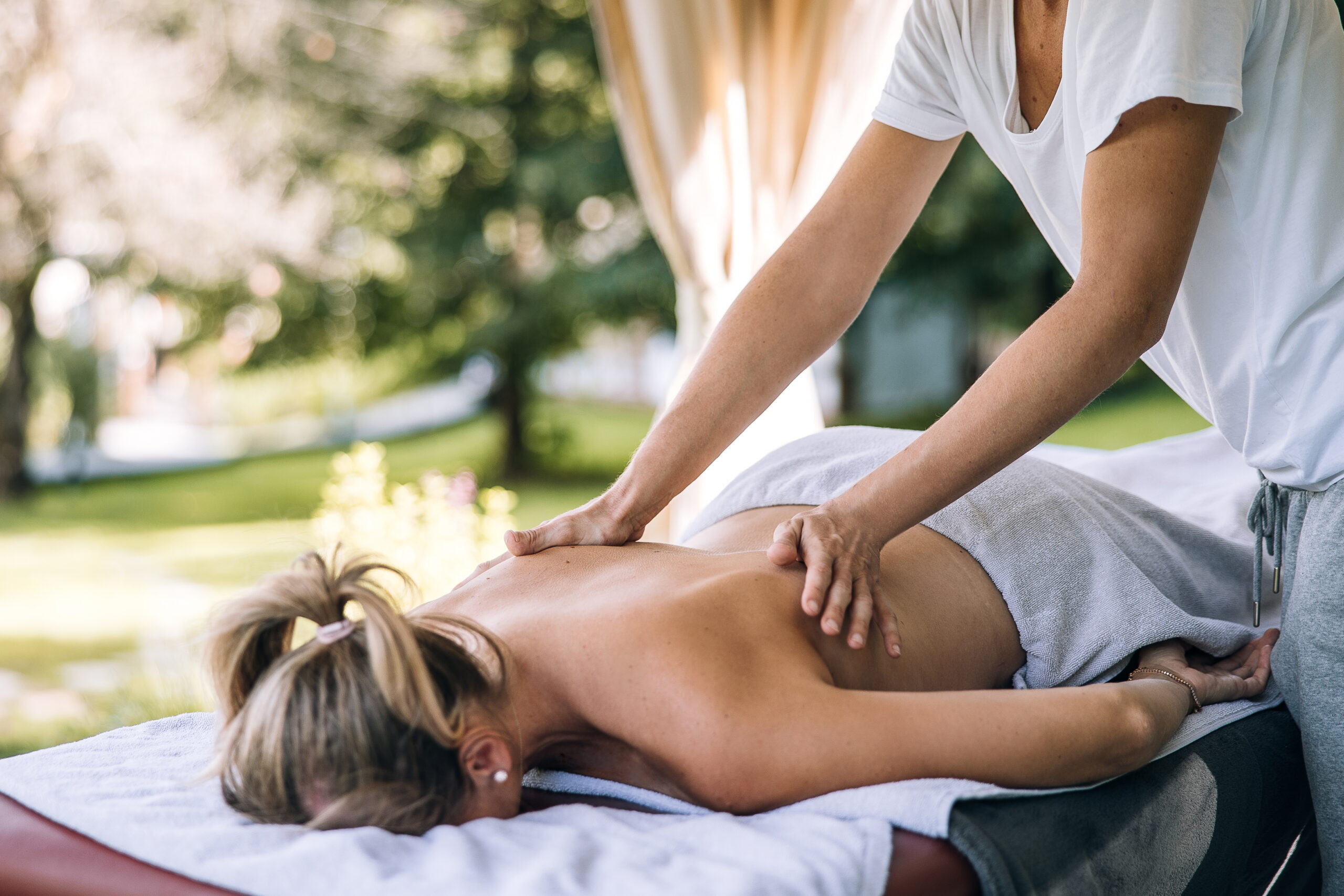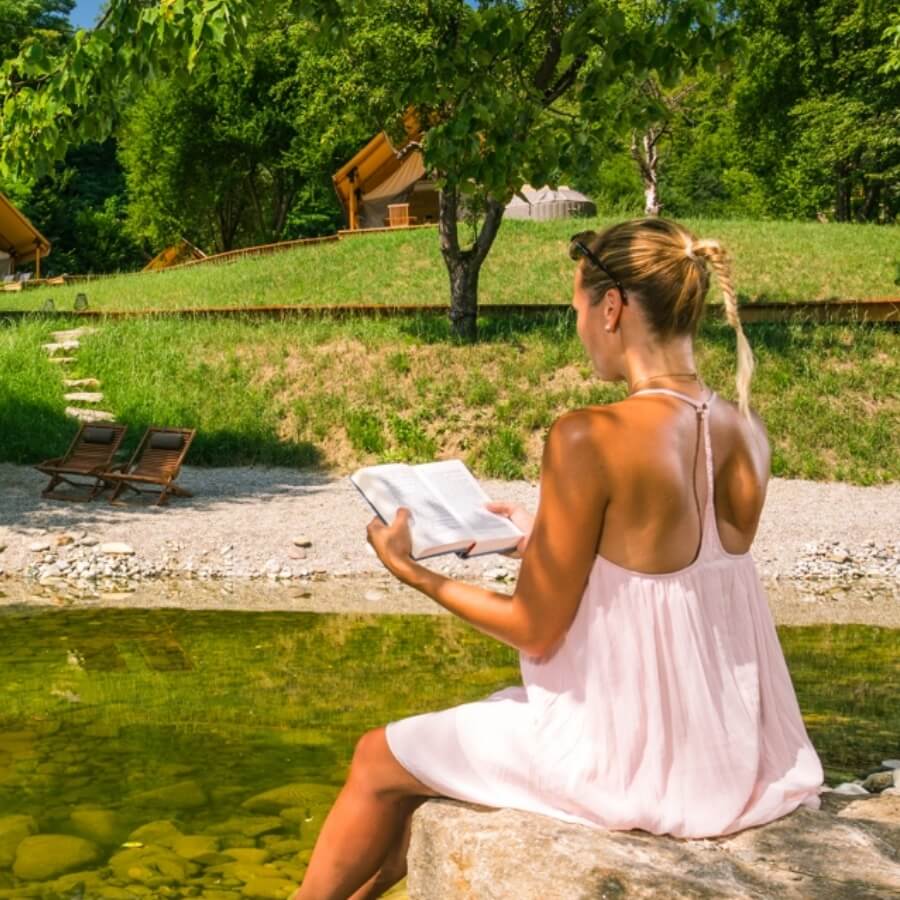 Show types of accommodation
All types of accommodation
show Experiences in the area